Amrish Puri: The long road to becoming the iconic Hindi cinema villain
The actor, who brought Mogambo to life, first tasted commercial success with the 1980 film Qurbani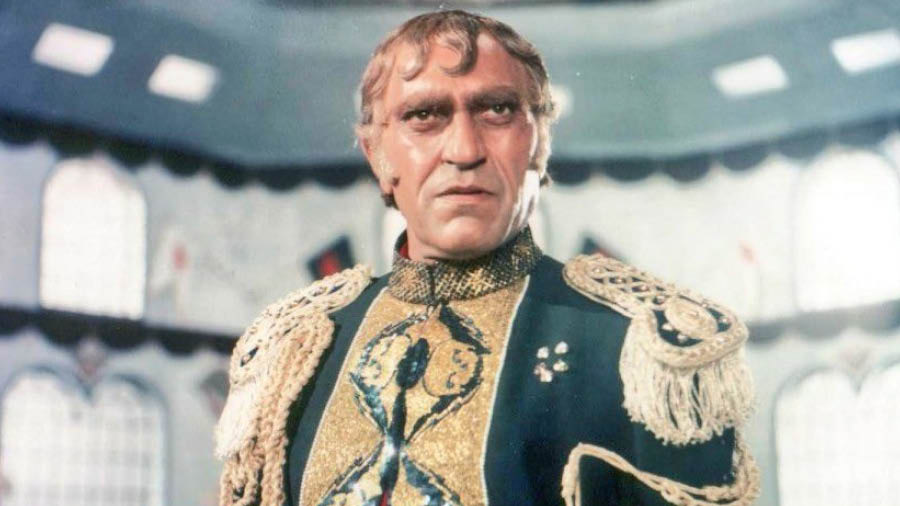 Amrish Puri as Mogambo from the 1987 film Mr. India
---
Calcutta
|
Published 12.01.23, 02:08 PM
|
---
It was unlike any 'villain' Hindi cinema had seen. A megalomaniac pompous braggart, given to referring to himself in the third person, sporting a blonde Duke wig, and an outlandish outfit in contrasts of black, shocking pink and striking golden yellow, mouthing what has become one of Hindi cinema's memorable punchlines. The character is the closest Indian cinema has come to creating a comic-book villain in the school of Marvel/DC comics, much before the latter became a part of our cultural space. Salim-Javed, who had a knack for creating memorable villains — Gabbar Singh in Sholay and Shakal in Shaan — had created another for the ages. Mogambo. Like Gabbar's 'Kitne aadmi thay', 'Mogambo khush hua' too became a catchphrase. And in a strange twist, both characters became immensely popular with children. 
This was in 1987. The actor who brought the character to life had traversed a long-winding path over decades to find his place in the sun. 
A young man who could imitate stars like Dilip Kumar
Amrish Puri was born in Naushahr in the Jalandhar district of Punjab in June 1932 into a family whose patriarch, quite common for the era, perceived cinema as the most degrading of vocations. In his teens at DAV College in Hoshiarpur, a young Amrish would occasionally play the flute at night sitting outside his hostel. The kindly principal of DAV College saw to it that Amrish became a member of the college's recreation club, creating a pathway for the boy to perform at college functions. The young man could sketch well, was keen on photography and could imitate stars like Dilip Kumar. 
Circumstances prodded him to Simla and take admission in B.M. College where he participated in athletics and trekking. His booming voice only added to his imposing six-foot frame. This led to his joining Amateur Artists' Association where he acted in plays staged at the Gaiety Theatre and Kali Bari Hall. Amrish started getting noticed. In one of the shows, his father walked in and sat in the audience. Expecting an avalanche of reprimand back home, Amrish was pleasantly surprised when his mother conveyed his father's appreciation of their son's performance. That bauji was against cinema but had no problem with theatre was a huge load off the 19-year-old's chest. 
Amrish made his way to Bombay in late 1953. But not a single offer from any filmmaker came his way despite being personally introduced to directors by his brother Madan Puri, who was already an established actor. Amrish's god-gifted voice came to his aid. Clearing the audition at All India Radio (AIR) Bombay, he started doing radio spots, radio plays and commercial spots. Apart from adding to his meagre salary at Employee State Insurance Corporation (ESIC), the AIR assignments made his voice popular among radio listeners, the default home entertainment medium in those pre-television days. In fact, till 1975, Amrish was active in the popular radio show Hawa Mahal. But nothing came his way in films save for a couple of bit roles (that he refused under the advice of his brother). Years passed. It was 1961 and Amrish was now pushing thirty. Theatre remained his claim to fame
It was theatre to his rescue again. In October 1961, Amrish was introduced by a friend to Ebrahim Alkazi, the principal of the acclaimed Natya Academy. Almost immediately he was offered the protagonist Eddie Carbone's role in Arthur Miller's play A View From the Bridge. Soon after came Amrish's association with Pandit Satyadev Dubey, in whose play Bichhoo (the Hindi adaptation of Molière's Scorpion) Amrish played the lead role of the servant in a nawab's house. It was his performance in these two plays that earned him the best student title in his diploma certificate at Alkazi's Natya Academy.
Next up, Amrish played Dhritarashtra in the play Andha Yug under the baton of Pandit Dubey. In a 17-minute-long scene, Amrish, playing the blind king, was not to blink at all, despite the mosquitoes around. He did it. This experience came in handy when, years later, he would play the dead man dumped inside a fish tank in Qurbani (1980) — connoisseurs of Hindi cinema will recall his unblinking eyes in that shot. Andha Yug was a huge success. A parade of stage successes followed that included the likes of Yayati, Hayavadan (both written by playwright Girish Karnad), the controversial Sakharam Binder, Chup Court Chalu Hai! and Adhe Adhure, with Amrish playing four characters in the last-named play that was staged over four hundred times. Theatre remained his claim to fame right through the 1970s.
TV series Maya Adventures, his first screen outing
The American TV series by MGM, titled Maya Adventures, in 1967 marked Amrish's first appearance in front of a camera. The 12-day shooting schedule fetched him Rs 2400, allowing him the luxury of flying back to Bombay. Another nondescript film role of his was that of Jerry in Dev Anand's Prem Pujari (1970) — a role he regretted taking up not just for its insignificance, but also for the humiliation of not being flown to London for the shoot as was promised to him initially. The role of Rehmat Khan in Reshma Aur Shera (1971) was potentially his first meaty opportunity in films. But that too went sideways owing to a fallout between director Sukhdev and producer Sunil Dutt, with the former walking out of the project. Dutt, who took over as the director, lopped off large portions of Amrish's footage.
Next up was an 18-minute short film Khilonewala (1970) by Sukhdev in which Amrish played four negative characters. Another collector's item for Amrish Puri fans would be the telefilm Sun Rises in The East by the French director Francois Villers about Maharaja Ranjit Singh. It was shot in Jaipur around 1970 with Amrish essaying Wazir Diwanchand.
Sone Ke Haath, soon after, starring Sanjay Khan and Babita, saw Amrish play a villain. By now, he had made peace with the fact that he could never get to play lead roles in films. But Sone Ke Haath sank without a trace. The successful play Shantata! Court Chalu Aahe was adapted into a Marathi film of the same name in 1971 by Satyadev Dubey. While the film won wide critical acclaim, it did not help Amrish's (who played a cameo) career in Bombay cinema. Even roles in films by O.P. Ralhan (Hulchul, 1971) and Chetan Anand (Hindustan Ki Kasam, 1973) are today no more than 'IMDB look-ups' with no recall of Amrish's roles. He refocused his attention back to the theatre.
Qurbani, Amrish Puri's first commercial success
It was the theatre connection that brought him success in cinema. Kaadu (1974), the Kannada film directed by Girish Karnad, had Amrish playing Chandra Gowda, the evil village headman. Kaadu was a landmark film, winning the Silver Peacock Award. Despite struggling with his Kannada, Amrish looked like he was born to play that role. In his own words, 'Kaadu was destined to change my life, my career and my social status.' Chandra Gowda was perhaps close enough to the despot eldest zamindar in Nishant (1975) for Shyam Benegal to pin down Amrish for the role. This was followed by Manthan (1976) and Bhumika (1977) — all critical successes. As a logical extension, Amrish had an important role in Govind Nihalani's Aakrosh (1980). By this time, Amrish Puri had created a foothold as the coarse small town/rural man who draws power from his relative economic or social status.
The year 1980 was a significant one in Amrish's career. Including Aakrosh, he had eight releases, his highest in a single year up till then. One of them was Feroze Khan's big-budget Qurbani in which he was to play the smuggler Raaka. The role came to him via Wasi Khan, an associate director of the film who had a background in theatre and had watched Amrish's plays. His semi-comical performance shone through the film's ensemble cast. Among the support cast, Raaka's popularity was second only to Inspector Amjad Khan (Amjad Khan). This was the breakthrough, his first commercial success.
There would be no looking back for Amrish Puri.
(The principal source of this story is Amrish Puri's autobiography with Jyoti Sabharwal, The Act of Life, published by Stellar Publishers Pvt. Ltd in 2006.
Balaji Vittal is the co-author of RD Burman: The Man, The Music (2011); Gaata Rahe Mera Dil: 50 Classic Hindi Film Songs and S.D. Burman: The Prince-Musician. His latest book, Pure Evil: The Bad Men of Bollywood, presents a panoramic view of the villain in Hindi cinema and its changing face over the last 90 years.)