Amitabh Bachhan: Making of a superstar
The credit for giving Amitabh stardom as a swashbuckling hero went undoubtedly to Salim-Javed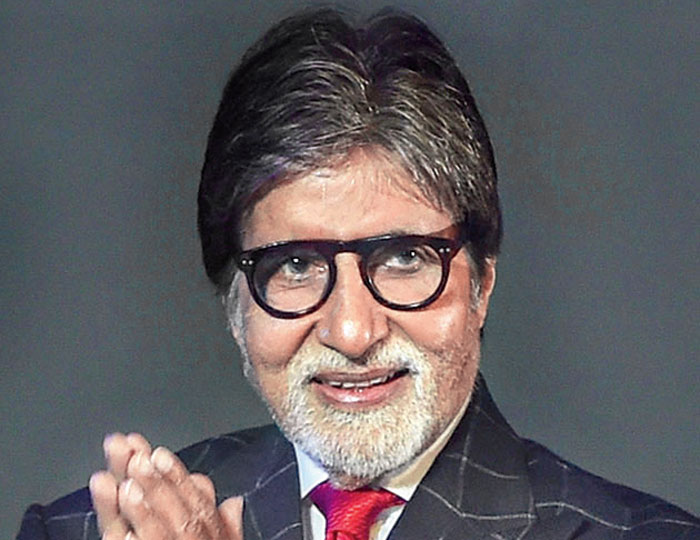 ---
---
So Amitabh Bachchan turned 77 on Friday, October 11, with a Dadasaheb Phalke Award gift-wrapped for him by Rashtrapati Bhavan. Fitting, as next month will mark 50 years of Amitabh Bachchan in Hindi films — K.A. Abbas' Saat Hindustani was released in November 1969. But on this occasion, it would be apt to recall two names that had the biggest hand in the making of Amitabh Bachchan the actor and the star.
Although K.A. Abbas and Sunil Dutt (who curiously cast the "man with the voice" as a mute in Reshma Aur Shera in 1971) were the two filmmakers who first cast him in their projects, neither film made any impact on the audience and could not be considered the launch pad of Amitabh Bachchan. It was the much-celebrated Hrishikesh Mukherjee who pitched him opposite Rajesh Khanna, the reigning superstar, and brought to the fore a substantial new actor. It was Hrishida who introduced both Jaya Bhaduri and a fawning nation of admirers to the brooder with the baritone. The former met him when Amitabh was supposed to be her hero in Guddi (but was replaced by Bengali actor, the late Samit Bhanja, who never quite made it despite starring in Hrishida's cult film). The latter, that is the audience, got its formal introduction to Amitabh in Anand (released in 1971, the same year as Guddi) where he, as the man of few words, was the perfect foil to Rajesh Khanna's exuberance. Khanna walked away with many an award but it was Amitabh who stole many hearts away from him as his trek to stardom had begun.
One recalls veteran photographer Gautam Rajadhyaksha revealing that Khanna had confessed to him that this new boy, "mujhe bhari padega" — another way of saying that the lanky newcomer will be my nemesis. It was one superstar (on his way out) recognising the potential in another who had begun his upward climb.
A little aside on Hrishikesh Mukherjee. Those were the days when people read film magazines avidly and many of us who critiqued films were asked by filmmakers, "What do you know about cinema to review our work?" So, I once got Hrishida on board as the official reviewer of Star & Style (an immensely popular film fortnightly in the 70s). Every fortnight, I'd visit Hrishida, a warm, lovely man who lived, surrounded by dogs, in a sea-facing bungalow, and he'd dictate his review of the latest releases. He did it with integrity and insight and nobody could trash his reviews for they came from a man with unquestionable credentials. But alas, a film called Satyam Shivam Sundaram came along in 1978 and Hrishida backed off. He said, "I can't be anything but honest in my review. But Raj is a dear friend and I cannot hurt him." Well, that is the plight of many a reviewer week after week and Hrishida understood it after walking a short distance in a critic's shoes.
To return to Hrishida and Amitabh, although the Bengali filmmaker was the first to bring out the actor in Anand and Namak Haram (1973), the credit for giving him stardom as a swashbuckling hero went undoubtedly to Salim-Javed. Hrishida did finally look beyond Rajesh Khanna and sign up Amitabh in some fantastic lead roles like Abhimaan (1973, the same year that Amitabh-Jaya got married), Mili (1975) and Chupke Chupke (1975). But it was Zanjeer that turned Amitabh the actor into a box-office star.
Here's a fun fact about the Amitabh Bachchan and Salim-Javed relationship. They went on to do 15 films together which, one is sure, is an unmatched record for any actor-writer combination. It would have been 17 but, tsk-tsk, Amitabh turned down Salim-Javed's Haath Ki Safai (1974) and Mr India (1987), two big box-office hits.
When Amitabh was named for the Dadasaheb Phalke award this year, Salim (who has had a roller-coaster equation with the actor) said to me, "There's nobody around who deserves the Phalke more than Amitabh Bachchan today. Undoubtedly, it's well-deserved."
Unlike the controversies Padma awards kick up every year, the Dadasaheb Phalke has gone to the right man at the right time.
Bharathi S. Pradhan is a senior journalist and author