Amazon miniTV to drop 3 series, 1 short film in January
The list of shows to release in January on the platform includes comedian Zakir Khan's Farzi Mushaira Season 3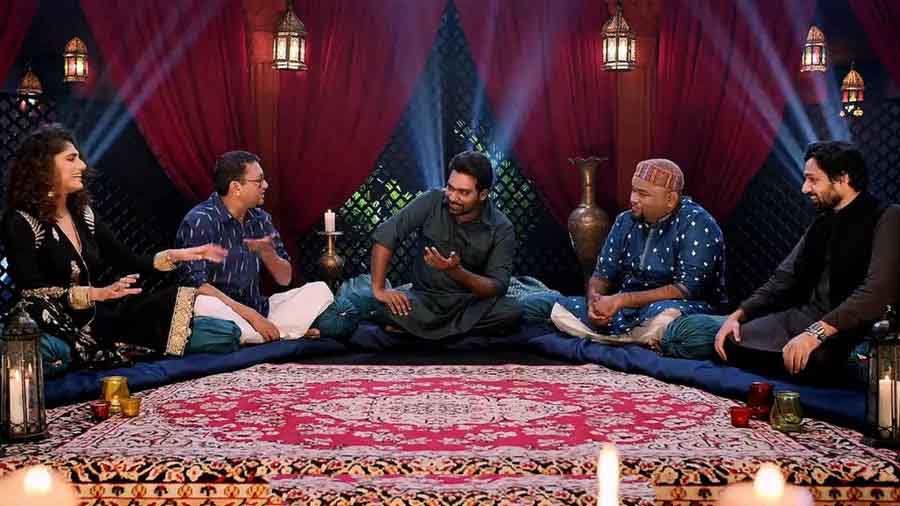 A still from Zakin Khan's Farzi Mushaira
Amazon MiniTV
---
Calcutta
|
Published 05.01.23, 04:53 PM
|
---
Amazon miniTV, Amazon's free video streaming service, is set to release four new titles to kickstart its 2023 journey. The titles offer a diverse choice for the audiences, and can be streamed free of cost on Amazon. Here's all you need to know about the upcoming shows and films on Amazon miniTV for January 2023.
Trust Issues 
Shivam Sharma aka Swagger Sharma's love life is a wild ride. He falls head over heels for his childhood friend, Garima, but she's not interested. So, he decides to swear off love altogether... or so he thinks. Six years later, he finds himself falling for his intern at work and also secretly dating his boss' wife at the same time. Just when things couldn't get more complicated, Garima re-enters the picture, hoping to give their relationship another chance. But little does Shivam know that a gangster from Meerut is hot on Garima's tail. The series promises to be a rollercoaster ride that has many unexpected highs and lows. 
Release date: January 6
Roomies in Dreamland
The story of this comedy drama revolves around three friends-cum-roommates — Rituraj, Vichitra, and Sampark. Rituraj (Nikhil Vijay) is on a mission to become a Bollywood superstar, Vichitra (Shivam Sharma) can't resist a good adventure, and Sampark (Badri Chavan) is the simple and kind-hearted one in the group. When Rituraj lands a role in a B-Grade Bhojpuri film, he drags his friends along for the ride. But as it happens all too often with this trio, chaos follows wherever they go.
Release date: January 17
Zakir Khan's Farzi Mushaira Season 3
Zakir Khan is back with the third season of Farzi Mushaira alongside his friends. This time the shayaris only get more brutal and hard-hitting. Each episode will have a theme with a different guest and will witness five heart-broken 'farzi shayars' come and put their heart out in the most poetic form. Farzi Mushaira is a comedian's take on the classic shayaris.
Release Date: January 13
Gunचक्कर
In this comedy film, directed by Abhishek Roy Sanyal, two police officers, Jay Salunke and Vipul Thakkar, 'encounter' a gangster. While both fired their weapons at the same time, only one hit the target. When the ACP in-charge of the local police station announces that the officer who killed the gangster will be awarded the President's medal, both officers claim that it was their bullet that did the target. The twist comes in when a PIL is filed alleging that the encounter was illegal, and that the gangster was ready to surrender. Now both cops take back their claims. Everyone awaits the ballistic report. 
Release date: January 12