Amaal Malik on his worst fight with Armaan
I am okay with making a living playing keyboard in restaurants, says Amaal Malik in an interview on the sets of a reality show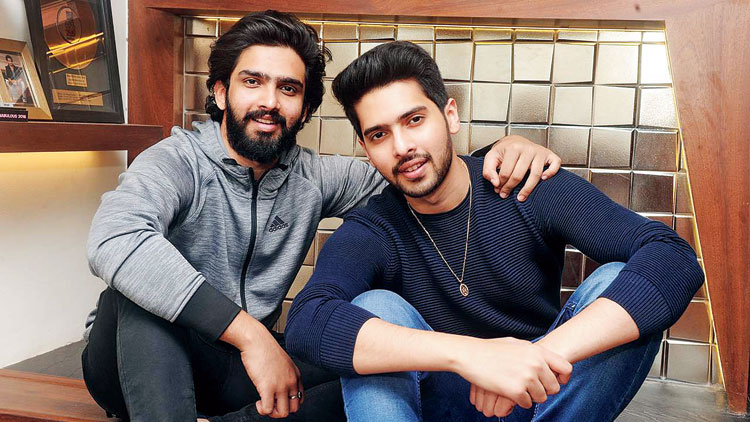 Amaal Malik (left) with brother Armaan
Agency
---
Published 11.03.19, 02:14 PM
|
---
The press meet is over for Zee TV's Sa Re Ga Ma Pa Li'l Champs and Amaal Malik has settled down for a chat with The Telegraph when the decorator's men start hammering to dismantle the stage. "Arre boss, thoda ruk jao. Interview chal raha hai. Main khud aake lakdi tod doonga," Amaal waves at them and yells. The hammering stops and the conversation resumes.
How are you faring as judge on your TV reality show debut?
I am learning a lot (from fellow judges Shaan and Richa Sharma). I am like a lab rat in the studio — in torn T-shirt and jeans or pyjama. If you see me, you'll ask: 'Oye, Malik kidhar hai?' This is my first TV show. I had misgivings. Would I look good? Would my comments be right? I should not offend seniors. Main lamba hoon. Beech mein baithoonga ya left pe? (Laughs)
Your brother Armaan is judging The Voice. Did you two exchange notes?
We don't get to meet much. I have set up my own pad a few houses down the same street as my parents' house since I needed a studio. And as a singer, he is always on tour. I am more honest. Woh diplomatic aur samajhdar bachcha hai.
How much have kids changed from the time when Armaan was a contestant in the show?
That was 11-12 years ago. There was innocence in kids then. The current lot are smarter and aware. Shooting used to carry on till late then. They were called to sing whatever be the time and had a daring. Now Zee follows a rule — pack-up by 9pm. So children have a structured life but are too prepared.
Armaan had reached Top 8. He could not advance as he was not aware enough. He cried a bit but it (the loss) did not make a difference to him. But the parents have really improved. Earlier they would fight. Now even after elimination, they have a smile on their faces.
How much do you remember of those days?
I used to help him with the scale. He is five years younger to me. Mom used to accompany him to the sets. The show brought my family closer.
In O Khuda (Hero), my emotion and soul come through. I think that is my best song. Another song in Badrinath Ki Dulhania, Aashiq surrender, was also well received
- Amaal Malik
Your mother has played a big role in your career, hasn't she?
She singlehandedly took care of the family. We come from a poverty-stricken background. It wasn't as if dad (Daboo Malik) got work in the industry because of his surname. Mom stood with the two of us in the rain under a single umbrella for eight hours outside Salman Khan's van. That's how I got my first film Jai Ho.
How did your training in music happen?
I stayed with my grandfather Ustad Sardar Malik who was alive till I was 16. My training in classical music was from him. Then I attended sittings of (uncle) Anu Malik sir and dad. I assisted Salim-Sulaiman, Pritamda and others before I became a composer.
What's coming next from you?
I have composed two songs in the film De De Pyar De, with Ajay (Devgn) sir. It took me two years to compose them. I have never spent so much time on any song. These days, little attention is paid to lyrics. But I want lyrics to be simple yet convey a message like in my song Kaun tujhe (M.S. Dhoni — The Untold Story). I look for phrases in normal conversations.
How does it work with multiple composers in a film?
It depends on the director and the producer. If their belief is on different people, they say: 'Dance track hai toh usko do, romance hai toh usko'. It's an honour for a composer to do the whole film these days. It hardly happens, especially for new composers like us. Also, there is so little time given to deliver that it is impossible to do a full film. Earlier, there were five or six names in the industry. Now a single film is scored by six-seven people. It opens doors to newcomers. Sometimes it works — like in Roy — but sometimes too many cooks spoil the broth.
You tweeted recently about bad remixes.
I can't deny that remixes do well. If you badmouth all remixes then why go to parties and tell the DJ: 'Naya waala Tamma baja de'? It's alright if out of 100 songs being made, 80 are originals and 20 remixes. But now the opposite is happening. I set a condition that if I have to make a remix, then I should get to compose an original song too. Otherwise, where's my credibility? I remixed Ghar se nikalte hi. No one said anything bad about it. My rules are give credit to the original composer, don't claim it as your song, and add your own vibe to it.
I have done 64 songs and three successful remixes — Sochna sake, Kar gayi chull and Tumhe apna banane. There is 20 per cent of my composition in them. Otherwise DJ bann jao, composer hone ka kya fayda? Producers and music labels play on the insecurities of composers — if you don't do it there are 25 others. I am different. I am okay with making a living playing keyboard in restaurants.
Any offers from Calcutta?
Surprisingly, I have singing offers. But Armaan is the singer in the family so I'd rather leave that to him. I wish I get films like the ones Jeetda (Gannguli) does music for. My maximum following is from Calcutta and Ahmedabad.
Which are your best songs as singer?
I have done two songs. In O Khuda (Hero), my emotion and soul come through. I think that is my best song. Another song in Badrinath Ki Dulhaniya, Aashiq surrender, was also well received.
Who decided to keep your scratch?
In Hero, the actors were young and so was my voice. The lip sync was suiting. We tried other singers but Salman sir said: 'Let this be'. In Badrinath, it was Varun (Dhawan), Karan (Johar) sir and Shashank (Khaitan, director) together. I wanted a stronger voice. But Varun had done the lip sync to my version pretty well. I don't push my voice in my compositions. I sing only if I feel I'll be up to it.
I can't deny that remixes do well. If you badmouth all remixes then why go to parties and tell the DJ: 'Naya waala Tamma baja de'? It's all right if out of 100 songs being made, 80 are originals and 20 remixes. But now the opposite is happening
- Amaal Malik
What is the rationale behind releasing singles these days?
It's a give-back to fans and an attempt to establish a music industry. The non-film music industry of the '80s and '90s has vanished in the last seven-eight years. I restarted this trend with Zindagi aa raha hoon main (sung by Atif Aslam) and Chal wahan jaate hai, featuring Tiger (Shroff in the video) and (sung by) Arijit (Singh). Guru Randhawa and Badshah are also doing it. The singer might be a songwriter too but in the film industry, the producer says: 'You only compose, we don't want you to sing'. Sometimes, he compromises but if he wants to feature himself there are so many platforms on the Internet —YouTube, Gaana, Saavn, Jio.... Of course, nothing is bigger than Bollywood in India. But slowly we will have something we can proudly call a music industry.
A composer's life without auto tunes would be…
Hell! We hardly have pitch-perfect singers left. The exceptions would be those who have trained heavily and keep practising like Arijit (Singh), Armaan, Sonuji (Nigam), KK, Shaan, Papon sir, Sukhwinder Singh, Uditji (Narayan)… they don't need tuners. But according to the song, a little bit is used sometimes. Sooraj dooba, for instance, wasn't sung besura. Auto tune thoda sa daalo toh ek electronic effect aa jaata hai voice mein. It's the final tadka in dal fry. But if you overdo it, it seems as if it's a machine singing. Some singers are off pitch but have a tone which works and we have technology to work on that. So we go ahead.
How is it when Armaan sings for you?
For me, it's very good. For him, it's very bad! (Laughs) We fight a lot. I push him to do better. Mere tarike thode gussewaley hai.
What was the worst fight you had?
We were doing the title song of Sonakshi (Sinha)'s film Noor. He had already sung the basic track when I reached. But I said it was sounding really bad. He said: 'Chhod, try some other singer'. But I was sure if he worked on it, he could do it. We argued and he started walking out of the studio and called dad, complaining that I was shouting at him and he was going home. But I locked him in. He got mad at me but finished recording. When it released, people were surprised to hear him do an upbeat track with a different arrangement — horns, trumpets, ukulele.… So far he had done only romantic songs. He said sorry.
But the reverse has also happened. He recorded Tere mere for Chef and I could not say anything. It was perfect.
Does he ever ask you for a song?
No. He has a lot of self-confidence. Once I had recorded a song — Chal wahaan jaate hai — with him but realised it needed more depth, feel and understanding of the lyrics. So I replaced him with Arijit. He respects those decisions.
So he doesn't harbour bad feelings?
He can't. Chhota bhai hai (laughs).