Actor-producer Kan Singh Sodha, who has produced Bengali language films like Thammar Boyfriend and the recently released Shrimati, is gearing up for the release of his second film as a director, called Dadi Ka Murabba. His first directorial debut, Baalak, was released by Pocket Films in 2019.
Dadi Ka Murabba, a Hindi language film, tells the story of a village boy named Ramesh and is a story of self-reliance. A story that shows how independent youths of a nation create an independent nation. Set in rural India, the story touches upon several pertinent aspects concerning the youth of our country. "In India, many people complete their graduation or basic degrees in regional languages. Such people face a lot of challenges while trying to get a job. The language barrier poses problems and destroys confidence while approaching a corporate set-up. After passing out, everyone looks for such jobs. But at home a lot of people have small businesses. Some have a milk business, cycle repairing business and other such businesses that help the house to sustain. But they don't want to participate in that. Caught up in the tiring process of a job search, they become lethargic and demotivated, but don't think about the businesses they have at home. They don't do anything else other than looking for a job. My story is inspired from such situations," says Kan Singh Sodha.
Talking about the choice of the location and the look and feel of his film, Sodha explains, "When I decided to make this film, I took it to National Award-winning cinematographer Supratim Bhol, who recently worked with me in Shrimati. I was looking for a small village with a clear sky. The story required a lot of vibrancy, so I chose to shoot it in Pune, where even during monsoon the sky is clear. We shot the film in three days but everything starting from ideation to production has been done within a month's time. We got very little time with the entire project."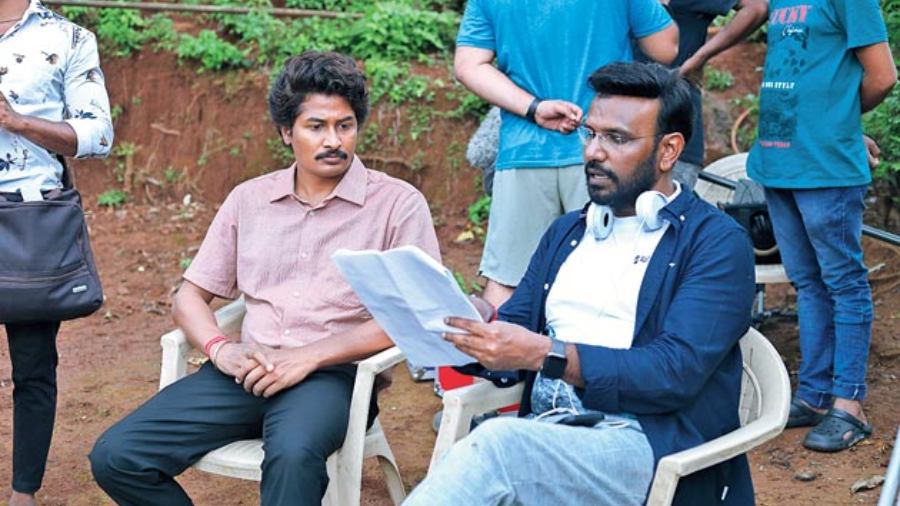 Chandan Roy from the sets of Dadi Ka Murabba
The casting of this short includes Chandan Roy of Panchayat fame playing the role of Ramesh and veteran actor Usha Jerajani portraying the character of the grandmother. "I had watched Panchayat and liked Chandan Roy. He gives the feel of a boy next door. I wanted that innocence for Ramesh's character. Thankfully I got his dates. Usha Jerajani is a fantastic actor and was a perfect match for the grandmother's role," says the director.
The film is set to release on Independence Day, across social media platforms and on the KSS Productions and Entertainment Pvt Ltd YouTube channel. Sharing his inspiration for the story, Kan Singh says, "It is inspired from the place I am coming from. I hail from a village and studied in a regional language myself. Then I took a job outside. This was exactly my situation, too. Whatever job I got, I always did that, starting from the juniormost position. But when I asked so many of my friends to do the same thing, they refused. And even after 10 years, they were struggling to survive. This concept of atmanirbhar or self-reliance came to my mind and so we thought of sharing the story on Independence Day. One becomes really independent when they do something of their own."
"Whatever stories I decide to tell in future have to serve the masses and will be inspired from reality. It will always have something to do with society and has to be real," adds the actor-producer-turned-director while talking about the kinds of films he would like to make in future.