Age is just a number. Roger that, say Milind Soman and Ankita Konwar
26 years apart, their scorching togetherness is what strikes you the moment you meet them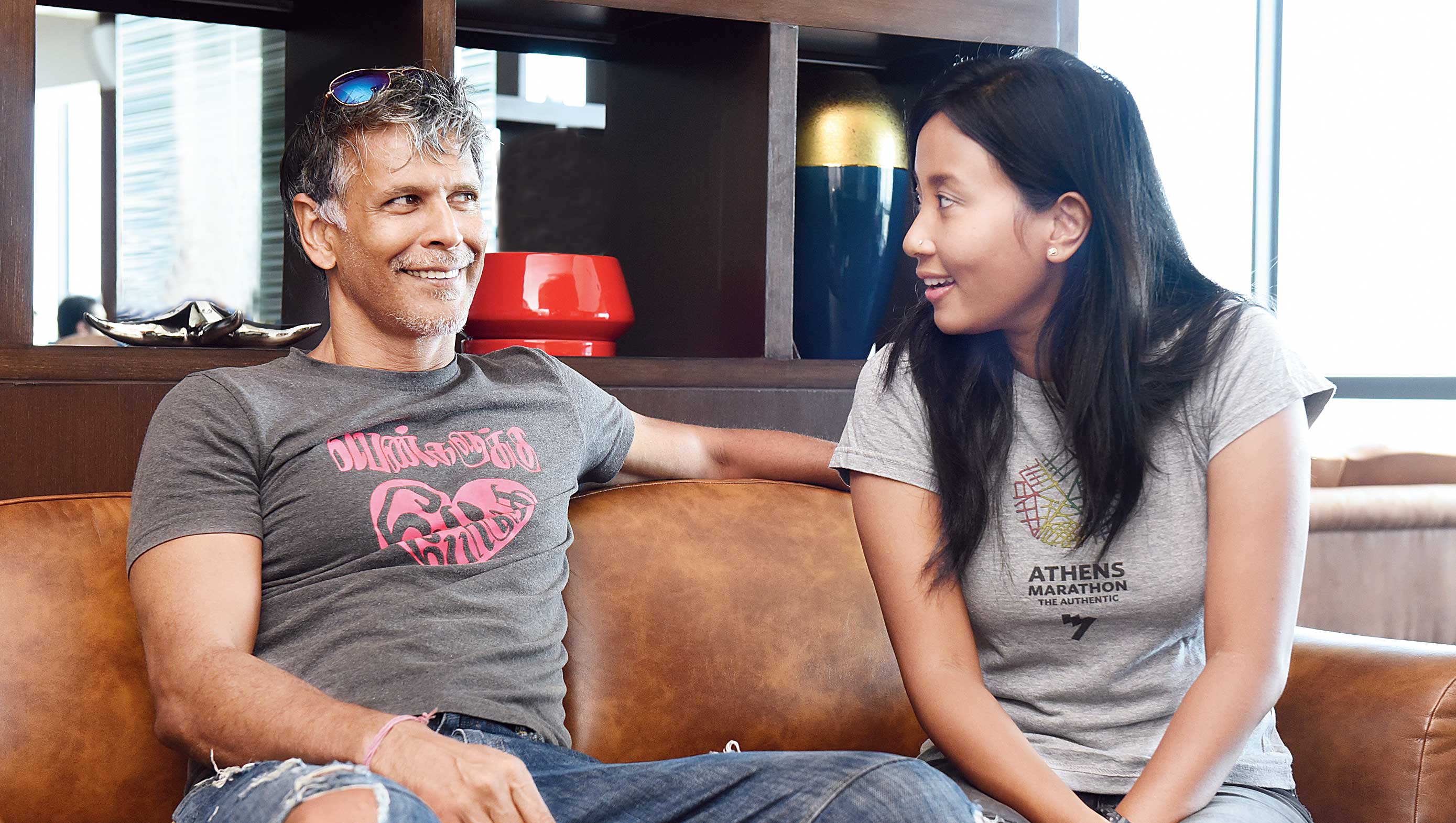 Milind Soman and Ankita Konwar at The Westin Kolkata Rajarhat.
Picture: Pabitra Das
---
Published 29.04.19, 03:24 PM
|
---
Scroll through Milind Soman's Instagram account and heart-warming pictures of his wife, a radiant Ankita Konwar, pop up. She admits that he more often than not does things she likes and he feels she is a ray of light. Twenty six years apart, their scorching togetherness is what strikes you the moment you meet them. We sat down Milind and Ankita for a candid chat when they were in town recently, just ahead of their first wedding anniversary.
There is such a great chemistry between you two!
Ankita: Really?! Thank you!
Ankita, how has it been?
Ankita: It has been amazing! We've been in a relationship for a very long time... five years, but married for a year. I love how we spend time together. It is so difficult to find somebody who has the same interests as you do and at the same time they support you for everything that you do.
Ankita, you met him in Chennai. So, why did you call him back?
Milind: Because I am cute!
Ankita: But of course he is. It's just that he was so different. He still is. For some reason I thought I wasn't at my best behaviour that night. I left without telling him and then he had to find me and all of that. I thought it's better that I thank him for a beautiful dance. So, I texted him.
So, there was an instant connect?
Milind: Instant.
Ankita, what was your first impression of him?
Milind: She had seen me at the hotel before we met at the nightclub. We were staying in the same hotel.
Ankita: I was with AirAsia at that time. I had just come in from Malaysia because AirAsia was setting up in India at that time. So, I was one of the 16 people to come here and help set up the company.
I saw him and thought would go and say 'hi' to him, but he was so busy on the phone. At the nightclub, my friend pushed me to go say hi. I don't like nightclubs and I haven't been to one after that. I don't like crowded places. I had that urge. I had to go the club that day.
Milind: We went back to that nightclub last year. It was afternoon and it was shut. We just went to see... Oh this is where we met! (Laughs)
Ankita, were you a fan?
Ankita: The thing is, I don't watch anything Bollywood-y. You know how it is in the Northeast. While I was growing up, the Internet was slowly catching up. I had watched him in bits and pieces, here and there.
I really loved Captain Vyom (TV show) and Made in India for sure. And then I never really thought about that. My life was totally different. I was busy with books like a total nerd.
Milind: I wasn't her favourite celebrity.
Ankita: Did I have one?
Milind: You must have had one favourite?
t2: Like, a crush?
Ankita: Him! If I wanted to date somebody someday, he would have been somewhat like him.
Milind: And, how old were you then? 14 or 15?
Ankita: 14.
Ankita, so, what did you make of him?
Ankita: Comfortable to be around. A lot of men aren't in that category.
Milind: The first time we had dinner, which was the third time we met, one of the things we discussed was marriage. The first time we were dancing, I asked her who was in her family. So you know what kind of a dance it was!
Ankita: I was like why was he asking me all this... it's kind of a turn-off!
I always thought what's the point of getting married and I still hate big weddings. Later when my sister was getting married, everyone was so happy... I was like, this is nice.
Milind: Let's do this! (Laughs) That's after three years.
Ankita: But I was sure that I wanted to be with him.
What made you so sure?
Ankita: I wanted somebody different and someone who knows himself. He is very worldly. He is wise, patient, kind, generous, humble. It is difficult to find somebody with so many things. Plus, good-looking!
Milind: You called me humble?
Ankita: You are.
Milind, what attracted you to Ankita?
Milind: I really don't what it is! Even now. I meet so many people and I work closely with them. So, what would it be to make one person stand out... is something magical.
Ankita, do you like this mystery?
Ankita: Absolutely! I hope he spends his entire life trying to find it.
But, Ankita, what do you think he liked about you?
Milind: Ah! (To Ankita) What did you think?
Ankita: I think how simple I am. I was really different than he was. We came from different worlds.
Milind: Generations! She is 26 years younger than me and my mother is 26 years older than me.
So, what are the common interests?
Milind: We like superhero films.
Ankita: Marvel and DC. You give me encyclopaedias and I would love to read them. We would talk about the universe... the stars, planets, how it started, gods and our beliefs. That's just so interesting. You don't get people in our days to talk about things like that.
Ankita, do you feel the envy that other women have towards you?
Milind: (Smiles) Is there?!
Ankita: Social media for sure. But women who surround him are great women.
Milind: And they have really accepted her and they like her.
Ankita, being in the public eye is a lot of pressure. Does the constant scrutiny bother you?
Ankita: It doesn't bother me any more. At first it did. I was upset... how would you feel if I go to your living room, sit there and watch you do whatever you do? But life is like that. It teaches you. You learn and you move on.
What about the generation gap? Does that bother you?
Ankita: Not at all.
How did your parents react?
Ankita: My mom was a little surprised.
Milind: Her mother is younger than me.
Ankita: By two years. She always liked him as a personality, but she was a little worried. 'Are you sure?' she asked me.
Milind: That even my family said.
Ankita: I told them it's not that I have to get married to him or something… I am just informing you that there is somebody in my life and I really like that person and I will spend my life with him, whether it's going to be a wedding or no wedding. My mum said: 'Okay, may be someday you will change your mind (laughs)'.
Milind: And, after sometime, they wanted us to get married. In 2017 winter, we went to this fashion week and somebody took a picture and put it in the paper and we were holding hands wearing the same T-shirt. They wrote in the caption: 'Milind Soman with his girlfriend at 'SS18'. Some people said she was 18. That became a big thing. Then her parents started getting a little anxious. By then she had already thought that she wanted to get married. So…
And you must have bowled them over…
Milind: Except for her father, they were all very happy.
Ankita: He wasn't sure of him, so, he wanted to meet him. When he came, he didn't even look at him. Now, he is his favourite.
Ankita, fitness is a large part of your life now?
Ankita: After meeting him. I was really unhealthy before! I would party all night and sleep at three-o'-clock, four-o'-clock… now, I sleep at 10.30pm. I am up by 5.30-6am because I go for my run.
Milind: We don't go out at all. I don't like waking up early. So, she goes for a run and comes back, wakes me up and then I go for a run.
Ankita: Earlier I would wake up around 10am or noon and log on to Facebook and see he has run 25km and think… 'What a crazy person!' (Laughs) His fitness level was something different. I thought to myself, I am so young, I must do something. I was guilt-tripping. And, after a time, I started falling sick and I don't like taking medicines. I started going to the gym and would walk on the treadmill for 2km and excitedly call him. One day, I forgot the gym was shut and I went for a run anyway. I did 4km and was jumping with joy. He was so supportive. Then I did 21km and won! My first 42km was in Athens, my first full marathon. By the 39th kilometre, there were literally tears of joy. Unbelievable.
So, what is the next aim?
Milind: You (To Ankita) should tell her… Ironman (a triathlon including swimming, cycling and running which Milind took part in). She is learning how to swim.
Ankita: I used to cycle all the time. I am just getting a hang of swimming. I have this fear of water. I swam a little bit in Maldives, so I am feeling a little bit better.
And Ankita, you have the best trainer!
Milind: You have to listen to your trainer.
Ankita: I try! Husband is still like…
Ankita, how has your body changed?
Ankita: Every day when I go for a run and then for a race, I realise how much I have changed. Now, I can run a half marathon in two hours and two minutes. Energy-wise I was totally high.
Ankita, you don't feel jealous about other women hitting on him?
Ankita: Not at all.
Milind: She knows I am not interested.
Ankita: He makes me feel that way.
What are your messages for each other?
Ankita: He is like a child. So pure. I have never seen somebody with so much light in them.
Milind: I have too many! (Laughs out loud) I feel the same way about her. She feels anxious about things… everybody does… but just to understand that all feelings and emotions are forms of energy and you can choose the energy you want. What she sees from me is always positive and light because that's what I choose. It's not easy, but it can be. When I look at her, I see only light.
Fave travel destinations…
Ankita: Maldives.
Milind: Oh Maldives! When people would ask me which was my favourite destination, I would say I didn't have one, because I would always want to go to a new place, but Maldives is incredible.
Fave watch...
Milind: I just watch whatever she is watching.
Ankita: Sex Education (on Netflix) right now.
Milind: We watch a lot of werewolves and vampires, which is a coincidence, because no one in my friend's circle likes werewolves and vampires.
Ankita: Even mine! I also like comedy.
Fave music...
Ankita: He loves music from the '80s and I am too young…
Milind: No Madonna, no Michael Jackson…
Ankita: I like Pink and Ariana Grande. Pink writes strong lyrics and I used to write a lot… poems… I still do. I have just written one song. I play the guitar. I can listen to (Claude) Debussy all the time.
Ankita's fave hero...
Milind: She loves Robert Downey Jr.
Ankita: Only because he is Iron Man.