Aditya Veera Venkatesh is interviewing Grammy-winning artistes in his Stalwarts of Music podcast
The Stalwarts of Music podcast has featured the likes of Nathan East, Doyle Bramhall II and Marc Urselli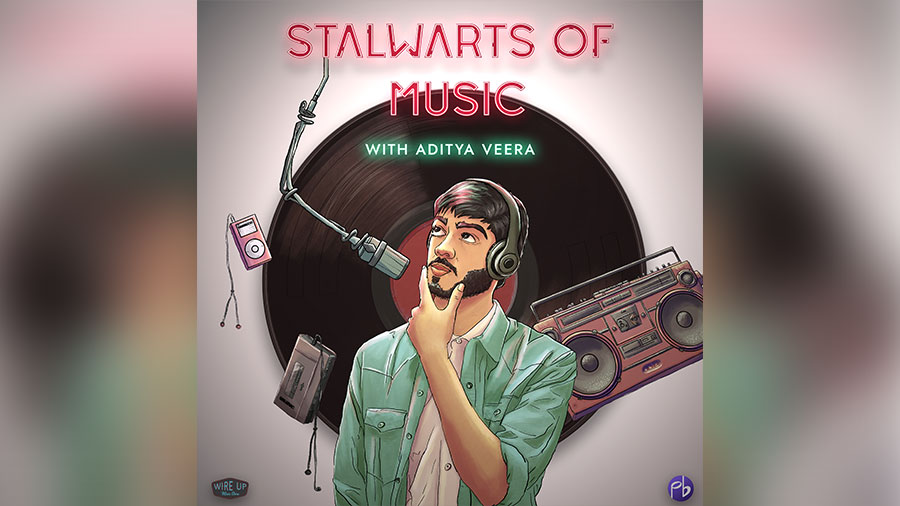 Aditya Veera Venkatesh's podcast logo.
---
Published 04.10.22, 10:22 AM
|
---
Having grown up listening to legends like Harry Belafonte and Billy Joel, Aditya Veera Venkatesh always knew he wanted to dabble in music but only began considering working on a serious music project during his days as a postgraduate. 
Today, at 28, Aditya wears many hats. Not only is he a technical consultant at PwC, he is also a singer, talk show host and artiste manager. That apart, he hosts Stalwarts of Music, a podcast where he interviews Grammy Award-winning music virtuosos from all over the world. 
Over a video call connecting a breezy Bengaluru evening with a humid Kolkata one, The Telegraph Online caught up with Aditya, who opened up about his podcasting journey.
You are a part of a band called Thayirsadam Blues. How did that happen?
Aditya Veera Venkatesh: After completing college from Symbiosis University in Pune, I began attending a lot of music shows in the city. At one of these shows, I met a like-minded musician by the name of Sundar Subramanian. We wanted to set up a band but couldn't really find anyone who shared our passion for music. Then suddenly, one day, Sundar met this other guy called Bhardwaj, who played the saxophone. And so we decided to start jamming together.
The name of the band came from our first ever open mic, where the emcee took us to a corner and asked us to quickly come up with a name so she could use it while calling us on stage. We got into a huddle to figure out what was common among the three of us. That is when we realised that we were all Tamilians and we all loved Thayir sadam, which is curd rice. We decided to go with Thayirsadam but wanted to add a musical connect to it. Since we had the saxophone with us, which is a great blues instrument, we ultimately went with Thayirsadam Blues. When I moved to Bengaluru in 2018, I started a Bengaluru chapter of the band. Thayirsadam Blues (where Aditya is the lead vocalist) plays a blend of jazz, funk and soul music with a bluesy touch to it.
Why not take up podcasting as a full-time profession?
Aditya Veera Venkatesh: I wanted to be financially independent so that I could pour money into my art. Whatever money I make from my job as a technical consultant at PwC, I reinvest into art. In fact, I'm not just a podcaster. I'm also an artiste manager for a couple of independent artistes across the country. Having said that, if I were to suddenly become as financially stable as Joe Rogan, then I'd happily take up podcasting as a full-time profession.
Who were some of your very first guests on the podcast?
Aditya Veera Venkatesh: My first guest was Marc Urselli, who is a seven-time Grammy Award-nominated producer. Despite having written to approximately 100 labels in 2020, I could bring only this one guest on board. But things improved in 2021 and I interviewed two big names in the industry. One of them was three-time Grammy Award-winning guitarist, Mark Lettieri, from the band Snarky Puppy. The other guest was Erick Walls, who is one of the most prominent guitar players and has played with artistes like Beyonce, Usher and Nas. Tell us about a few of your most stand-out moments from the interviews.
Aditya Veera Venkatesh: There have been quite a few, but I'd like to start with my interview with Nathan East. He is Eric Clapton's bass player, but he has also played with other stalwarts like Whitney Houston and Michael Jackson. His interview was very special to me because one of my earliest music memories is this particular video recorded live at the Royal Albert Hall (in London) featuring Phil Collins, Greg Phillinganes, Eric Clapton and Nathan East. They performed a reggae version of Knocking on Heaven's Door and I felt a lot of emotions coursing through me as I listened to it. And interviewing the same Nathan East more than two decades later felt like a surreal experience.
Another one would be with Manu Katche, who was the drummer for Sting and now plays for Peter Gabriel. He is a French drummer who has been to India and he told me about this one particular experience in India where he had the simple pleasure of going on a pillion ride with someone on a bicycle, while munching on some masala papad. I also spoke to Doyle Bramhall II, who said that he loved India so much that he went to the extent of naming his daughter India.
Are your listeners mostly from India or do you get listeners from other parts of the world as well?
Aditya Veera Venkatesh: Apart from listeners in India, where I have a stronghold in the Northeast, I also have listeners tuning in from the UK and Europe. But a lot of the time the kind of engagement depends on the guests. For instance, I once had someone from Rwanda who wrote to me about my interview with Nathan East. She wrote that she was so interested in that episode that she decided to skip an important job interview and stayed at home to listen to the podcast!
What are some of the challenges that you have faced in the past or are currently facing?
Aditya Veera Venkatesh: Since a lot of these artistes I interview work on PST or CST, time zones can often pose a significant challenge. Another major hurdle was securing funding for my podcast. But luckily I met Sudhir Pai, who runs Perpetual Buzz Experiences. He is an Indian guy working in the US and does a lot to support indie musicians from India.
What are some of the future milestones that you envision for your podcast?
Aditya Veera Venkatesh: I'd like to have an entire studio setup and invite my guests to India for interviews. I'd also like to travel to different countries and interview people in person. And, of course, I want more and more people from India to listen to this podcast.
Two podcasts you would recommend.
Aditya Veera Venkatesh: One is Wong Notes by Cory Wong. The other is this legendary music talk show called The Howard Stern Show. It's not a podcast but I highly recommend it. I also really liked this show on Doordarshan called In Conversation. It used to be hosted by Rajiv Mehrotra. While it's not on air anymore, that show was one of the inspirations behind my own podcast.
Top five musicians you would like to interview in the future?
Aditya Veera Venkatesh: Jacob Collier, Eric Clapton, Peter Gabriel, Carlos Santana and Eric Gales.
Any advice for up-and-coming podcasters?
Aditya Veera Venkatesh: Keep your content as original and as authentic as possible. And don't stop yourself from reaching out. No matter how far flung an idea may be, always give it a shot. Because opportunities won't always come knocking at your door. Sometimes you'll have to go grab them.
New episodes of Stalwarts Of Music with Aditya Veera Venkatesh are available on Aditya's official Youtube channel and Apple Podcasts. Listeners from Shillong/Aizawl can also listen to new episodes every Sunday between 5 and 6pm on 92.7 Big Fm Aizawl and 98.3 Big Fm Shillong.