Actress Kirti Kulhari returns with a new web series -Criminal Justice: Behind Closed Doors
"More than the woman, I can't take the human out of me when it comes to reacting to a script," says the Pink actress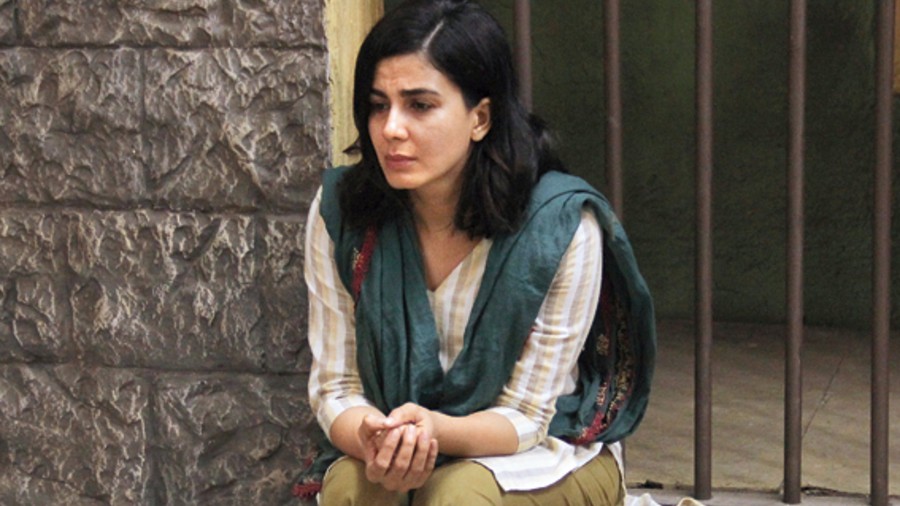 Kirti Kulhari in Criminal Justice: Behind Closed Doors
Sourced by the correspondent
---
Published 17.12.20, 12:25 AM
|
---
She's already had a winner this year with Season 2 of Four More Shots Please! Now, Kirti Kulhari is looking to wrap up 2020 with the second season of Criminal Justice. The thriller series, whose first season proved to be a hit in 2019, returns with Pankaj Tripathi essaying the pivotal part of lawyer Madhav Mishra, with Kirti playing the central role of Anuradha Chandra, a woman who is accused of killing her husband.
Criminal Justice: Behind Closed Doors also stars Jisshu Sengupta, Shilpa Shukla and Anupria Goenka, and streams from December 24. The Telegraph caught up with Kirti for a chat on the show and beyond.
Season One of Criminal Justice was immensely watchable. What made you sign on Season 2?
A couple of things, actually, and you will realise that when you watch the show. It has a very strong theme that I felt needed to be spoken about, it's high time we addressed it. Also, there was the whole factor of Season 1's popularity. I just liked the world and the universe it presents... looking at the truth from different perspectives, and how this whole system works.
Equally important was the character (Anuradha Chandra) that was offered to me. I am a very empowered, independent woman and I have always played strong women on screen. On this show, I had the chance to represent women who probably are not as strong, they are women who don't have a voice. I wanted to represent these people and give the audience a glimpse into their world. It's one character and one incident, but what we show happening to Anuradha is something that I feel a lot of people can relate to.
When we had last spoken a few months ago, just before the release of Season 2 of Four More Shots Please!, you had said, 'You can't really take the woman out of me when I read a script'. Did that instinct come much more to the fore when choosing this particular character?
More than the woman, I can't take the human out of me when it comes to reacting to a script. Beyond this whole conversation of male-centric and female-centric, it's primarily about being human. It's about whether the script and the character speak to the human in all of us. What I always look for is a story that affects me at a personal level, a story that I would want to tell to many others.
I won't say that this role in Criminal Justice spoke to more than the others that I have done in the past... even the special appearance I had in Uri spoke to me, maybe in a different way, but it spoke to me enough for me to want to do it. I am not saying that I always have to be part of projects that have a message to disseminate, but the beauty of what we do and the idea of storytelling is that there will always be something that is being said and how it's said will make all the difference in terms of who it reaches. Not intentionally, but a lot of work that I do has a lot to say and I am so glad it does.
The trailer reminded me so much of Pink, especially when it came to the courtroom scenes. Did it bring back memories of making that film?
(Laughs) Yes it did! Indu Sarkar (directed by Madhur Bhandarkar) also has a very important court scene. When I read the script of Criminal Justice, I was like, 'Oh my God! There goes another court scene' (laughs) There's a very crucial court scene in the climax too. My only worry was that how do I make it different, how do I not remind people of Pink or Indu Sarkar, and especially Pink, because the scene became so popular. I kept thinking that it had to be as powerful as Pink, if not more. I have also decided that this is going to be my last court scene, at least on this side of the witness box... I will probably play a lawyer next time! (Laughs)
Be it films or work on the web, you had gone full throttle in the last two years, something that you had told us you were taking time getting used to. Has the unforeseen pause this year come as a boon of sorts?
Thankfully, the last few months gave me a lot of time for contemplation, which was something I was struggling to make time for earlier. Stepping back to look at where my career is right now, I felt I am on the right path. Before the pandemic, it's not that I was only working and there was no time for play, but these last few months have made me realise that I need to go easy on myself, and not lose sense of what I wish to do and how I wish to do it.
While there is a lot of work coming in, I have decided that I need to be able to enjoy the process. The journey has always been more important than the destination for me, and now even more so. I am sure about doing good work — that's the only thing that remains constant — but the need to strike a balance is going to be even more important for me going forward.
Have you gone back to shooting?
I have, I have. In fact, we finished shooting the remaining portions of Criminal Justice after the lockdown, in the months of August and September. Very little work was left, and I am happy we managed to wrap it up without any hiccups. I start shooting full-on from mid-January. That's the plan, and right now I am prepping for it.
A project or two that went on the floors had to be cut short when some members of the cast and crew got infected. Now as you plunge back into shooting full-time, are there any apprehensions on that front?
I have no apprehensions! I was ready to shoot in the middle of corona, honestly. I am the most excited when it comes to going and working on sets... and travelling! (Laughs) I think I am one of the first few people to have started both. So far so good, and I hope we can all go back to our normal lives soon.
One thing that you did recently, which a lot of people still haven't done in the new normal, is go back and watch a film in a movie theatre. What was that experience like?
I went to Prithvi Theatre (in Mumbai) as well the other day to watch a play. I have already been twice to a movie theatre after they reopened. I am somebody who doesn't believe in stopping myself from doing my thing, as long as I am staying safe and not proving to be a risk to anyone else.
It was so amazing to actually go back to the theatre and watch a movie on the big screen. It's such a powerful experience, you know. I just want to say — and not just to the industry, but to the world in general — that let's start getting back to doing our thing, slowly and steadily. I know I am being careful and responsible while doing so, and I don't really need to show people that. Sitting at home is no longer an option.