Actors Rebecca Romijn and Ethan Peck on the journey of Star Trek: Strange new worlds
The duo in a candid interaction with The Telegraph open up about being part of the iconic franchise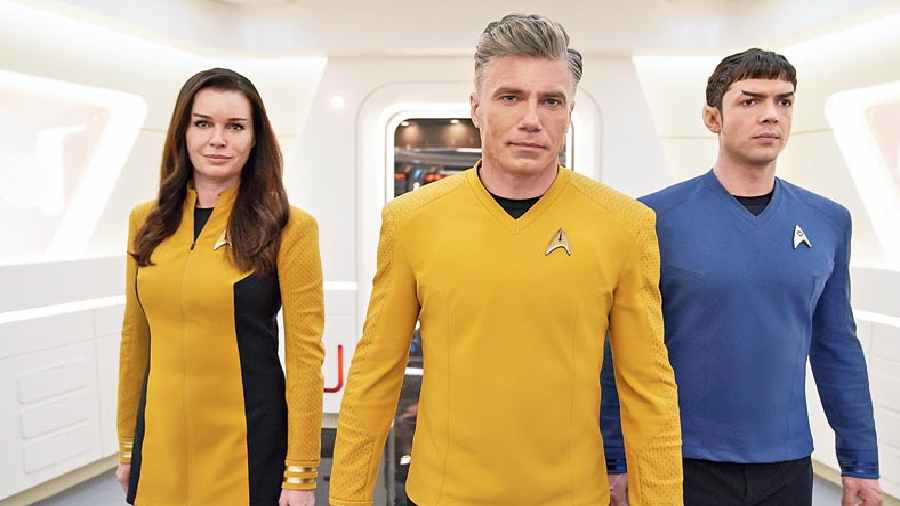 (L-R) Rebecca Romijn, Anson Mount and Ethan Hunt in Star Trek: Strange New Worlds, premiering on May 5
Sourced by the correspondent
---
Published 03.05.22, 12:25 AM
|
---
Star Trek: Strange New Worlds, a spin-off from Star Trek: Discovery and a prequel to Star Trek: The Original Series, follows Captain Christopher Pike (played by Anson Mount) and the crew of the USS Enterprise, in what is yet another instalment of the much-loved franchise that has become an indelible part of pop culture for more than half a century. Playing Number One, first officer of the starship USS Enterprise and second-in-command to Pike, is Rebecca Romijn.
Romijn, 49, is known for her role as Mystique in the trilogy of the X-Men film series, as well as Joan from The Punisher, both of which are based on Marvel Comics. Ahead of the premiere of Strange New Worlds on May 5 (viewers in India can watch it on Voot Select), The Telegraph caught up with the effervescent Romijn on a video call to chat about being Number One and her first brush with Star Trek.
Given the huge legacy that the Star Trek franchise comes with, what did you constantly have to keep in mind while filming this version?
There is a certain amount of pressure that comes with it. I know how beloved this show is around the world and it's been around almost 60 years. I play a character (Number One) who was there in the original abandoned pilot episode of Star Trek.
Number One was originally portrayed by Majel Roddenberry and I did feel the pressure. I am very protective of the franchise and a lot of people out there are protective of Star Trek as well. We have done all we can to make fans happy with this new version. We are already making our second season and have shot 16 episodes up to this point. We can't decide which episode we love the most, we are really proud of it. We are excited to share it with the world.
What have been the biggest challenges of being Number One?
Number One only had 14 minutes of screen time in the original pilot. One didn't really get to know who she was as a character. She was only known as Number One. In fact, now she has a name... Una Chin-Riley. In the first three episodes of Strange New Worlds, you will get to see a big revelation about her character... something that even I didn't see coming. It's been really exciting to work with the writers and flesh out this character.
How do you think Strange New Worlds remains true to the ethos of Star Trek and also takes it forward?
The other two Star Trek shows that we have airing now are Star Trek: Picard and Star Trek: Discovery, both of which are serialised shows. Strange New Worlds will take us back to the format of standalone episodes, like the original series. We have also gone in for the tone of the original, which had humour, some sexy moments and also some really horrific moments.
The starship (USS) Enterprise itself is a character. We are all familiar with the Enterprise from the original series, and our sets are really beautiful. Design-wise, you get mid-century modern feels, it's sexy and it's groovy. It's a fantastic backdrop. Star Trek has always been the best platform for storytelling, embedded with important messaging. And we have that here too. 
Do you remember your introduction to the Star Trek universe?
I was introduced to the franchise by my mom and now I realise a lot of people were introduced by their moms. I don't think that was by accident because when moms look into their children's eyes, they see curiosity, they see a need for exploration... you want to encourage your child to think universally, to think completely outside of the box.
And it sparked a lot of interesting conversations between my mom and me when I was a kid about whether there is anybody else out there, whether or not we are the only ones in the universe.... It fostered conversations about exploration, about acceptance and about people from various places coming together and working in unity. These are all lessons that moms want to instil in their children, and Star Trek has always been a great platform for that.
You just mentioned the word 'acceptance' and now, more than ever, we are seeing audiences being more accepting of new and diverse content. How does that impact your two-decade-old career?
There are more opportunities, I would say, with all the streaming (platforms). There used to be a feeling that some actors did movies and some actors did television and they were separate, but that no longer exists. At this point, I feel streaming is higher in quality than movies! (Laughs) There is so much high-quality content in streaming, it surpasses much of low-budget film-making.
It definitely is a nice time, especially as a female actor. I have young daughters and if I have to leave them and go to work for months on end, then I have to make sure that I am in a show that I will be proud to show them.
Are they also Star Trek fans?
They are now! (Laughs)
A chat with Ethan Peck
Ethan Peck, the grandson of legendary actor Gregory Peck, plays Captain Spock — brought alive so famously by Leonard Nimoy in Star Trek — in Strange New Worlds. A chat with the young actor.
Captain Spock is legendary, and Star Trek is an emotion for many. What is the kind of responsibility that you feel towards fans of the franchise?
Oh, I feel a huge responsibility, not just to the character but to (creator) Gene Roddenberry's vision. One of the big challenges I have faced with this project is maintaining integrity in my portrayal. I brought heart, soul and intellect into every scene and that's no exaggeration.
I really care about this character and the concepts that Star Trek embodies. I am hugely grateful for the opportunity.
What was your first reaction on learning that you had bagged this iconic part?
Tears of joy! (Laughs) And also tears of terror (smiles) because I knew that I would have to grow as a person to fulfil the needs of this character and his journey. I consider this to be the greatest journey of my lifetime. We'll see (smiles).
As a child, I didn't quite know who Spock was, but I remember making the Vulcan Salute — the 'live long and prosper' salute that Nimoy (Leonard Nimoy, who played Spock) coined. I must have been six or seven when I did that, but I didn't know where it was from. A few years later, I started watching Star Trek: The Next Generation. I wasn't an avid watcher, but it was always present in my cultural awareness. I am a big science-fiction fan, so this genre is just where I want to be.
How does Strange New Worlds remain true to the essence of Star Trek?
The blueprint is still there. It's about an organisation that's humanist, curious, that celebrates diversity and sees that as a huge strength. Our series brings its own edge. The circumstances of the world we live in now are quite harrowing, bleak and terrifying. Just look at the news. The show doesn't ignore that, in fact it embraces it. The good doesn't exist without the bad, the dark doesn't exist without the light. And I think we do a great job of holding those together, and about living in the light and not in the darkness.
Does being the grandson of Gregory Peck weigh heavy on you or do you look at it as an advantage in your career?
That's a good question. I guess it weighs on me in ways that I am not even aware of, quite subconsciously. I am a perfectionist and that's something my grandfather was. But how lucky am I to be born into the situation I am in, and I am just trying to earn that and celebrate it as much as I can.