A chat with Gemma Chan and Katherine Langford
The actors talk about beauty, empowerment and what individuality means to them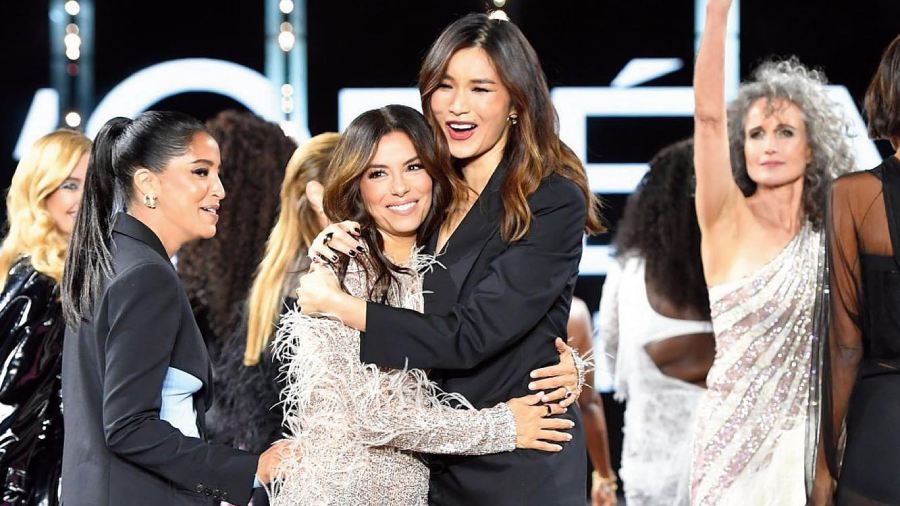 Gemma Chan (right) with Eva Longoria at the fifth edition of Le Défilé L'Oréal Paris in Paris
---
Published 10.10.22, 03:06 AM
|
---
In early October, L'Oréal Paris returned to Paris with its fifth edition of Le Défilé L'Oréal Paris. Over 2,000 people attended this public outdoor runway show that took place at the École militaire –– a national monument in the heart of Paris and a symbol of French excellence. The message of this year's show, "Walk Your Worth," was designed to inspire all women, along with the brand's family of fearless spokespeople, to unapologetically show up in the world and walk towards their destiny in confidence.
Before the event, The Telegraph engaged in a video chat with  L'Oréal Paris brand ambassadors Gemma Chan (who has acting credits like Crazy Rich Asians, Mary Queen of Scots, Eternals and Captain Marvel) and Katherine Langford (13 Reasons Why, Knives Out).
What does walking at Le Défilé mean to you?
Gemma Chan: I am very excited! This is my first time walking at Le Défilé. I am very happy to be here with my L'Oréal Paris family. I am hoping it will be a lot of fun! I am really looking forward to seeing Eva Longoria and Aja Naomi King and Andie Macdowell... and just embracing the atmosphere at this incredible location right in front of the Eiffel Tower... The École militaire which is traditionally a very masculine place, but we are taking it over for the day (laughs).
Katherine Langford: It's really exciting to be back here with my L'Oréal Paris family. Last year was my first at Le Défilé and I am really looking forward to my second time. This is such an amazing and empowering event. Last year it was so inspiring when I was here, it felt like a sort of sisterhood.
Can you take me through your look?
Gemma: I am wearing a black suit by Louis Vuitton. It's chic, it makes me feel powerful and it's quite classic.
Katherine: This year's Le Défilé is about "Walk Your Worth". It's about celebrating women and my look today is a blend of masculine and feminine elements. We have tried to incorporate a little bit of romance into the look and also kept it authentic to who I am. My look is strong and powerful, but also feminine.
Katherine, what's your personal style like?
Katherine: My personal style keeps changing. Whether it's fashion or beauty, I think it's important to be able to play and be empowered to do whatever look one likes.
What do you love the most about Paris Fashion Week?
Gemma: I just love being in Paris, actually (smiles). I just need any excuse to come and visit. Fashion Week here has always got a very buzzy, electric atmosphere and I get to meet people I haven't seen for a while. That's great!
And what's not to love about Paris?! Everywhere you look there are these beautiful, incredible historic buildings. There is something about the light here as well... it's magical.
Katherine: It's always special to be back in this beautiful city and celebrate fashion. There's been a pause for the industry and it's so wonderful to see everyone coming together to celebrate in a fun, beautiful and safe way. You are all achievers in your own right, but what do you think binds all the L'Oréal Paris spokespersons?
Gemma: Each of them are talented in their own way. All have something authentic and each is true to themselves and also supportive of other women.
Katherine: L'Oréal has a very diverse and wide range of spokespeople. We each have our own stories, everyone has a different background and in many ways, it's our individuality that unites us. Everyone has their own story, voice and perspective and when we come together it's a really powerful sisterhood. Of course, Nikolaj (Coster-Waldau) is a spokesperson as well.
What does empowerment to you as a woman and as an actor?
Gemma: To me it's knowing one has a voice and also knowing that one is able to use that voice. That can happen internally, as well as be evident in the form of structural changes on the outside that we all need to work together towards improving.
Katherine: Empowerment means different things to everyone. For me, empowerment is having the power to make your own choices... whether it's how you look, how you dress, what you say, having an opinion....
How does one retain one's individuality in an industry like yours where there is always the pressure to conform to stereotypes?
Katherine: It's a cliche to say that be true to yourself. The beautiful thing about being on the journey of life is that you get to continuously figure out who you are but also reinvent yourself. It's important to be confident in terms of who you are no matter what stage of life you are in.
Katherine, growing up in Perth in Australia, was acting always the dream?
Katherine: I have always loved music and acting. I have been singing since I could talk and I have been dressing up and acting ever since I could walk and have control of my own movements. But it isn't something that I necessarily thought was possible. I didn't grow up seeing people act for a living. The closest thing I had was a friend of mine who was (the late actor) Heath Ledger's sister. But at that time, I was too young to appreciate his work.
Gemma, having been in showbusiness for a while, how has the scenario changed for women in terms of representation in Hollywood?
Gemma: I think we have taken some good strides forward in the last few years in terms of onscreen representation. But in some other areas, we can still do better. We have quite a long way to go in terms of addressing the imbalances of people behind the camera, behind the scenes and in positions of power... positions in which one can influence and keep the door open for future generations of women. There are still constructural issues that we need to work on.
Taking off from that, how important is it for you that women tell women's stories on screen because that is definitely still a minority?
Gemma: It's vital that women have a key role in telling women's stories. Whether that's them getting involved as a writer or a director or in any other key creative position in the production. But I am not saying that men can't tell women's stories or vice-versa. I just want a diversity of voices within the writers' room or on set. It's about balance, I would say.
Gemma, how much has inclusivity and colour-blind casting improved things at the ground level?
Gemma: I think things have improved as far as I can tell. The pipeline of talent has to improve in all different areas of the industry. We have to address that as well. We need to look at every possible juncture... examine what the obstacles are towards women or any other under-represented group progressing towards the next level of their career.
In my career, I have been quite fortunate to have played roles that haven't focused on my ethnic background. The idea is to play roles that have a certain specificity, but also where that doesn't come into focus at all. And each project is unique and has different kinds of requirements. Now, the stories feel more authentic.
In the parts that you have played so far, which has come closest to who you are?
Gemma: There are parts of me in every character that I have played, to a greater or a lesser degree. I did a Steven Soderbergh film called Let Them All Talk and I put a fair bit of myself into that character (Karen, a literary agent to Alice Hughes, played by Meryl Streep). The dialogue was largely improvised and I loved that!