Actors Chris Pine and Thandiwe Newton gets candid about 'All The Old Knives'
The film is a spy thriller based on the eponymous novel by Olen Steinhauer, that premieres on Amazon Prime Video on April 8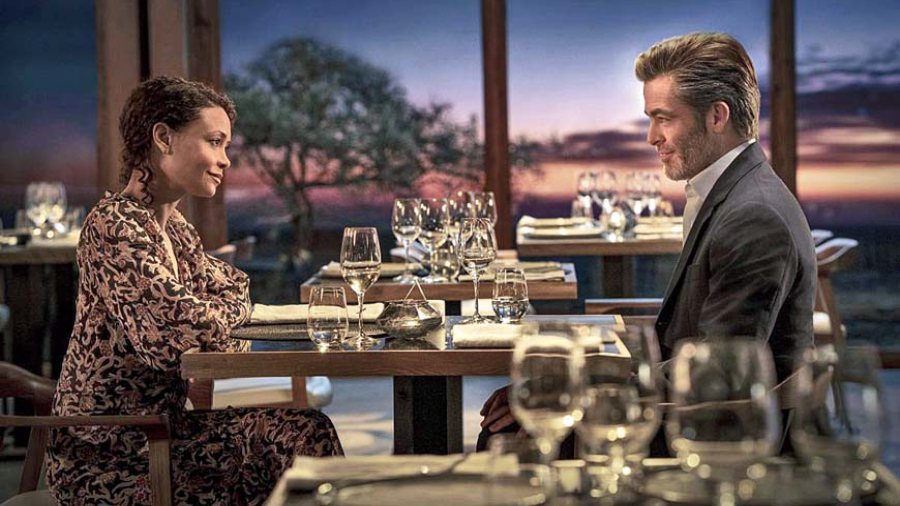 The Spy Who Came to Dinner: Thandiwe Newton and Chris Pine in All The Old Knives
---
Published 04.04.22, 02:39 AM
|
---
The mandate was to only chat about the film, but it's not every day that one gets the opportunity to come face to face — albeit virtually — with Chris Pine and Thandiwe Newton. The two star in All the Old Knives, a spy thriller based on the eponymous novel by Olen Steinhauer, that premieres on Amazon Prime Video on April 8. Over a late-night video call, The Telegraph caught up with the two prolific actors for a fun chat filled with laughs.
How would you describe All The Old Knives?
Chris Pine: It's a classic, elegant, sexy spy thriller in the vein of a John le Carre whodunit. Celia (played by Thandiwe Newton) and Henry (played by himself) are two operatives stationed in Vienna around 2012 when a really bad terrorist attack occurs. And about eight-nine years later, the CIA begins investigating the case again based on the evidence that there was a mole in the CIA in the office at Vienna at that time.
Even as everyone wonders who that mole was, there is an intense love story between Henry and Celia that became complicated for many reasons, not only because they worked together but also by the whodunit aspect of this terrorist attack.
This is probably one of the best scripts I have ever read. I wanted to do it for five years, but I could not. I love John le Carre, I love The Spy Who Came In From The Cold... intelligent, elegant, sexy, European spy thrillers. I wish I could do them all the time.
Thandiwe Newton:It's a perfect couples' movie, the best one ever! It's so pithy... the movie asks you, 'What would you do in this situation?' And I challenge you to do things differently than what these people do in the film.
This is a story about trust, and trust is something that actors rely on a lot. How important is trust for you in your work and in your co-stars, especially when you don't know each other well?
Chris: It's a job and even if you don't like the people you work with or don't trust them, you have to do your thing. But it obviously makes it a lot easier when you can trust each other....
Thandiwe: It was really important in this film, as with most other films, because it's not about what words we are saying... it's about how we are with each other. And in this fairly stressful environment of the CIA, for these people to find love is quite unusual, but it's so important for the two of them.
The trust is also revealed in how we behave with each other in intimate scenes. We had an incredible intimacy director. She really helped us, and it was inclusive, collaborative.... For this film particularly, trust was very important and when it comes to sensitive material, I can think of no better person to work with than Chris. He comes to work so prepared, he's incredibly respectful, and in the intimate stuff that we had to do, I can't think of anyone better than him. He was so kind and generous. (Looks at Chris) I hope you felt that I was the same....
Chris: Of course!
Thandiwe: I was astonished that we were able to achieve all that we did in this film. It's a tough
thing to separate out your true self from the intimate things we do on screen... there is no line between you. How on earth do you really suspend disbelief? But we did, and I am so proud of this film because of the level of trust that we achieved. This was a new one for me, this one.
It's a huge thing for actors to trust each other. I don't always trust (smiles). But you trust yourself, that's what you do! You have to have a good relationship with yourself. What were the most challenging bits about playing your respective characters as also the most creatively fulfilling?
Chris: The dinner, where Celia and Henry meet again after years, takes place throughout the stretch of the film. That's about an hour-and-a-half, and to work on that for two-three months was tough. We were not diving into one scene on one day, and then a totally different one the next day. We had to work on that one scene, and pick up moment by moment by moment, even in seconds. And it's all about the nuance of the subtext. We had so many close-ups, and we had to let the performance rest in the eyes and just let it play out. That was very challenging, it was like a play in a way. We were just sitting at a table, and there's not much that one can do in terms of body language and behaviour.
Thandiwe: We did that dinner scene for a week, sitting at that table. I think one thing that wasn't so much challenging as it was fun was how our director Janus Metz, who is from Denmark, used references of (film-maker Ingmar) Bergman, he would show us images that inspired him... so we had a sense about how the film would look like. He invited us in, to really see what he was thinking and envisioning, and that was quite useful.
And Charlotte Bruus, our DoP (director of photography) is an incredible artiste. She created not only what Janus had in his head, but also added her own touches. When I see the film, I see Charlotte in it. Initially, it was quite challenging, but because we had such incredible people behind the camera, we were very lucky.
Chris: For me, there is no thrill without the romance in this story. This is like The English Patient... a love story wrapped up in a great thriller. I loved every single part of this thriller. The writing is exquisite, the cat-and-mouse (game) is exquisite... the cobblestones, the fog... this is the kind of film I like to watch.
Thandiwe: Every time we watch the end of the movie, we are floored. I actually can't even think about it because I start crying.
In the film, Celia describes intelligence gathering as "the ultimate high". What do you mean by that?
Thandiwe: Secrets! To be privy to the big secrets and to know who makes the big decisions in the world, and how! Look at where we are today in the world! Peoples' lives literally depend on the decisions being made by a few. We were lucky that we had access to people who genuinely lead such lives. I spoke to this wonderful CIA operative, a woman of colour, who allowed me a portal into this kind of life. All these guys have huge bottles of TUMS (used for indigestion) on their desks! (Laughs) We didn't use that in the film because it wouldn't have looked slick. But look at the kind of stress we are talking about! Celia and Henry are better off because they have managed to find love inside all this craziness.
The interplay between their intense love and this predictive, deathly place that they are in was very real. And I am glad that we were able to show that side of how these people live and work. It's not glamorous at all! The stress of it all, I can't imagine anyone doing it for more than a decade. And when they leave, they have to do a clean-up job on themselves.
The woman I spoke to told me about a project she worked on for years, and it didn't go the way she thought it would. And to just hear her describe how that felt.... I have an issue about movies using-real-life horror in order to entertain. But we did try and tap into the authenticity of what happens for these people. Which is why our advisers were important. Like the woman I have been talking about. She's so cool, man! I would give anything to be as cool as her (smiles). I did have a go, I tried... I tried to be her for a minute. The dinner scene takes up a large chunk of the film. How did you keep something repetitive like this interesting?
Chris: Our work is repetitive by definition (laughs).
Thandiwe: That's what we vibe on. How to make that repetition interesting. It's micro work, a lot of the time, we are just in here (frames her face)....
Chris: This movie was an intense piece of material. Just the level of concentration reminded me of theatre. Everything is bound by a thread, and if you pull that thread, something was bound to reveal itself....
Thandiwe: It was like a puzzle!
Chris: It was. And for me, the beauty of this film lay in doing that puzzle every day. Of course, it's repetitive but you learn to see the beauty in it.
Thandiwe: The benefit of shooting in England was that we had (veteran actor) Jonathan Pryce showing up for our movie. We were like, 'Wow'! And then we had Laurence Fishburne, of course. To see people arrive on set so ready without having the benefit of the rehearsals that we did, was beautiful.
Chris: This is obviously Celia and Henry's story, but the mosaic of the supporting cast, is unbelievable. Some of them only had a couple of scenes or moments, but they were so good.
Thandiwe: Some of the actors we had had never been in a movie before this. And it was important to have a good team because this is a story, as I said, of what's happening in the world now. There is so much relevance to the stories that we are telling now. I felt that commitment at that time and I see it on screen now. We had a cast and crew channeling genuine concern for our planet, our world, our people....
How did you establish the close dynamic that your characters share?
Chris: All of us got together and took apart the scenes....
Thandiwe: We had a lot of conversations much before shooting. We did Zoom calls.... Janus and I would meet on Zoom over dinner because it was lockdown and we weren't all together. Taking the rehearsals into my home life was quite fascinating. It made me more involved in the film.
Chris: As actors, we are always asked how we establish chemistry and I wish I could give you something method-y, like there is some mathematical algorithm to create onscreen chemistry (laughs). All I can say is that I love Thandiwe as an actor and a human. But even if we hated each other, there is a great chance we would have palpable chemistry too. It's the alchemy of a good story, good acting, something that is well shot, a director that knows how to pull things out of people.... We also spent time across the table between shots getting to know each other and our respective lives.