Actor Rajdeep Gupta on his Mismatch experience
"As an actor I still have some inhibitions. I still can't do intimate scenes with that ease but I try to do whatever the script demands. I haven't really thought about what I can't or don't want to do as such yet!"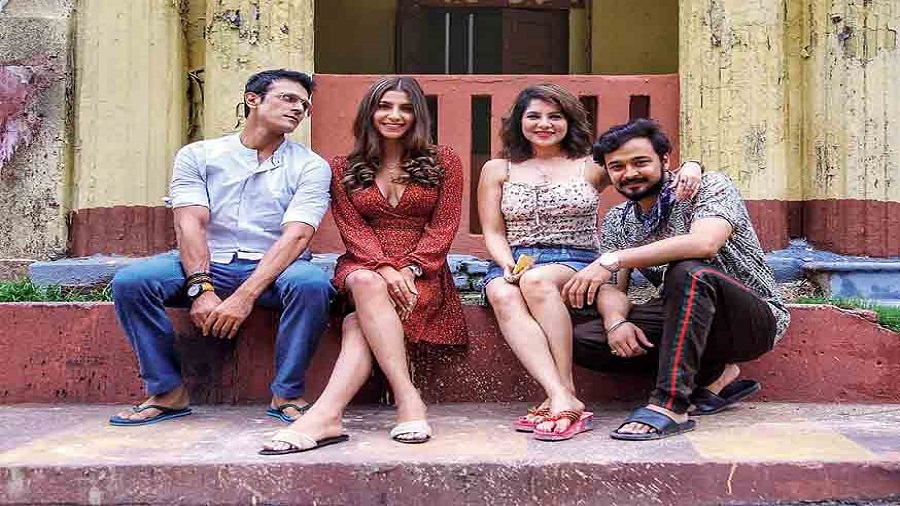 ---
---
Actor Rajdeep Gupta is very happy with the feedback coming his way for the trailer of Mismatch Season Three (Hoichoi web show). "I am getting a lot of messages and positive comments on social media... some of my friends are sharing the posters and wishing me luck on Facebook and Instagram, and some are being naughty and teasing me as friends do," smiles Rajdeep. A chat with The Telegraph...

The theme of Mismatch revolves around couple swapping. Have you heard such stories in real life?!
No! The first time I heard someone talking about couple swapping was when Akshay Kumar spoke about it to Bobby Deol in the film Ajnabee! That's it!

How do you see your character now? How has he evolved over the years?
Though I have mostly done comedy in all three parts of it, I have got different shades in each one. In the first season my character was a bechara, a nice guy trapped in his own stress, and his situations were funny.
The second season was slapstick and I did a bit over-the-top comedy as my character was loud and it had a grey shade to it too... and even the subject of the story was new to us... a cuckold husband. In the third one I have tried to keep it subtle... it's more situational comedy here. I have got some of the finest actors as my co-actors here, so I really enjoyed every bit of it this season.
What happens this season?
This season is bigger and even my expectations are too... we see a new couple, Abhishek and Payel (Sarkar) this time. Kanchanda (Mullick) and Priyanka Rati Pal are in new avatars. Season Three is a different package of laughter.

What is your fave aspect about acting in Mismatch?
The genre comedy... that's my comfort zone... and comedy has a lot of types and ways... and Mismatch has given me different shades of comedy. It also helped me break the inhibitions I had, I gained a lot of confidence as a performer too.

What are some of the most hilarious and outrageous things you have done in Mismatch?
Mismatch is all about that!
Like what else can be more hilarious for me than doing so many scenes wearing just an underwear. I have roamed around just wearing an underwear in between shots in office buildings and studios. I got hit and spanked with whip ropes and what not.
Talking about whip rope, it reminds me of an incident from Mismatch Season 1, where I had a scene, which was supposed to be a nightmare sequence... my hands were tied and I was lying on the bed and the girl was supposed to wear a mask and play around with a whip rope.
It was a first time for the girl in front of the camera. Our director Soumik Chattopadhay asked her to relax and follow his instructions and perform the scene. She was supposed to hit me with a whip rope... and our director kept instructing her from behind the camera in Bangla, "Buke maaro!" but poor soul she got nervous and heard "Mukhe maaro" and kept hitting my face!

Is there something you would not do for Mismatch?
Well, as an actor I still have some inhibitions. I still can't do intimate scenes with that ease but I try to do whatever the script demands. I haven't really thought about what I can't or don't want to do as such yet.

How is it like shooting the intimate scenes? Do you all crack up while shooting?! Does it get awkward?
While shooting we really change the environment. The team is very supportive... we try and crack jokes, pull each other's leg and Soumikda is a very chilled-out man, he makes us very comfortable during the shoot.

How was Rachel and Payel to work with?
It's my third project with Rachel, so the comfort zone and understanding has grown better... she's a very cool- headed and co-operative co-actor. And with Payel this was my first time and the experience of working with her was wonderful. I loved her comic timing. As a person and as a co-actor she's wonderful and very helpful too.

The serial Ogo Bodhu Sundori was aired again recently. What are your fave memories from the shoot?
This one's a treat... it was my first project and I was nostalgic throughout. It has brought back a lot of memories... every time I watched a scene it would take me back to the behind-the-scene memories... each and every bit of what I was taught by Ravi sir... they all felt so fresh again.

Do you feel you are getting stereotyped in sex comedies?
Yes it does bother me at times. I took a break from television to try and do different shades and types of characters and test myself as an actor. But yes I won't deny the fact that comedy has really worked for me... but I am still hungry and looking for different challenges... RRS2 was a change for me... and I have got good feedback from it... currently I am doing a film with Rick Basu, which is a thriller.