A chat with Konkona Sensharma and Alankrita Shrivastava...
...post the release of their critically acclaimed film Dolly Kitty Aur Woh Chamakte Sitare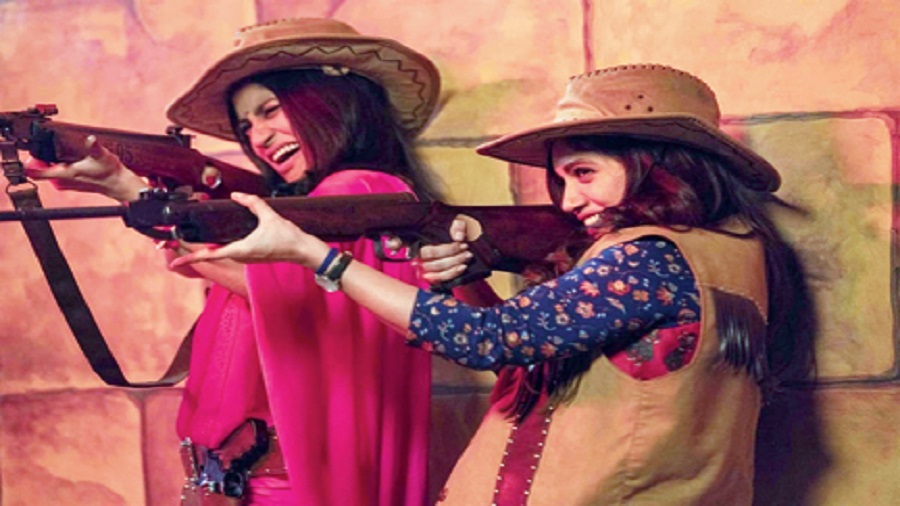 ---
---
Dolly Kitty Aur Woh Chamakte Sitare, a tale of two women allied by empathy, dropped on Netflix last weekend to unanimously positive reviews. Post-release, we caught up with director Alankrita Shrivastava and actor Konkona Sensharma, who plays Dolly, to talk about the world of the film and why more films with women protagonists need to be made.

In the sea of feedback that's come in ever since Dolly Kitty Aur Woh Chamakte Sitare dropped, is there anything that's stayed on with you? Anything about the film that you didn't really expect to strike a chord but it has?
Alankrita Shrivastava: I feel that Pappu (who plays Dolly's younger son and is grappling with his sexual identity) really resonated with everybody. There was one where someone had written that there is so much tenderness in the film that she constantly wanted to touch the actors on screen. There have been messages like that. I was very moved by the message that Koko's (Konkona) mother, Aparna Sen, sent me. That was very, very moving. I have so much respect for her, she's such a pioneer director and for her to have liked the film and to send me such a special message... I think I will treasure it all my life.
Besides the love, there are also lots of questions, lots of thoughts.... Different people are connecting with different elements and saying, 'you should have put more of this and that'....
Konkona Sensharma: I am really happy about two things. First is Pappu's one big scene and how the audience has related to him. We did as well on set because the actor Kalp was so wonderful and brought so much to the film. Also, that one scene I have with Neelima Azeem (who plays Dolly's estranged mother) has really struck a chord with many people, especially older women. That's because in our society, older women following their own hearts and desire and abandoning their child is so taboo and unheard of. And so I am very glad that people have connected with that.

Alankrita, you had shared a tweet recently saying that after Seeta Aur Geeta, this is the first Hindi film in close to four decades to have the names of its women protagonists in the title. While that's commendable, it's also symptomatic of the fact that not enough women stories are being told even now, isn't it?
Alankrita: Someone on Twitter posted this and tagged me and that's how I got into the conversation, only to later realise that there is another film called Jia Aur Jia, but then the two names there are the same.
To answer your question, yes it is symptomatic of the fact that there are not many films made with women at the forefront. I always feel that it's not only about having women protagonists, it's also the gaze with which we are looking at women. I often find that even in films with a female protagonist, the gaze often jars and doesn't feel empathetic. I feel we are still very, very far away from a more equal system, whether it's having enough female protagonists or more women behind the camera. We need to have more films with women in the lead so that we stop feeling, 'Oh these two women-centric films came out this year, wow'.... It should rather be so normalised that one doesn't even think about whether a film is female centric or not. No one ever says, 'Oh wow, this is an amazing male-centric film!'

In a film with many interesting characters, Dolly had the most intriguing character arc and journey. Konkona, what was it like playing someone who's very relatably flawed?
Konkona: I was thrilled to bits! Alankrita and I bumped into each other at the salon and she asked me if I would read a script. I said I sure would, because we are friends and I thought she wanted feedback on what she's written. And when I read it, I thought the first scene was explosive! I read it and I was like, 'Oh my god! We are being mature, we are being honest and audacious and authentic', and I was so excited. It just starts off with that scene in the amusement park where Kitty (played by Bhumi Pednekar) tells Dolly that your husband is hitting on me and that's such a normalised and culturally accepted phenomena that's never been addressed or acknowledged on screen... it just blew my socks off!
I have played many strong and upright women, many morally irreproachable women, which is, honestly, quite boring to play after a point. I have played such women to the extent that I have been conditioned like that. Even while shooting this film, I would tell Alankrita, 'Are you sure I should be doing so much?! People just may not like Dolly!' (Laughs) Alankrita is very sweet and gentle, but she's always sure about what she wants and I would be like, 'Okay, okay fine'. In retrospect, I am thrilled I did things her way because why can't women make some decisions that are transgressive, or which are sometimes irresponsible? It's very rare that we see women as individuals... we see them as how much they are conforming to what is expected of them. I was so thrilled that so late in my career, and for the first time, I got to play a woman like this.

A criticism that's come the film's way is that you had too many strands and subplots, some of which didn't find a satisfactory resolution. Would you agree?
Alankrita: To be very honest, it's interesting to read criticism, but one cannot live by what critics say. If I had done that, I wouldn't have been here making these films (laughs). For me, it was important to be true to what I wanted to say. To me, the world of Dolly and Kitty never existed without those ancillary characters around them.
For instance, if Dolly meets a delivery boy, who would he be? The image that emerged in my head was of a young Muslim boy, Osmaan (Amol Parashar), living in Greater Noida, who experiences the kind of casual violence that one has known and heard of. I have lived in that area and young girls like Kitty can't walk there alone after sundown... that threat is constant. If Dolly has invested in a house in that area, you know for sure it's not going to be finished. There are lots of things, but I have looked at them minutely and not through a cookie-cutter lens. It was just about being true to those moments. Those situations and characters couldn't have emerged without nuance and Dolly and Kitty couldn't have existed in a vacuum.

From Lipstick Under My Burkha to Dolly Kitty Aur Woh Chamakte Sitare, what is it about the Konkona-Alankrita dynamic that gives us such landmark films?
Alankrita: To be very honest, I am very greedy! (Laughs) I think Koko is one of the finest actors in India and I just want that the best actor should portray a character that I have created and just lift it and take it somewhere. There is a very organic and fluid connection that I feel with Koko that got built through Lipstick and then we became friends. I don't feel inhibited in any way, I feel I can just tell her anything. I feel that she organically understands where the character is emerging from. What I also love about Koko is that despite being such an amazing actor, she will never say, 'I am not going to do prep'. We do a lot of readings and workshops and by the time we go on set, we both know how we want to graph out that character. Having Koko on set is a huge asset because I feel that she's really got my back. Even when there is chaos on set, her presence is very comforting.
Konkona: I think Alankrita and I inhabit a similar kind of a space. We are kind of the same age, we are both women, we have a similar world view and ideology. There is mutual respect and trust in each other. I also appreciate the fact that she tries to say things that are valuable, unique and distinct and not really available anywhere else. So it's my greed as well, because no one else that I have come across is writing such parts for women. Of course, our friendship was fostered with Lipstick, but it grew much more on Dolly Kitty... because by then I had also directed a film (A Death in the Gunj) and so I was also a little bit more understanding in terms of what a film-maker has to face than I was earlier (laughs). What's remarkable was how easily Bhumi fitted into this framework. Alankrita and I know each other, but Bhumi is so much younger and she fitted right in and also contributed to the little circle of trust that we have built.

Konkona, on the day the film came out, you tweeted, 'Grateful to get a good role after so long'. Has that been a consistent struggle given that you are one of the rare actors who's managed to straddle the worlds of commercial and indie cinema quite effortlessly?
Konkona: It's not that I made a conscious decision that I will straddle both these worlds. I just did what came my way and usmein se whatever was interesting, I did it. I have reconciled myself to my life's choices, in the sense that because of my upbringing, I am happy to have a certain unpopular ideology and opinion... I am okay with not participating in what is necessarily the dominant kind of film-making. I am okay with doing films that may not be as watched, because I see a certain value in a film that may not resonate with everyone. And I am comfortable with those choices because they feel true to who I am.
Some of my best work hasn't been watched by many people! (Laughs) To be honest, it's very liberating because I feel I am only doing things for myself. It's wonderful if people like it and it's perfect if producers can make their money, but it's not that there is any angst around not getting enough good roles. Now that I have a child, I anyway do slightly less work. But it's true that I don't get so many parts, primarily because there aren't many interesting characters being written for women who are older. The bulk of women characters on screen are in their 20s, aren't unmarried... and the funniest thing is that such decisions are being taken by producers and directors who are men in their 40s and 50s (laughs), because that's what they want to see!

Alankrita, you are a rare film-maker who discovered her voice very early. What is it about the inner lives of women that fascinates you so much?
Alankrita: I went to an all-girls boarding school, followed by an all-girls college. I continue to read a lot of literary fiction written by women. I also have very strong women in my family. My interests are very reflective of who I am. I think I was trained to think in a critical way from when I was pretty young. I have always challenged ideas of what is equality and what it means. These are the stories that I find interesting and these are the stories that move me. I am not interested in making films for the heck of it or simply propelling the status quo. I want to tell stories that mean something to me and that I would like to watch and that may not have been explored in the way I can explore them.
It's a need to express my own voice and thoughts.
It's interesting that you say I found my voice early. My first film (Turning 30), no one really got it! (Laughs) But I am very glad that I continued to do what I felt I should be doing instead of second-guessing myself.