Honey Bafna on 'Gramer Rani Binapani'
The actor in a candid chat opens up about shooting from home and evolving as an actor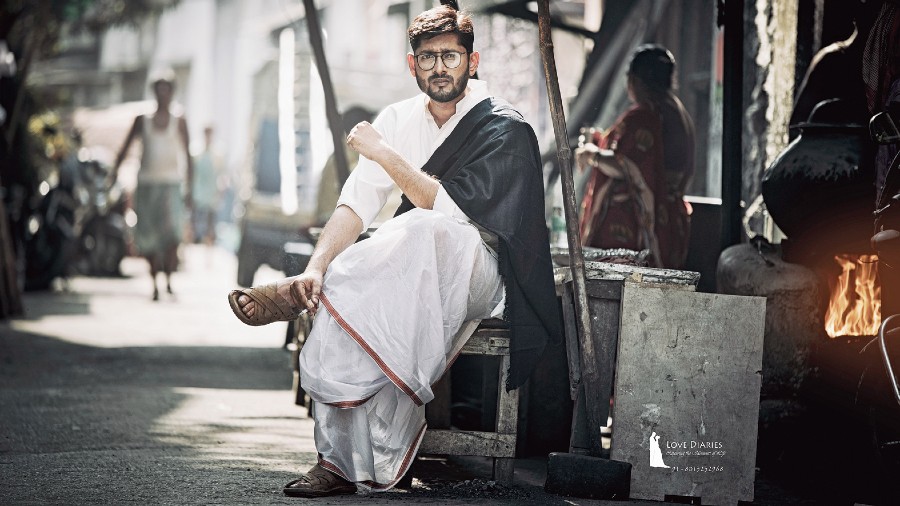 Sourced by the correspondent
---
Published 09.06.21, 11:09 PM
|
---
From never having thought of getting into acting to having quite a few TV serials to his credit now, Honey Bafna has emerged as a popular face in the Bengali television industry today. He has won acclaim for his performances, and ascribes his dedication towards acting as the best part of his craft. "Acting makes us very emotional, which is necessary to understand the joys and sorrows of others. Many a times we are to portray certain nuances and shades that we have not experienced in our lives before," says Honey. In the serial Gramer Rani Binapani, currently airing on Star Jalsha, he plays a rich businessman caught up in the complexities of his business and life. A candid chat.
Tell us about Gramer Rani Binapani and your character Shatadru? How do you identify with him?
Shatadru loves his work and his family. He is a man of his words, walks the talk, doesn't indulge in idle talk and is very straightforward, which is very similar to me. If he feels something is wrong, he says that outright which I like a lot personally. But he is going through a crisis in his life. It involves an operation and that means 50-50 chances of his survival. So he is unwilling to go for the operation as of now. Since there are high chances of him dying, he wants to strengthen his family business and leave it at a strong position. Each one of us has many shades to our personalities.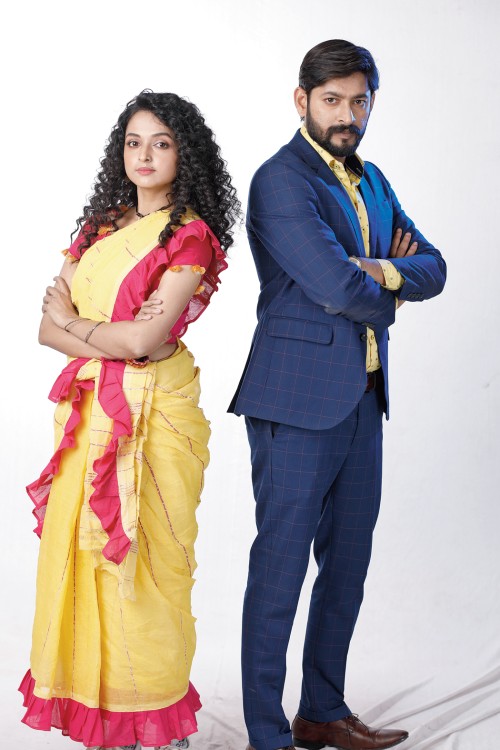 How difficult is it to shoot from home now, given the lockdown?
It is difficult shooting from home, yes, but it's also for the greater good right? Our audience loves us, and as it is we are all stuck at home, so if they don't get to see the episodes then it will only add to the gloom. I am setting up the camera and mobile by my own now, and shooting the scenes all by myself. There is no one to give me any cues at home, so I have to imagine that by myself and do my scenes, which is helping me evolve as an actor. I have to remember every co-actor's cue and dialogues too. I am loving the experience all the same, it's a good thing! To fight the pandemic, you have to stay home. There is no other way.
From graduating in mathematics from Asutosh College to working as a medical representative and now a successful career in acting — how did acting happen?
I had never thought about getting into acting. I come from a middle-class family. I was fairly good in academics, but not outstanding. When I was in college, maths was my favourite subject. Later I used to work in events. I also worked as a medical representative for about five years, and then suddenly, I came into acting. And it just clicked. And then, I thought to myself that I should indeed pursue acting and went ahead with it. I started out as a junior artiste, and then I went on to get better characters and finally landed the role in Bokul Kotha. Then, Prothoma Kadambini happened and now Gramer Rani Binapani on Star Jalsha. This is how it all began.
You also conduct acting workshops at a private acting school — how has the experience been as a teacher?
See, I don't think I have reached the stage where I can teach people, but at the same time I also think that those who are totally novice and don't know anything about acting can gain something from my experience so far, so if I know 10 per cent of acting and can teach them say, even 5 per cent, that will be my achievement. My experience as a teacher has been very good — I was into teaching even before I came into acting. I taught maths, physics, chemistry — which I enjoyed teaching... and I enjoy teaching acting too. Amid the busy schedule of our serial, it is not really possible always but I try my level best.
Do you have plans to get into films and also web series in the future?
I don't have any specific target to do cinema or web series but yes, if I get good roles, I will be happy to do them of course. My main aim is to work every day and to act every day, and that's about it, in whichever medium — be it serial, or web, theatre or cinema. Within the busy schedule of acting in serials, it's often not possible to do something else side by side. So, that chance to go back to theatre is perhaps not there any more.
Do you find any major difference between the acting style in mega serials and cinema?
About this I am still in a dilemma because I think that acting is after all acting, whatever the medium might be. Yes, acting in mega serial is different from theatre, because in theatre, even though there are many microphones, I have to speak out loud for those seated at the very back of the hall. While there's no hard and fast rule to that but I still feel there's still a slight difference. I have heard this notion from many that mega serials require a certain kind of acting and cinema needs a different style of acting, so does theatre, but I feel that acting should be done in such a way that the audience feels that the story of the characters unfolding is true, and that requires natural acting, be it in theatre or in cinema, or serial. But, as I am new to this field;  I haven't still arrived at a conclusion on this matter.
Do you have to prepare hard for any role or is it more instinctual for you?
Well, first of all, I haven't done much of cinema, so I am not aware of the kind of preparation that goes in before shooting. Second, in mega serials, we don't really get enough time to prepare beforehand. We are given an outline about a particular character but since we cover a vast syllabus of that character in that particular story, we only get to know the updates as the scene comes up that 'oh so this character has this shade also.' So, that thought begins after we get the script, and since the time gap between shooting and getting the script in hand is very less, we have to think on our feet. So, it is a lot more instinctive you could say — that we understand a bit, and then act the rest on floor. But, even after returning home, I keep thinking about the scenes I did that day and self-introspect on my performance. I watch the old episodes — especially my scenes to gauge if I am able to depict the shades properly or not. So this process of being both instinctive but with some homework is more like it, the homework is less, and it is more instinctive because I am performing in a serial. Yes, cinema has a different process, there we get a lot more time for discussions, workshops.
How do you deal with fame? How do you handle criticism and appreciation?
Well, I want to work hard. It is natural to feel good, when people appreciate your work but I don't feel the need to get to the pinnacle of fame and to be a big star. I want to act!
And I give more importance to criticism than appreciation because constructive criticism will help me grow and improve my performance. If someone criticises my performance, I give them more attention. Of course I like appreciation!
Do you think Bengali TV serials are going through a changing phase now?
I have heard this from my seniors in the industry.... that right now, many upcoming serials in Bengali serials are not solely women-centric so to say. The name might be based on female leads, but male leads are equally significant. Speaking for myself, I have done Bokul Kotha where my character was quite important. This is only possible when due significance is given to the male lead too. In Prothoma Kadambini, too my character is very important. I can speak for myself, in the last few serials, and even from what I have understood from other serials is that there are serials being made especially focusing on stories of men as well. I don't have enough experience to answer this question. But I think the audience of mega serials to some extent, like to watch love stories and if not more, at least a love angle in the overarching story.
What are you watching now?
I just finished watching Mukesh Jasoos, I loved it! I also finished watching Dude and Aspirants.