'Acting liberates me, acting completes me'
Actor Manoj Bajpayee on Season 2 of The Family Man being postponed, upcoming thriller – Silence and more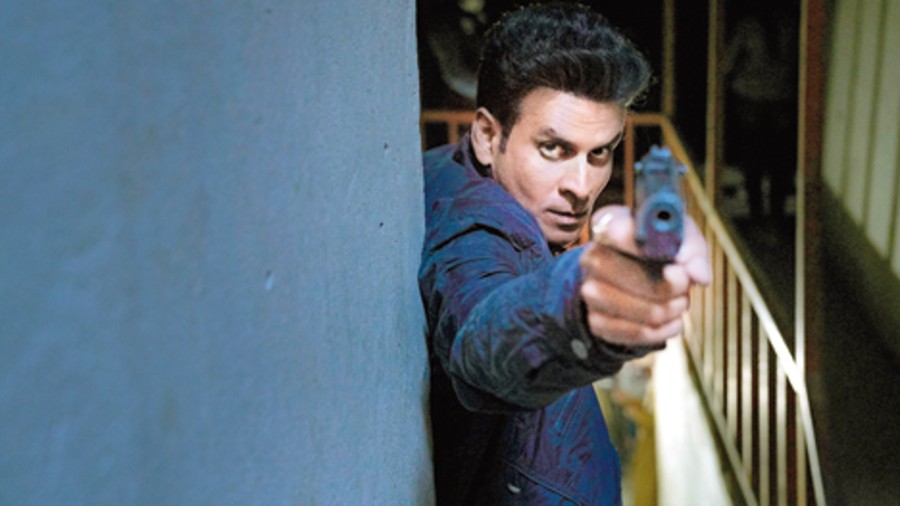 Manoj Bajpayee as Srikant Tewari in Season 1 of The Family Man
Sourced by the correspondent
---
Published 17.02.21, 11:48 PM
|
---
Season 2 of The Family Man may have been postponed to summer, but Manoj Bajpayee has reason to celebrate, having bagged the Best Actor honour for his performance in the film Bhonsle at the recent Critics' Choice Awards. The actor also has a thriller, titled Silence, slated to release next month. A candid chat.
Congratulations for the Critics' Choice Awards for Bhonsle. At this stage of your career, having received so much recognition and so many accolades, what do awards mean to you?
Appreciation for one's hard work, no matter which corner of the country or the world it comes from, is encouraging. But it has never bloated my ego or mind, it has never given me any sense of achievement. The definition of achievement is something else for me. It means creating a  filmography and accomplishing a journey that one would be proud of.
Having said that, awards definitely encourage and inspire me. I bow down every time people appreciate my work and with all humility, I accept them. And if it's criticism, I accept that too, without trying to defend my work or myself. I always try and answer criticism with my work, I never get back at people verbally in defence against any criticism. Awards confirm that whatever I have been doing is right and that I need to keep moving forward in that direction.
We are disappointed with the postponement of the release of Season 2 of The Family Man. Are you as disappointed, or do you think coming a few months later will work in its favour and pique audience interest even more?
We all are disappointed that Season 2 has been postponed. The decision has been taken by the Amazon (Prime Video) guys. It's their biggest property, it's something that they want to release with a lot more care and strategy and they want to do full justice to it in terms of marketing. So it's better that we should leave it to the people who are the experts, who know their job very well.
It's just a matter of two-three months. I would just urge everyone to be a little more patient. We are all very excited and curious, even as a team, to know how Season 2 has shaped up. The team hasn't seen it till now... I think it will be shown to us after two months.
You have a release before that in the form of your thriller Silence, on March 26. What, for you, are the trademarks of an engaging thriller?
Well-written thrillers have an engaging pace. Once that is taken care of, one needs to focus on the interpersonal relationships in the film and the dimensions of the characters. If you try and hurry the pace of a thriller, you actually end up losing the finesse of a good thriller. That is something that I always keep in mind. Even if it's a thriller, it has to have great interpersonal relationships on screen. The characters should be so well etched that the audience is able to know the back stories of every one of them, without it being too obvious in the script. Playing with light and shade is also crucial in a thriller... the viewer should be able to see how the cinematographer treats every scene, and that's something that's very critical to the storytelling.
Taking off on the title, what does 'silence' mean to you, especially in the context of the noisy world, in all respects, that we find ourselves in?
It's very, very essential to be silent. In the middle of so much, one needs to have the capacity to mute the noise around us. This is something that's very difficult, but I have been trying to do it for a very long time. And I think I am getting closer to it. This is a matter of practice and I feel that the importance of silence should be taught to every growing child. Being observant is something I always endorse.
Our points of view are increasingly clashing with each other, the world at large is in conflict. Absorbing, observing and keeping quiet is the need of the hour. Only say things which are important, don't say things just for the sake of saying them.
Silence releases on a streaming platform (Zee5), and you are working on the film Despatch, which has announced a direct-to-digital release at the outset. Is this the new way forward for medium-budget films?
Right now, it's the best way to release films because movie theatres are taking time to come back to normalcy. They will take their own time because the virus is not really going to go away, and people are quite used to watching films or series at home. Most families are not taking the risk of going to the theatre.
So what can we do? We can't stop telling stories, we can't stop acting.... We need to keep doing our jobs, make content and take it to the audience. If it's through the digital medium, so be it. That's the norm for now, but in the future, we will have some content in theatres and some on streaming platforms.
Telling a story is important, and OTT has become as big as movie theatre exhibition. It's good for film-makers to have a choice of so many mediums because we need to be empowered to tell our stories. If there is only one medium, which is movie theatres, there will be a monopoly and we will continue to have the same complaints against them like we did in the past. But with the emergence of OTT as a very powerful medium, the field has been levelled and it's now a very democratic and liberating set-up.
So many years in the business, what is it about facing the camera that makes you go to work with the same enthusiasm and zeal?
Acting liberates me, acting completes me. It's very meditative for me. When I am acting, I feel that I am in a world that is completely away from the outside world and its problems. I am the happiest when I am acting or when I am working on a character, It's a zone that I would like to live in forever. Acting is the only thing I always wanted to do and I feel blessed that God has given me a profession which has always been my passion and my love. It's a love story with this craft called acting, which is never ending.
Is there any recent content you watched that left a lasting impression on you?
I have seen Lupin (inset) and The Crown Season 4. But right now, I am quite busy with my shoot. When I am shooting, I usually don't watch or read anything else, it's only the script. I don't let anything clash with it. This is something that I have done since my early acting years... it captures each and every cell of my brain, and I can't afford to get out of it. But as soon as my shooting is over, I will be back to watching and reading.