Achintya Bose making waves with Netflix film 'Yeh Ballet'
The Calcutta boy is winning praise and plaudits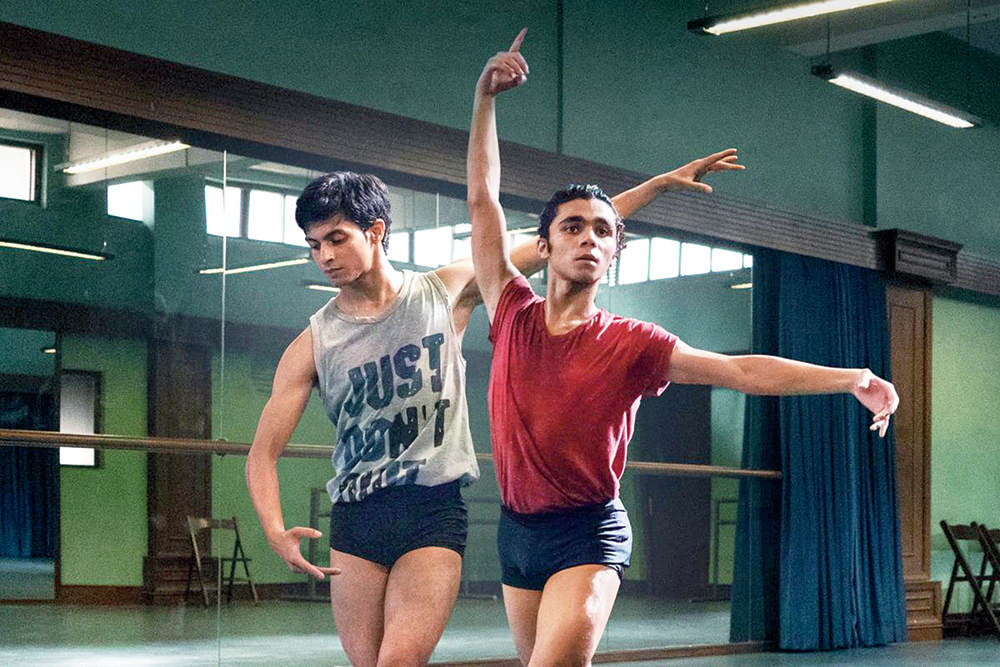 Achintya Bose (in red T-shirt) as Amir with Manish Chauhan as Nishu in 'Yeh Ballet', now streaming on Netflix
(A scene from the movie)
---
Published 04.03.20, 01:06 PM
|
---
He studied at Delhi Public School, New Town, calls VIP Road home and loved hanging out at City Centre New Town. Calcutta boy Achintya Bose is currently on a high, winning praise and plaudits for his superlative act as the ballet dancer Asif in Yeh Ballet.
The Netflix film, directed by Sooni Taraporevala, traces the real-life journey of Mumbai boys Manish Chauhan and Amiruddin Shah who rose from the slums of the city to learn ballet and win scholarships to the Oregon Ballet Theatre School in the US. While Manish plays himself (his character is called Nishu in the film), Amir — who is currently training at the Royal School of Ballet in London — is played by 19-year-old Achintya. The Telegraph caught up with Achintya for a chat on the film, his love for dance and the road ahead.
Congratulations for Yeh Ballet. You are very good in it. What are people telling you specifically about your performance?
Well, I don't want to brag but everyone's been saying that I came across as a natural. It's been all very positive, thankfully.
Have the overwhelmingly positive reviews taken you by surprise or did you always know that you had a good film in your hands?
Well, I always knew that the film would inspire people. That's because I have seen how hard Amir (Amiruddin Shah) and Manish (Chauhan) worked with Yehuda (Maor, ballet veteran) to get their scholarships and training abroad. The amount of belief they had in themselves, the dreams they dreamt and the hard work they put in, I knew that the film would inspire people in the dance community. But no, I wasn't really aware of how impactful this would be worldwide… in the last few days, I have got messages from people living in Mexico and Argentina who have loved the film. The messages are like, 'Thank you for giving us another inspiration in life that will make us work towards our dreams'. I think it's pretty cool (smiles).
How did the film happen?
I train at the same dance school, The Danceworx, where Manish and Amir were training with Yehuda. I knew the basics of ballet, though I have trained more in other dance forms. Before our annual dance, Yahuda came up to me to say that a friend of his, who is a film director, would be in the audience that day to watch me. 'Don't disappoint me,' is all he told me and walked away. Soon, I met Sooni (Taraporevala, the director of Yeh Ballet) who said that she liked my performance. She told me that Amir and I looked very similar, especially in terms of our hair. She asked me to audition and that's how the film happened.
Your ballet performances are the heart of the film. How much did you have to push yourself to master this intricate dance form, given that you just knew the basics?
Yes, I just knew the basics. Cindy (Jourdain, a seasoned ballet dancer) trained me in ballet for the film and together we would put in a couple of hours, six-seven days a week. She basically worked in pushing the technique of ballet into my body. To even try and go to the level that Amir had achieved was a big, big task. Cindy and Sooni were both very supportive. We trained for six months before the shoot started.
What were the biggest challenges of playing such a tough role on debut?
Actually, everyone — whether it was Sooni, Siddharth Roy Kapur (the film's producer) and Vitthal (Patil, one of the choreographers on the film along with Cindy Jourdain and Shiamak Davar) made things as easy as possible for me. They gave me no time to think, actually (laughs). We started the shoot in October and from then to April when we finished, it was a complete whirlwind. They were always there to guide me aur masti masti mein film bann gayi.
Pooja Swaroop trained me for the acting workshops and Mekhola (Bose, who plays Asha in the film) helped me in the portions featuring Asif and Asha. They really helped me open up. Everything was equally hard and equally easy, if that makes any sense (laughs).
Were you ever intimidated by the fact that Manish Chauhan plays a fictionalised version of himself as Nishu, while you were, in many ways, the outsider?
Well, yes. When Sooni asked me to audition, that was the first thing that came into my mind and I hesitated to go. I thought I would end up embarrassing myself, but then my mom (Anupama Bose) forced me to go. But when I met Manish, he never made me feel like an outsider. He also told me that something that really stuck in my mind… that 'Wherever you are right now, you were always meant to be'. That helped me gain confidence and made me believe, 'Okay, if I work hard enough, I can do this'.
Also, Sooni never made me feel I was Amir. She always made me feel I was Achintya and whatever was coming into my mind organically at that point of time was how I had to play Asif. The two of us worked hard on developing Asif's character and we never looked at him as Amir.
Going forward, will it be more of dance or acting or a blend of both?
Jaani na, actually (smiles). Honestly, it's a very hard decision. I have always been sceptical about my ability as an actor because I have been told that I should stick to dancing and not think of acting! (Laughs) Yeh Ballet has been a growth curve, a learning curve for me, which I never thought would happen. My goal is, of course, to put up my own show on Broadway… that will always be the dream. But now that there is another aspect to me and the fact that I am anyway in love with the performing arts, I plan to explore the whole range of what it has to offer.
What were your growing up years in Calcutta like and when did your love for dance begin?
I have lived in Calcutta for a major chunk of my life… about 12 years. I studied at Delhi Public School, New Town till Class VIII and then shifted to Mumbai. I studied science wanting to do research in quantum physics, but at that time, I was also a member of The Danceworx. Both were very demanding and exhausting and I took a gap year and decided to opt for dance. Now that I am done with the film, I plan to restart my studies.
My mom is a dancer… she's very, very good. She's learnt Kathak, Bharatanatyam and Odissi and she's very accomplished. She always told me to do what gives me joy, and dance gives me a lot of joy. Since the time I can remember, my mom has always made me dance. But my first vivid memory of dancing was when we were on a flight and I badly wanted her to buy me a tin of cashew nuts. She said she would only if I got up on my seat and danced. I actually did it and everyone on the plane applauded. That's such a vivid memory.