Abhirup Ghosh on his new film Brombhodoityo
'Our grandparents used to scare us with stories of their apparent real-life encounters with ghosts. I wanted to present a Bengali supernatural legend in a new way'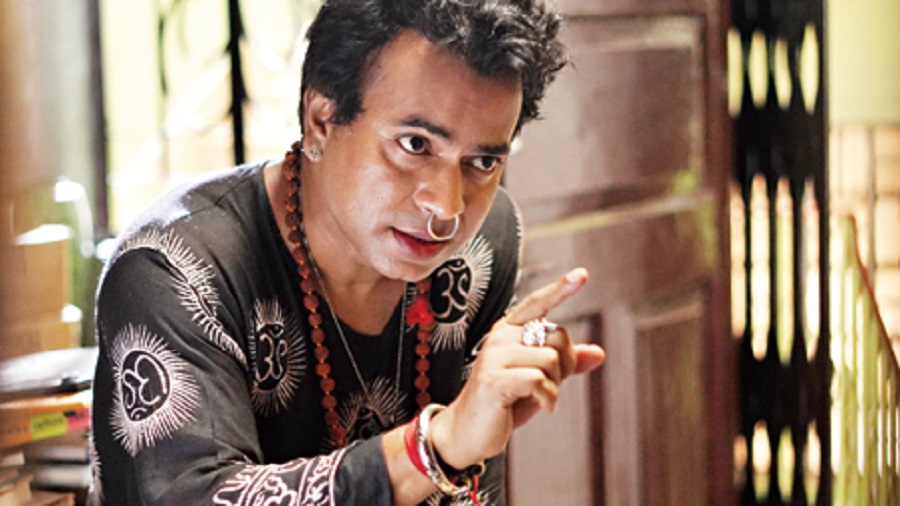 ---
---
A journalist suffering from low self-esteem, who is bullied by her family and colleagues. A medium who can see supernatural beings. And a powerful Brombhodoityo — Abhirup Ghosh's third film Brombhodoityo is a dark fantasy tale dipped in Bengali mythology, which streams on Hoichoi from today. A chat with Abhirup...

What is the genesis of your film?
Brombhodoityo is an attempt to make today's children and teenagers connect with old, almost obsolete supernatural legends of Bengal. We have grown up on Thakurmar Jhuli and a steady dose of Bengali ghost stories. We have heard numerous ghost stories from our grandparents. However, kids these days are aware of werewolves and vampires. But I feel they do not know much about Bengali supernatural myths like Brombhodoityo or Sakchunni. In every other culture, be it USA or Japan, supernatural legends and myths are promoted and preserved very well through popular culture. However, in Bengal, these legends are getting lost day by day. I have made this film to make these age-old stories relevant again.

The tagline says, 'Gear up, your childhood nightmare is coming to town'. What is that nightmare?
We used to be terrified of supernatural characters like Brombhodoityo. Our grandparents used to scare us with stories of their apparent real-life encounters with such ghosts of Bengali culture and folklore. I remember getting high fever and nightmares after hearing one such horror story. The tagline refers to all those shivers that went down our spines during childhood.

How would you define a Brombhodoityo? How do you see it now?
Brombhodoityo is a force of nature, almost uncontrollable. It is a supernatural spirit of the highest order and is known to rule over other spirits. In this film, Brombhodoityo represents bullying and repression. The protagonist, Sayantika (Saayoni Ghosh) is a person who suffers from low self-esteem and is bullied by her family, colleagues, etc. The ghost is a metaphor for the problems faced by her.

What are your childhood memories of Brombhodoityo?
The first time I found out about this character was when I read Thakurmar Jhuli. Over the years, I have heard and read many stories about this supernatural legend. I even have a friend who believes that a Brombhodoityo resides in his ancestral home and protects his family.

What made you decide to make this as your third film?
I am not a horror movie fan but I read a lot of ghost stories. I wanted to make a dark fantasy film dipped in Bengali mythology. There are numerous films in different countries that focus on supernatural legends of the local culture, for example, The Babadook, Under The Shadow, etc. I wanted to make something that presents a Bengali supernatural legend in a new way.

Tell us about the storyline?
The story focuses on a mysterious online shopping portal called Buyaghost.com, which sells supernatural artefacts. One day, a journalist, Sayantika, comes across the site while researching for a story on Halloween. She finds that a vintage ghost, Brombhodoityo, is up for sale at a discounted price. She thinks it's a prank site and ends up ordering the ghost. The very next day, an old iron trunk is delivered to her house via courier.
Apparently, a Brombhodoityo resides in the trunk. Soon after, different supernatural incidents start to happen at the house as the ghost makes its presence felt. As Sayantika's life gets threatened by the hauntings, the film follows her as she tries to control the supremely powerful Brombhodoityo.

Tell us about the cast.
Saayoni Ghosh plays Sayantika, the journalist. Saayoni is a very interesting actor who had to work very hard for this character as Sayantika's personality is completely opposite to that of Saayoni. Rudranil Ghosh plays a medium who can see supernatural beings. However, he is horrified by supernatural sights, and hence, always keeps his eyes covered and walks around like a blind man in order to preserve his sanity. Rudranil is an extremely versatile actor with whom I share an excellent working relationship. It was fun having him play such a quirky character in this film.
Souman Bose plays Souvik, Sayantika's colleague and friend, philosopher and guide. Soumalya Dutta plays the Brombhodoityo. Anindya Chattopadhyay plays a young man who is an old customer of Buyaghost.com and the previous owner of the Brombhodoityo before Sayantika buys the ghost.

Where did you shoot the film and how did you figure out the locations?
The film has been shot in Calcutta and its outskirts. Majority of the film has been shot at locations provided by my friends.
Is it a horror film?
It's more of a dark fantasy film than a straightforward horror film.

What were the main challenges of making a Bengali dark fantasy film?
Getting the technique right and designing the horror sequences was a challenge, primarily because my team and I had never done anything like this before. Also, designing the creature was a huge challenge. We wanted the Brombhodoityo to look different from typical representations of ghosts in Indian films. Kirti Mahamia did the SFX make-up beautifully and we had to source prosthetic teeth and special lenses from USA to give the creature a unique yet realistic look. The prosthetics and lenses were rather painful to wear and the actor, Soumalya Dutta, had to suffer a lot.

The Indian horror/dark fantasy film can make an impact when it explores indigenous folklore instead of imitating the West.
Your thoughts...
Horror films usually reflect upon social evils and problems. Hence, cultural relevance is important. Indian culture is full of exciting myths and legends, which can be brought to life through films or series effectively. Recent successes like Stree or the Marathi film Lapachhapi have proved that Indian audiences have a craving for culturally relevant horror films that mix socio-political elements in the narrative.

How was your shooting experience?
We shot the film in a gruelling schedule of just eight days. However, the entire crew comprised of friends, so it was a fun shoot. A lot of experimentation was involved and we did a lot research and development on set trying to create effective horror sequences. Some of these sequences have come out better than expectations and I can't wait to see how audiences react to them.

What's your take on releasing your film on web?
We wanted to release the film theatrically, but in the current circumstances, that's not feasible. The film has been ready for quite some time now and we want to show it to audiences ASAP. In the last few months, viewing habits of people have changed a lot and I feel that we can reach out to a lot of audiences through a web release. This is a good distribution option for an out-of-the-box film like Brombhodoityo.

Did someone pull a scary prank on someone during shoot? Or did anything scary happen during shoot?
Not really. It was such a tough schedule that we didn't really have any time to pull pranks. However, for a certain sequence, we had to put prosthetics on the windshield of a car to make it look like the car had a horrible accident. The prosthetics were so realistic that passers-by would get scared and ask us if the car had run over someone. Also, though nothing scary happened during the shoot, in certain exterior sequences featuring the Brombhodoityo, local people would get scared due to the extremely realistic creature design.

As a film-maker, what were the lessons learnt from the shoot?
As this was my first tryst with the horror genre, this film has taught me the technicalities of mounting a good scary scene. Also, as I had a very limited budget and minimal resources, I learnt to generate a decent output even in the most dire circumstances.

Which is your favourite Bengali horror film? Tell t2@abp.in
Abhirup's fave Indian horror films
Tumbbad: Tumbbad is a rare folk-horror film made in this country. Its atmospherics were brilliant and it was a truly visually stunning big-screen experience. Rich in Indian mythology and complete with a relevant message, this is easily the finest horror film made in India. It doesn't rely on jump scares, rather, it focuses on creating a creepy, grim atmosphere that draws you in.
Bhoot: A simple premise, an almost one-location film, elevated by brilliant performances and great atmospherics. By showing spine-chilling sequences in a simple flat, RGV ensured that each audience member related to the scare quotient and took home the fear from the theaters. The film successfully implants the idea that 'this could happen to us'.
13B: An excellent supernatural mystery that keeps you intrigued. While the scares are good, the mystery element keeps you at the edge of your seat.
The House Next Door: A possession-themed horror film with a straightforward plot. However, this is easily the most technically sound horror film of India. Great sequences amped up by superb performances and impeccable cinematography. The icing on the cake is an unexpected last-moment twist.