Aasif Mandvi chats about his show Evil and being an Asian in Hollywood
The actor, who has featured in big-ticket films like Spider-Man 2, Music and Lyrics, The Last Airbender and The Proposal, talks of his latest TV outing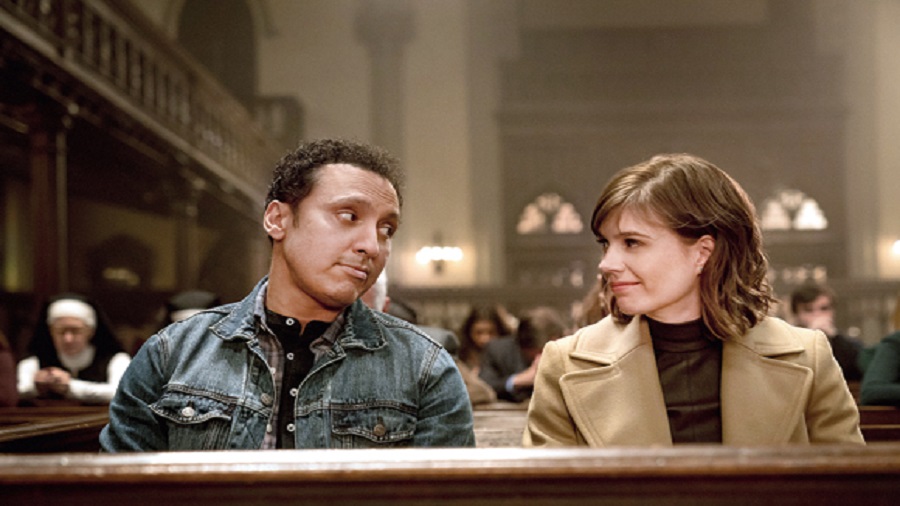 Aasif Mandvi with Katja Herbers in Evil
Sourced by the Telegraph
---
Published 17.08.20, 09:51 PM
|
---
From Bombay via Bradford to the Big Apple, Aasif Hakim Mandviwala tells The Telegraph how he became Aasif Mandvi. The actor, who has featured in big-ticket films like Spider-Man 2, Music and Lyrics, The Last Airbender and The Proposal, talks of his latest TV outing Evil, airing currently on Zee Cafe, weekdays at 2pm.

You were born in India, right?
I was born in Mumbai. My parents moved to England when I was a year old. I grew up in Bradford, in the north of England. In the early '80s, we moved to Tampa, Florida. In my college years, I moved to New York. I have gone back to India many times but never lived there.

In high school, you used to impersonate Michael Jackson.
Yes! This was 1984. Michael Jackson was the biggest thing at the time. I was a skinny brown kid in a white high school. I started singing and dancing like him and would get gigs to go and perform at various places, do a lip sync or dance to Billie Jean. Being able to impersonate him was a way for this brown kid to get some popularity. There was no Internet. I got a VHS copy of his performance at Motown 25. We didn't have a VHS player. I went over to a friend's place and spent the whole afternoon mimicking his dance moves to perform at a talent show in school. That's how it started.

Was your stint at Disney MGM Studios in Orlando your first job?
Yes. Out of school, I joined a street improvisation company, doing comedy and improv in the MGM Studios theme park. Disney had just expanded the park. We were playing characters who were not on stage but in the audience in the street. We would interact with people who were in the audience. People would come up and interact with you. It was an amazing training ground for improvisation.

You have also dabbled in theatre and done Broadway.
I went to the University of South Florida for my undergrad. Then I went to New York to audition for off-Broadway and Broadway. I started doing theatre, small television stuff and the occasional movie. Eventually I wrote my one-man show Sakina's Restaurant, which was the first play in New York written by a South Asian about the South Asian immigrant experience. It was performed in 1998 at the American Place Theatre. It was a turning point in my career at that point.

You did get recognition in theatre.
We won two Obie Awards for Sakina's Restaurant and years later, I got a Lucille Lortel Award nomination for Disgraced, a phenomenal play written by Ayad Akhtar. It's one of the most exciting roles I got to play in my career.

Was theatre always a stepping stone to the screen?
There's more money to be made in television and film than there is in theatre. And they give you a celebrity level that becomes currency in the entertainment business which you can leverage to do more interesting project. As Jason Roburgs, the American actor, said: 'I do TV and films so that I can afford to do theatre'. I felt like that.

How did television happen?
I got an agent. They sent me out for auditions. Initially it was just a lot of stereotypical roles in Law & Order and other serials on TV at the time — a scene here, a scene there. I played a lot of doormen, cab drivers. There weren't a lot of roles for South Asian actors. It was about getting work when you could, paying the rent and then waiting tables at night.

You seem to have done a lot of big shows during this phase — ER, The Sopranos, Sex and the City…. Were they all blink-and-you-miss roles?
Some were big, some were small... one or two scenes, some guests stars…. My first meaty role was probably Law & Order: Trial by Jury where I played a young Indian conservative judge who was a villainous character. Then when I got The Daily Show (a late night news satire on Comedy Central) in 2006 that was my first regular gig where I was working all the time.

They called you the Senior Brown Correspondent, didn't they?
Sometimes I was the Senior Brown Correspondent, sometimes I was the Senior Muslim Correspondent. Those titles depended on what they needed at the moment. I'm pretty sure even John Oliver (the fill-in host in summer 2013) was Senior Brown Correspondent at some point.

Coming to Evil, airing now on Zee Cafe, what's your role in it?
I play a character named Ben Shakir. Ben is a part of this team in which the other members are played by Mike Colter and Katja Herbers. We investigate paranormal activity, things that can't be explained. We are sent by the Catholic church to investigate whether they are demonic or can be scientifically explained. In the team, Ben is the empiricist, the pragmatist. He doesn't believe any of the mumbo jumbo about religion. He doesn't believe in the psychology stuff. He is very much about what you can touch, feel, smell and measure. That's his expertise.

What genre would you put the show in?
It's interesting, you know. At first blush, you might say it's a horror/thriller show. But it's a lot more, as it has psychological components to it. It's not a show that just relies on demons or exorcism. It's much more complex. We have one episode in Season 1 which is about a sociopathic child. His parents think he is possessed. The other side of the story is he is just a sociopath. You start to investigate the question 'What is evil?' We have other episodes which deal with how social media or the Internet exploits people to do nefarious things using incels (involuntary celibates who are unable to find a romantic partner despite desiring one) and other things. The show exists in the horror realm but is a psychological and supernatural show as well.

The show has been extended by another season.
Yes. I hope it is just the second of many more seasons (laughs)

After France, Brazil, Canada and Spain, Evil is airing in India. Does that excite you?
Indeed. My family has sent me messages on Facebook that they are watching it on Zee Cafe. I am thrilled.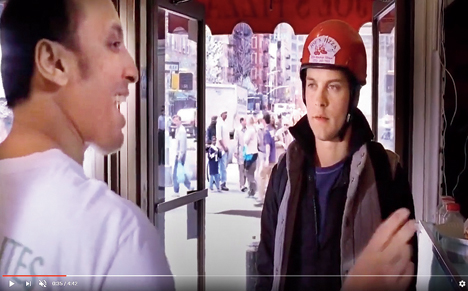 Coming to your film outings, how could you fire Peter Parker?
(Laughs) I get that all the time... Spider-Man 2 fans are quite vigilant. They follow me on Instagram. They still get on me for firing Peter Parker (from the pizzeria Joe's Pizza).

Who would your favourite Hollywood co-star be?
Gosh, that's an interesting question. I don't know! I got to work with some extraordinary people over the years — Robert De Niro, Billy Crystal early on (Analyze This). Then Denzel Washington (The Siege), Vince Vaughn and Owen Wilson (The Internship), obviously Jon Stewart on The Daily Show.... When you have been around as long as I have, you realise you've gotten to work with a lot of extraordinary people.

You wrote the book No Land's Man (a collection of personal essays). It seems you had an interesting life, fitting into society in Britain and the US...
The immigrant story is the story of my life. A lot of my life and my writing pertain to being an immigrant. A lot of my creativity and art and writing come from that well of experience.

What is your favourite immigrant film?
I'd plug my own film (laughs). I made a movie a few years ago called Today's Special
(co-starring Naseeruddin Shah and Madhur Jaffrey), which you can see on Netflix. It's a story I wrote based on my own experience and inspired by my own show Sakina's Restaurant, which is inspired by my own family. It takes place in a restaurant in Jackson Heights, Queens. I'd be amiss to say that wasn't my favourite immigrant film!