Aadil and Sadia talk about being Shikara's Shiv and Shanti even before they stepped on to the floors
The debutants star in Shikara that focuses on the exodus of Hindu Pandits from the Kashmir valley in the early 90s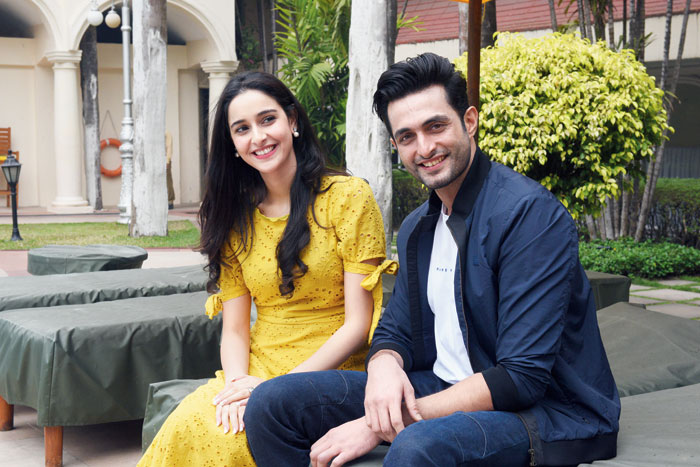 Sadia and Aadil at The Oberoi Grand
Rashbehari Das
---
Published 13.02.20, 01:36 PM
|
---
For Aadil Khan and Sadia, 2020 is a year they will clearly remember for the rest of their lives. The debutants star in Shikara that focuses on the exodus of Hindu Pandits from the Kashmir valley in the early 90s. On their recent trip to Calcutta to promote the film, the newcomers tell The Telegraph how it felt being groomed by Vidhu Vinod Chopra and the intense training sessions.
Tell us how you were cast for Shikara...
Sadia: Indu Sharma, a casting director, auditioned me. I had never auditioned for a film before. I was studying electrical engineering in Jammu. It's a very magical fairy tale kind of a story. I was at my hometown of Bhaderwah where I had gone for my holidays and I got this call from her. But I didn't believe any of it because I didn't know the person. We spoke on FaceTime for a very long time. There was this mutual friend of ours who plays Latif in the film and we used to follow each other on Instagram. He had my picture and he was sitting with some people who were discussing some characters and he was simply scrolling through his phone when my picture came up and he asked, 'What about this girl?' And then it all started from there.
Aadil Khan: It was like magic. Basically my character, Shiv Kumar Dhar, is a shaayar (poet). Vidhu Sir had a vision that the character would have a certain kind of a voice. So they were looking for a voice. And then they heard me. I have a Kashmiri ancestry so there would be a cultural reference to it as well. They called me... it was a long process, a lot of auditions, a lot of tests, the whole grind. Sir used to train us for eight hours daily and it kept happening for a good two years before we got on to the sets.
Was it the script or was it Vidhu Vinod Chopra that made you say yes?
Aadil: Every Indian aspires to be either a cricketer or a film star. Though my ancestry is from Kashmir, I am from Bhopal. So for somebody like me... to come to Mumbai and get into films... it's a big thing. And not just films... it's a lead role and then, of course, Vidhu sir and then the script. It's a blend of everything. Both of us are truly blessed though we have put in a lot of hard work. I do not come from a filmy family, nor does she. We don't have industry godfathers. When I read the script, I was taken aback.
Sadia: I didn't know who the producer or director was... initially.
Aadil: Yeah, even I didn't know.
Sadia: To be honest, I was not sure whether my family would allow me to act. Even I had no plans as such. But when things were happening I was not sure of whether I would be able to do it. Indu ma'am is amazing, she is an actor herself and the way she narrated the story... it was so good. When she narrated my part... the idea of it, since I belong to the place, since I have seen everything around me, I was really curious. I was really pulled to the script.
What is it about the script that appealed to you?
Aadil: The best thing about the script is its message. It's really needed, especially with what's happening around the world. This film teaches you how important it is to love, to be compassionate to each other and that unity is the way people live. There's the message of peace. I had not gone to Kashmir before the film started and it was a big challenge for me to play the part. I had to research on it. I went and lived there for four months with an artist who is Vidhu Sir's friend. The idea was not to live like a tourist but as a local. I used to cook there. Kashmiris have this culture of men going to the bakery and socialise. I did that for four months. After I heard the script for the first time, I could not speak. I was in tears... that's when I connected to the character... the film.
Sadia: To me it was Shanti, Vidhu Sir's mother. The first thing I came to know was that sir was making it for his mother. The documentary (Shikara: Tribute to a Mother) moved me. I hadn't read the script first. It was too painful for me as I belong to the same place. I know that place... I go to that place. I have lived there. I could relate to it. The character of Shanti attracted me.
Aadil: The kind of passion sir had was amazing. It was so clear that we were in the process of making something very beautiful. The approach to making the film was so honest.
Sadia: Later, when we found out it was being helmed by Vidhu sir, one of the biggest filmmakers around, and that he was working for so many years to complete this project... the moment I realised it, I knew I was part of something very huge. Apart from the fact that he's a huge name, he's a nice and kind person too. I have seen him go through days and nights toiling for this movie.
Aadil: The belief that he had in the script, the vision... nobody really knows us, and this movie has no masala, no dance numbers... it's a very simple and beautiful story of a couple and their love. It's based on real events and the tragedy that happened. The way it was placed, the stories going parallel... how they handled the pressures, how they coped with it. It's the best thing to happen to us. I don't know where our careers would take us in future but something like this won't ever be repeated.
You have recited a nazm in the film. Tell us about it.
Aadil: It's also there in the soundtrack. There are two nazms — one is Umr guzri and the other is Ae wadi shehzadi — both written by Irshad Kamil saab. I have also recited Saath chalna hai humein... Saath rehna hai humein... the one featured in the trailer launch. Ae wadi shehzadi reflects the thoughts of my character. Every time I talk about it, I go back to the day I was shooting it.
How did you guys prep for your roles?
Aadil: Sir started calling us by our character names. We were never called Sadia or Aadil for those two or three years before the shoot started. He was also training us to help us immerse ourselves in the characters. We were like living the lives of Shiv and Shanti. Sir introduced us to world cinema. I researched on Daniel Day-Lewis and his approach to movies. We got off social media. I would meet limited people. Most of the times, we would be with each other only to get into the character. By the time we went on to the set, we were already Shiv and Shanti.
Sadia: When Indu ma'am called me, she said, 'You are Shanti'. Emotionally and psychologically, I knew I was Shanti from then on. I knew that's why I had been cast. I believed in it. My journey is one of belief. I had to study too regarding the event.
What was Vidhu Vinod Chopra's brief to you?
Aadil: The brief was to completely immerse yourself in the character. You have to live the story that has been beautifully written. Then, of course, going to Kashmir, living there, being with Pandits, understanding them, going through the book (Our Moon has Blood Clots)... it took a long time.
Sadia: There's only one thing that they told me in the beginning — you can't do it until and unless you live it. The camera catches everything. If you are lying, the camera will catch you no matter what emotion you are portraying. So the only brief was, 'You have to become, believe and live'. That's what I followed.
How was Vidhu Vinod Chopra on the sets? Is he strict or is he chilled out?
Aadil: He was very different there. He is around 67 years old and yet when you see him on the set, you realise the kind of energy he brings. He can beat a 20-year-old in terms of excitement. Everyone except him would take out time to rest... not him. He is a one-man army. He was always on his feet. He would just be sipping water and be in charge. He would be running up the house... from ground floor to first floor. Then we would be back to shooting early next day. And it was really cold. But then if your intentions are so pure, you don't get tired... I guess.
Did he scold you?
Aadil: Yes, a bit. Not much. We were so close to him, spent so much time at his house, chilling with him... it was like family so even if he scolded us we wouldn't mind. It's like my dad scolding me. We were pampered too.
Was it easier or was it difficult portraying the role knowing that you were picked to lend authenticity to the characters (both have a Kashmir connect)?
Sadia: At the cost of repeating myself, what really worked for me was my belief system. Sir allowed us to stretch, do whatever we wanted to do and then guide us. There was a lot of comfort on the set. There was no stress or anxiety.
Aadil: It was sad... whatever happened in the valley. I was born in Bhopal but my ancestors were from Kashmir. I have lived in various cities but it did help. But I had to revisit the culture and understand all of it. It was awesome... connects you back to your roots.