A whodunit like no other is about to hit your screens — The Afterparty from Apple TV+
Unlike previously, Chris is the man in charge of all things creative, more like in the director's chair,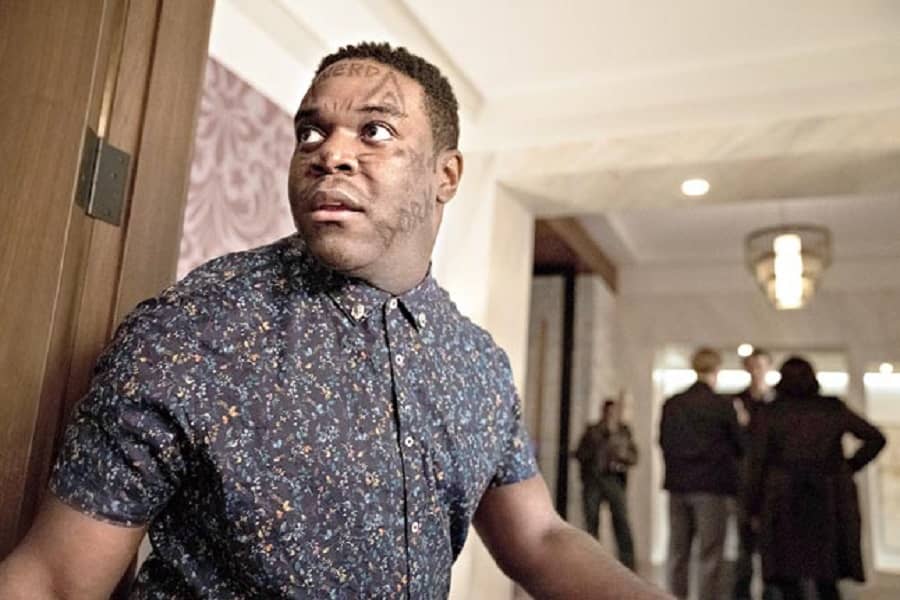 Sam Richardson in The Afterparty, premiering January 28 on Apple TV+.
Picture: Apple
---
Calcutta
|
Published 19.01.22, 01:28 AM
|
---
Singer Xavier plunges to his death at a high-profile after-party following a school reunion involving a bunch of 30-somethings. Everyone's a suspect. And everyone has a comic vein in them and why not, it's a school reunion where being smart isn't priority, like Aniq was hoping he would get a chance to offload his heart before his school lab partner, the recently divorced Zoe. In fact, Aniq has bags of charm to make Valentine's Day appear in need of a spoonful of sugar. There is a teeny-weeny problem. He is considered suspect number one. Welcome to The Afterparty, the new series from Apple TV+, which hits your screen with a zillion laughs on January 28.
Who better to play Aniq than Sam Richardson, who always appears at home with the comedy genre, while keeping the show off the beaten track is the duo of Chris Miller and Phil Lord, known for crafting unique narrative structures, something that comes across strongly in films like 21 Jump Street, Cloudy with a Chance of Meatballs and The Lego Movie.
"I have always been a fan of romantic comedies, so I watch old Tom Hanks movies to get that sort of energy… energy with a big heart. It was a fun thing to play. I am very much like the character I play, so it was not a difficult transition," says Richardson over a late-night video call about his character in The Afterparty. 'Just the thing that wakes us up in the morning'
Compared to most TV shows, this is a highly collaborative effort involving a big casting as well as genres, to the point that it would be difficult to bracket it as "just" a whodunit. The murder happens almost as soon as the show rolls while each episode retells the sequence of the evening through a different character's perspective. That gives the show its heart as each episode follows a genre that closely resembles the nature of the character, so it can be a musical or slightly action driven; it all depends on who is telling the story.
"It was a real challenge obviously. Each episode feels like it's a movie on its own. The challenge was in way of narrative and then in terms of lighting, camerawork, costumes and music. Every episode has a different score. The idea is to make each one (episode) different and at the same time accentuate the concept of each genre. We never like to do things that are easy and tend to gravitate towards something you haven't seen before. It's just the thing that wakes us up in the morning," says Chris Miller.
Unlike previously, Chris is the man in charge of all things creative, more like in the director's chair, while Lord gets credited as an executive producer. "I did all the spreadsheets and lunch orders! Backseat driving," says Lord with a laugh. "Chris was the guy for this. We collaborated like we always do and we were on the set together every day. It was just about getting the right guy for the job," he adds.
As important as Richardson's Aniq is each and every character. Tiffany Haddish's Danner, a detective, holds the episodes together with jokes that a Steve Martin would crack easily. Zoe Chao plays Zoe, who is trying to find her footing without her ex, leather-jacket sporting Brett (Ike Barinholtz). Yasper (Ben Schwartz) is Aniq's best friend and an A/V installation guy. And the victim of the night is Dave Franco's Xavier (comically pronounced as X-avier), who comes across as a Justin Bieber clone, right down to the lyrical content of his songs.
You may say that Richardson is almost always there for the camera and his character of a geeky puzzle-maker needs to solve the mystery as soon as possible to get him out of a bind. What is most enjoyable about Richardson is the degree to which he is free of inhibitions.
"I got put through the pacing that was required for the show, like my face written on, beer poured on me… all that stuff. I love this series so much and I trust Chris so much that whatever it is, I was game for it as long as it was safe. With comedy or any show, you can't be afraid to look a little foolish. Things may get uncomfortable but I knew it would look great on screen," says the actor who can't escape the role that we keep recalling, that of the good-natured aide in the political comedy series Veep.

'Jump back in and jump back out'
Perhaps the most difficult part that Miller and Lord had to deal with is the actual filming, which happened around October 2020 to February 2021 or one of the very problematic phases of the pandemic in the US.
"We were filming from the beginning of October to the middle of February, so that's in the midst of the pandemic in Los Angeles. We were all being tested twice a day and on Sundays. So we all felt very safe.
But it was a weird situation because we performed our scenes and then put our masks back on. It was a very weirdly interesting energy because everywhere in the world people were six feet apart but for a few minutes we (the actors) felt the world hadn't changed (when they had to take off their masks to face the camera). It was weird to jump back in and jump back out," says Richardson
The 38-year-old actor keeps getting cast in comic roles, yet that doesn't make him impatient inside. "I think this role is the best version of the role that I have played before. We were kind of archetypes, like everybody on the show somehow represents archetypes of several genres. But, of course, I want to play everything I can. So in Ted Lasso (check out season two, episode 11) I don't play a nice guy but a seemingly nice guy. It's fun to play other things but being nice on camera is good for my soul, so I like doing that," he says. This is a whodunit with the same killer timing a comedy requires. In fact, The Afterparty has a lot in common with a good comedy show because just when you feel you have guessed the reveal, you are taken down a different path. And the jokes are delivered maintaining a straight face, ensuring they hit viewers like a smack on the face. The biggest reveal in a whodunit is obviously the identity of the killer but it would be impossible for viewers to guess episode after episode. Miller has perfected the art.
"As a kid I enjoyed Agatha Christie and had read all the books. And I watched Columbo (revolved around Peter Falk playing the titular character of a homicide detective with the Los Angeles Police Department, complete with an unassuming demeanour and cigar) religiously. And there was Murder, She Wrote. There is something about the genre that makes me curious. Here the stakes are high and we had to solve a puzzle… something I like to do," says Chris. Humour in whodunits can be overdone and quickly become cliched. There was a possibility that the story would become predictable after a few episodes and its sense of humour would go poof. Not on The Afterparty, which is a rare bird that's certain to keep viewers glued episode after episode. If not for anything, the show will reel you in with several inside jokes, which, of course, you can find out after January 28.
Coming up Apple TV+ is set to present an eight-episode drama featuring Uma Thurman, starting February 4.
Titled Suspicion, the show is around the son of a prominent American businesswoman (Thurman), who is kidnapped from a New York hotel.
The eye of suspicion quickly falls on four seemingly ordinary British citizens who were at the hotel on the night in question. As they find themselves in a trans-Atlantic cat-and-mouse race to evade the combined forces of the National Crime Agency and the FBI to prove their innocence, it becomes apparent that not everyone can be trusted. Starring Thurman, Kunal Nayyar, Noah Emmerich, Georgina Campbell and Elizabeth Henstridge, serving as the showrunner and executive producer is Rob Williams. The show is based on the award-winning Israeli series False Flag.