A wedding gift for Priyanka Chopra
Having seen how elaborate and leisurely her many celebrations have been, PC was right in opting out of 'Bharat'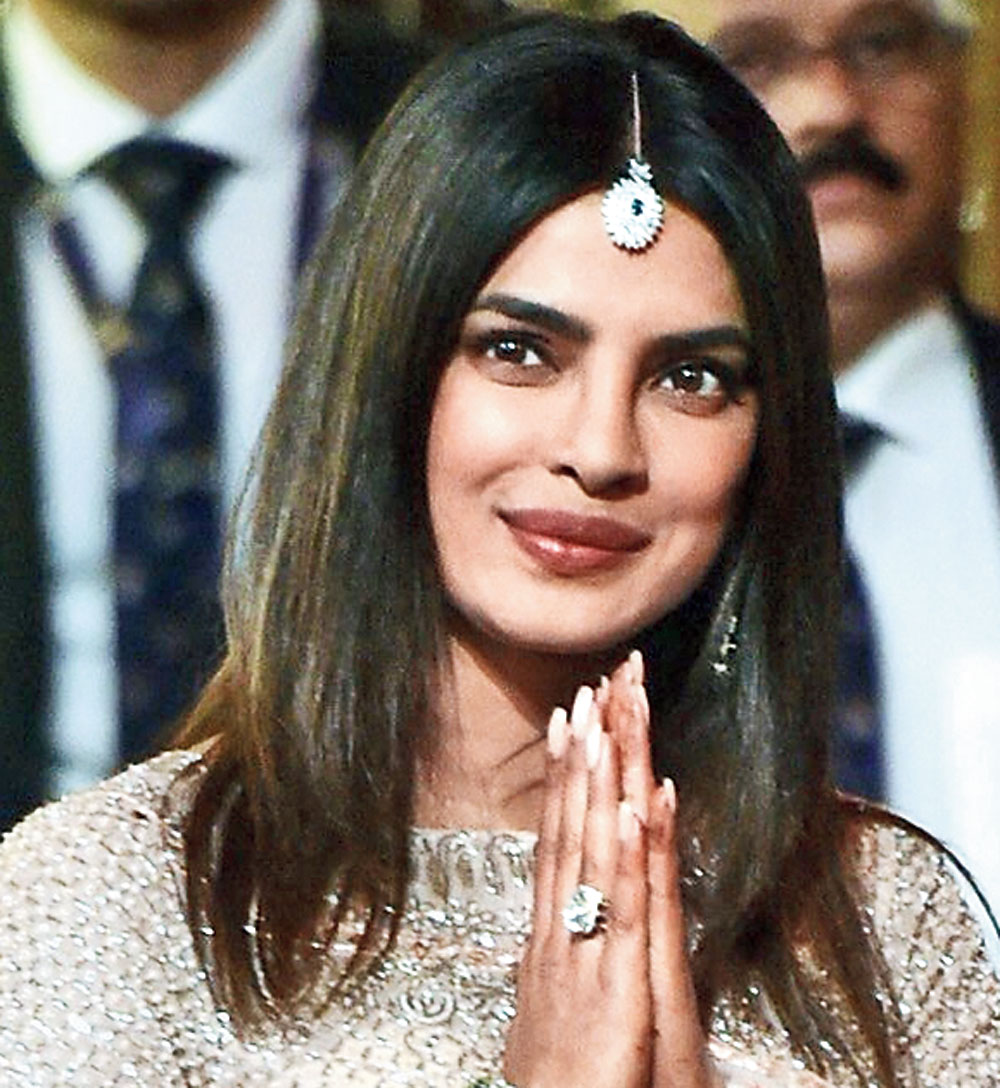 ---
---
A unique way to meet Nick, am sure nobody else got an introduction like that. But I do wish my book, The Dark Horse, had been written after Nick got there. It's a chapter that would've made a lovely fairy-tale ending to her story.

It ended unfortunately with Salman Khan's Bharat, which was the film PC was supposed to return to India with when the book went into print. How quickly headlines change. Nick came in and Bharat went out of her life. A little bird tells me that when she dropped out of Salman's Eid 2019 biggie, it took his sister, Alvira, by surprise. She, who was nursing a frozen shoulder in London, couldn't believe it when she got a call from her younger sister, Arpita, one of Priyanka's besties. "But you know," the whisper came later, "there were signs all along." Apparently, there was much dilly-dallying on her staffers' visas and the passports of the members of her entourage were not submitted to the production team for one reason or the other. Bharat was a film that required extensive shooting in different parts of the world but Alvira, who's a hands-on producer on her brother's film and her team, failed to get the hint. Later, when PC told them that she was getting married, it was not just a jolt but also a trifle intriguing. This is not a decade when actresses have to choose between marriage and a career. They can have both just like their husbands do and Priyanka was never one to stop being a career girl. She's always been a multi-tasker who will do justice to family and to profession. Besides, she did manage to squeeze in and do Farhan Akhtar's The Sky Is Pink, where she's also a co-producer.
However, having seen how elaborate and leisurely her many celebrations have been, perhaps PC was right in opting out of Bharat, because that kind of shooting schedule would not have given her the time to really plan and enjoy her wedding. Films come and go, weddings don't.
But her last-minute decision did put the Khan family in a tizzy. Priyanka and Salman never did hit it off as co-stars but Bharat needed a consummate actress, which was one of the reasons why she was approached for it. One hears that after he was ditched by her, Salman tapped Kareena Kapoor, the next best actress around. But Kareena couldn't fill in at short notice. Therefore, good old Katrina Kaif came on board as the third and available choice. Salman has an elephantine memory, so Katrina will always earn the Khan family gratitude for stepping in without a fuss.
Talking of a jumbo memory, I'm not sure Naseeruddin Shah is the right man to be commenting on Virat Kohli or anybody else for bad behaviour. Calling Virat "the world's worst behaved player" and going on to say, "His cricketing brilliance pales beside his arrogance and bad manners," is strange because that's precisely what a lot of people would say about Naseer himself. The seemingly dignified, mellow version of the 68-year-old actor you see today is not the aggro-snorting young man all of us once knew. He was a lot worse than Virat who channelised his aggression and abuses into a positive on the field. While Virat has at least never raised his hand on anybody less than him in status, I remember Naseer slapping an usher at Nehru Centre. Tsk, tsk, Naseer. Your acting brilliance sure did pale beside your arrogance and loutish behaviour in the good old days, remember?
Bharathi S. Pradhan is a senior journalist and author
Is that a copy of the book?" Priyanka gurgled delightedly, accepting a gift-wrapped copy. "She wrote a book on me." That was how Priyanka Chopra introduced me to her husband, Nick Jonas. "Oh, really?" was the groom's surprised reaction. The jubilant bride buoyantly asked a common, close friend standing by, "Have you read it?" When he nodded, she asked him merrily, "She's written it all? Everything? Khullam-khulla?" She looked at Nick and jested with mock horror, "Aww, now he'll get to know everything about me."