A special shoot and chat with birthday girl Richa Sharma
To be a better person and do more meaningful work, is the actor's b'day wish this year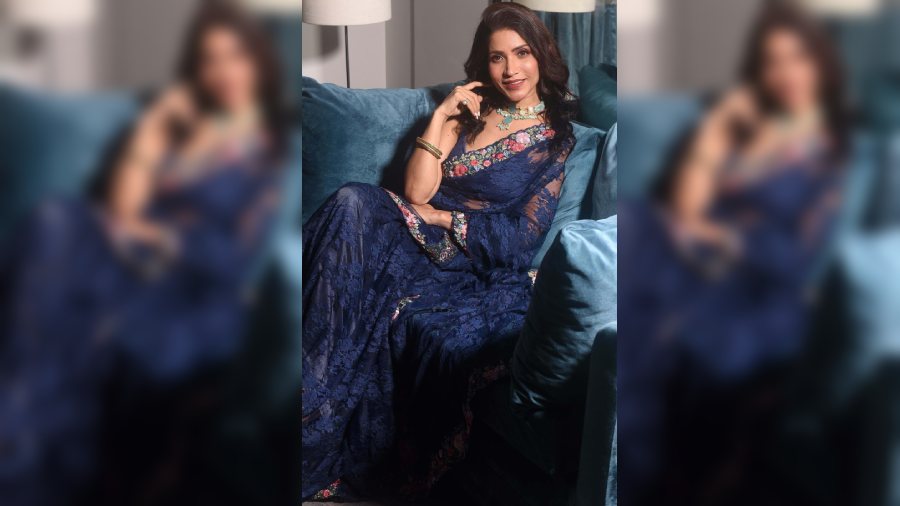 Richa cut an elegant frame in the glamorous net sari from Sanskriti with a floral border, complemented by matching jewellery
---
Published 13.07.22, 04:44 AM
|
---
The amalgamation of classic and contemporary is always a part of her style statement. For her birthday today, actress Richa Sharma shot a special lookbook for us that embodies her style sensibility. Post-shoot, she sat down for a birthday chat with The Telegraph, giving us a peek into the past, present and what lies ahead:
Happy Birthday! Why are birthdays special for you?
Thank you! I get a year younger. (Smiles) The whole year is a learning experience. Birthday makes me realise what I did and did not do in that one year. It is always a new start from there. Everybody pampers me and I love that. One entire week I throw tantrums. I was telling my daughter yesterday only that it is my birthday, so you can't say no. Just hug me for two hours and you can't leave. (Laughs) Everybody makes me feel special and I can do a lot of drama. Whatever I wish for, it is fulfilled whether it comes from a friend or family.
What are your plans for this year?
On my birthday eve, I will spend time with everyone who is close to me and on the birthday, I am planning to call all my friends. In the last two years, I couldn't host the party as I had Covid and a surgery. This year I am planning to have a blast.
How do you see birthday celebrations now? Has it changed over the years?
Earlier I used to be happy just by cutting the cake and being surrounded by family. But now a lot of things have changed. Now, the celebration is grand… but I still miss the simple ways of celebration. Earlier the celebration was about small things. The cooking used to happen at home. Now that has changed. I have a lot of people who love me and they really want to be with me on my birthday, so these commitments are there.
Can you share with us a special memory of your birthday celebrations as a child?
One of my birthdays was an absolute disaster. I was upset with everyone at home, my mom and dad. And everybody told me they are going to leave the house. But I told them that they shouldn't leave, instead I should leave. I went to my friend's place and came back in the evening only to be surprised by them. They had decorated the whole house to bring a smile to my face. It was my fault, yet everybody pampered me. What is your favourite present that you have received till date?
I visit an old-age home every year. During the Covid times, I had managed to visit the place after restrictions were eased. The smile on their face on having a visitor was all I needed to see. Their kids weren't visiting them and I had visited them with some food. That was the best gift for me — bringing a smile on their face.
Is there a must-do for you on your birthday?
I go to an NGO every year without telling anyone. I go to a temple, do my rituals then meet my elders and take their blessings.
Aashna (daughter) is here this year. Have you got any hint of her planning any surprise for you?
As it is she is a good child. She listens to me. But this time she is pampering me a lot more since the time I returned from NABC. She has this habit of writing a big letter specially on special days. When I went to her room, I saw her writing something.
You are a Cancerian. Do you believe in zodiac traits?
I do. I am a hardcore Cancerian. Extremely emotional and sentimental, which I definitely don't think is my weakness. It is my strength. This brings out the goodness in me, I feel. If I am emotional then I can give my 100 per cent to my friends and family.
What is your birthday wish for this year?
To be a better person and do more meaningful work this year, which is already in the pipeline.
What is happening on the work front?
My film Maya is releasing in September. Also, A Separate Sky is in the pipeline. I will start shooting for a series in August for Amazon Prime and another big project is also coming up.
Pictures: Pabitra Das
Make-up and styling: Moumita Naskar Das
Location courtesy: The Park