A somewhat serviceable thriller, Cuttputlli mistakes slow for slow-burn
The official remake of the 2018 Tamil film Ratsasan, is set in idyllic Kasauli where the smoky atmospherics provide a tailormade location for a serial killer to go about his business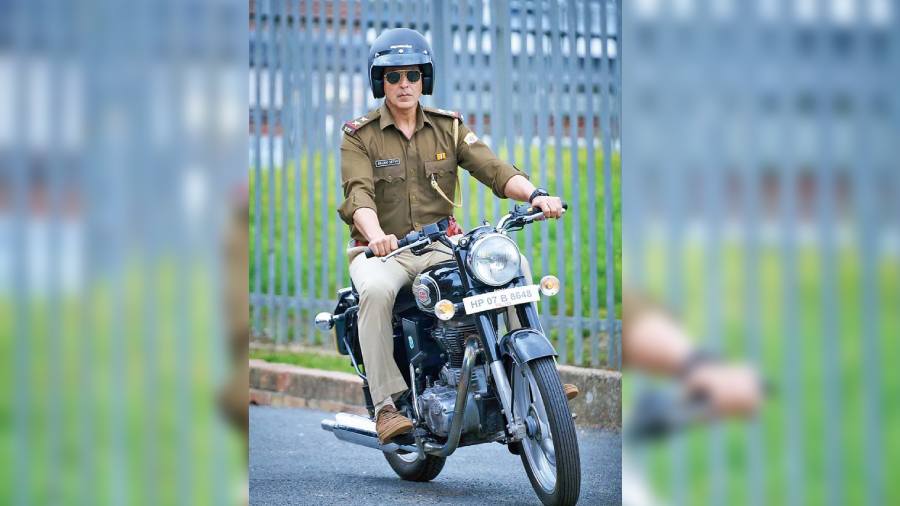 ---
Published 03.09.22, 01:09 AM
|
---
Once I managed to memorise the spelling of Cuttputlli, I started noticing other things. It releases 22 days after Akshay Kumar's last film — the box-office dud Raksha Bandhan — which, given the pace at which we are being bombarded with his movies, is quite a gap. Rakul Preet Singh, Akshay's love interest in Cuttputlli, was just three months old when he debuted with Saugandh in January 1991. Akshay, who turns 55 next Friday, has Hrishita Bhatt, now in her early 40s, as his 'Didi'. At one point, Akshay is told in the film that he "looks too young to be a father". He plays a 36-year-old in Cuttputlii.
Sure, such issues shouldn't matter in a film where everyone is playing a character. But it does matter in Bollywood which has, for far too long, notoriously got away with the very unfair, sexist manner in which our leading men are still going strong while female actors are knocked off the shelf as soon as they reach a certain age. In today's context, it's the equivalent of what Leonardo DiCaprio is doing to his 25-ers.
The serial killer in a hill station is now a distinct sub-genre here. Think Aranyak, 13 Mussoorie, Forensic.... Cuttputlli, the official remake of the 2018 Tamil film Ratsasan and streaming on Disney+Hotstar, is set in idyllic Kasauli where the smoky atmospherics provide a tailormade location for a serial killer to go about his business.
The film opens with rookie cop Arjan Sethi (Akshay), an aspiring film-maker researching the motivations and modus operandi of serial killers across the world in order to make his first film. Once his ambitions are thwarted, Arjan simply goes ahead and becomes a cop. Since being Akshay Kumar is a gift that keeps on giving, he's posted in Kasauli where teenaged girls are being kidnapped and brutalised. All the cops in Kasauli — including Arjan's boss (Sargun Mehta inexplicably barks at everyone all the time) — fail to see that this a serial killer on the loose. They, of course, need Arjan to not only piece together a pattern, but also momentously declare that this is the work of a serial killer (we wouldn't have known otherwise) and even start leading a team to carry out the investigation.
With Ranjit M. Tiwari as director and Aseem Arrora as writer, Cuttputlli has almost the same team of Akshay's Bell Bottom, one of the first big films, after the pandemic pause, to release in theatres last August. Cuttputllli is more or less a faithful copy-paste of Ratsasan, but the inert direction of the remake and its emotional disinvestment hurt its chances badly.
The killer in Ratsasan was given ample screen time for his actions to be backed by a credible-enough back story. In Cuttputlli, that 'smallish' detail is disposed off within less than five minutes. Perhaps to accommodate a romantic song featuring Akshay and Rakul Preet in which they dance in front of a plane, colour-coordinated with the plane's colour. In this film, however, he doesn't dangle from one.
Cuttputlli plods on for over two hours, with clues strewn so carelessly in the narrative that you can predict the twists and turns from a mile away. The sudden revelation of the killer is, however, anticlimactic. But the film does its work of making sure that Akshay is in almost every frame. Every other character is disposable (Chandrachur Singh and Hrishita Bhatt are conveniently cut off the script) but Arjan is flawless to a fault, even tying the shoelaces of random pregnant women on the street.
Cuttputlli mistakes slow for slow-burn with even ace cinematographer Rajeev Ravi's sweeping visuals of Kasauli getting lost in the boring and barely-there narrative. Akshay is earnest all right, but too much of him too soon in projects that seem to have been churned out in assembly-line fashion is sheer tedium. His next, Ram Setu, arrives in a month-and-a-half. You have been warned!
CUTTPUTLLI
Director: Ranjit M. Tiwari
Cast: Akshay Kumar, Rakul Preet Singh, Sargun Mehta, Chandrachur Singh, Hrishita Bhatt