A modern-day Antigone and the politics of power
Filmmaker-theatre director Anjan Dutt on why he was stirred by Swapnasandhani's latest production Antigone...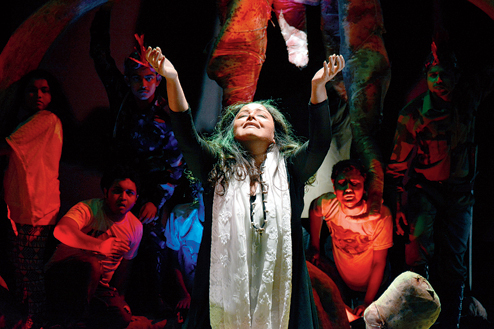 ---
Published 16.06.15, 12:00 AM
|
---
When times are out of joint, it's best to go back to the classics. Koushik Sen's choice of staging Antigone in Calcutta today becomes an extremely relevant socio-political statement. His bombed-out, doomed, almost an after-holocaust stage design (by Soumik Chatterjee) heightens the stress on violence and decay in our present world. The straw dummies of corpses hung and strewn all over the stage create just the right environment of doom inherent in Sophocles. The use of audio news footage of massacre and violence all over the world works wonders for me. The presence of the actor reading a newspaper is irrelevant, but the audio news clippings can be used again during the interval.
Making Thebes a military dictatorial state adds hugely to Creon's logic and Swapnasandhani's Antigone arrives at a contemporary conflict.
Koushik's Creon is as astute, shrewd, stoic as it should be. One of the most exciting actors in Bengal today, he shines once more with sheer brilliance. But I think he should take more care about blocking the movement of other characters in relation to his autocracy. The messenger, and also the Chorus, comes frighteningly close to him, destroying his supremacy. Koushik manages to get away by his sheer presence, but the logic of the crises gets diluted because of too many people too close.
Reshmi Sen's angry, headstrong, almost crazily gullible Antigone is a welcome change from the otherwise effeminacy I am accustomed to from her. Good she does not resort to the usual romantic mannerisms of our Bengali theatre legacy. I personally feel that her frequent costume change is unnecessary. The jeans and shirt is good enough.
The surprise is Subhra Sourav Das's vulnerable yet boiling Haemon. The actor seems to have matured from his Malcolm, Aurangzeb (in Swapnasandhani productions) and even Makaranda of my Bomkesh Phire Elo. Subhra has managed to inculcate a certain unpredictability, which seems very promising.
Since Koushik makes the boy (played by Riddhi Sen) with Tiresias speak and sing, I only wish he himself had played a ballad singer/Tiresias.
Despite too much choreography that destroys the stark confrontations of the characters, Antigone happens to be much more austere a production than Koushik's earlier, Macbeth. What Bengali theatre must understand is that austerity is a virtue when it comes to theatre, specially classics. The ostentatious, unnecessary levels, often unnecessary movements, kill the text. They may keep the stage busy but they destroy the politics of the play. To be precise is to be meaningful. Every time Creon and Antigone, or Creon and Haemon, or Antigone or Ismene are alone with the straw corpses, the production works. Whenever the crowd or the chorus step in with their choreography, heightened gestures and background music, the starkness of the politics is destroyed. Yet, that Koushik does not try to alter the basic text to provoke contemporaneity actually makes the production rather contemporary.
(Antigone will be staged at Gyan Manch on June 21 at 6.30pm. Tickets available at the venue)