A crime thriller that pays tribute to Satyajit Ray's Calcutta trilogy
'This film is not a copy, remake, reinterpretation or in any way'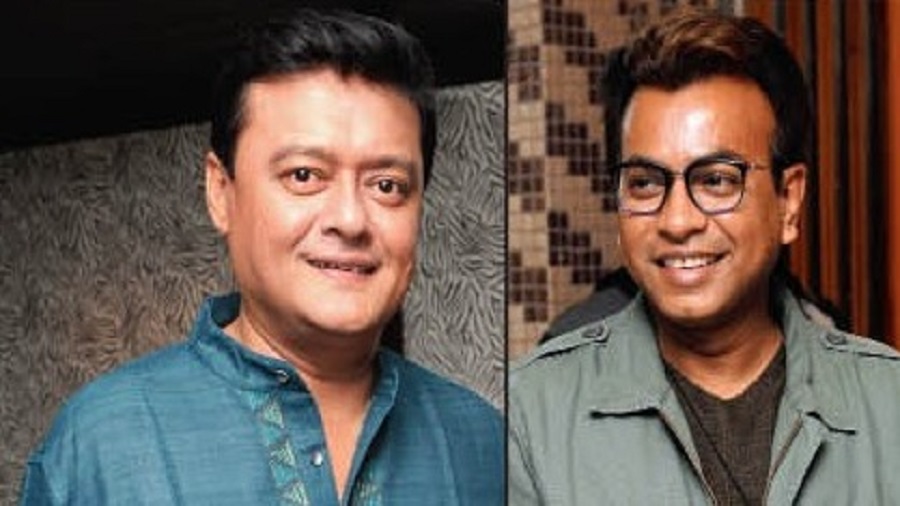 Saswata Chatterjee and Rudranil Ghosh
Sourced by the Telegraph
---
Published 03.09.20, 10:13 PM
|
---
Director Saptaswa Basu is set to start the shoot of his second feature film Pratidwandi, a crime thriller with the medical profession as the backdrop. "This film is not a copy, remake, reinterpretation or in any way linked to the Ray film. It's an original story, a crime thriller that deals with a crisis management company based in Calcutta," says the director about the film, starring Saswata Chatterjee and Rudranil Ghosh. A chat with Saptaswa…

What was the starting point for this film? How did the idea come to you?
Actually, the core story is inspired from true events... a physics teacher met with a mishap... only a few students and some close friends of his knew this, and those shocking events resonated with me for a long time. I wanted to depict those events and expanded it into a narrative.

Tell us about Saswata Chatterjee and Rudranil Ghosh's roles?
Saswata Chatterjee plays the role of a doctor. He is such a versatile actor that he moulds himself to be fit for any role. He has such a range of emotions and can enhance the script. He has been a true support of my works right from my college days and therefore he holds a special place whenever I plan a film! Rudranil Ghosh plays the role of a teacher in my film. He adds a certain eccentricity when he plays such a character, which is unpredictable. He fits perfectly into the role of a middle-class family man, whose life takes an unexpected turn.

What is the film about?
A young group comprising a law school pass-out, a computer engineer and a chartered accountant team up to form a detective agency, after they don't get any conventional job. Not a hobby, but a professional agency. Doctor Bakshi (Saswata) comes to them for help after his child goes missing from school. While investigating this, the group comes across this maths teacher who seems to have some grudge or rivalry against this doctor. Parallelly, a series of murders continue in the city and clues indicate the murders and kidnapping are probably connected. How they get to the bottom of this case forms the story of Pratidwandi.

Why this film title?
Firstly, there is a young group who are solving cases as a team, but not part of police force. They are trying to give justice from outside the system. So the cops, political entities become their rivals. We see the maths teacher has some kind of enmity or rivalry with the doctor.
The economic strain in the city makes the characters compete with each other, be it in terms of job or success or anything else. We are always pitted against each other for survival. That makes all of us adversaries of each other. Finally and importantly, since the city itself will be treated as a character in the film, I wanted to give tribute to Ray's Calcutta trilogy. So I chose the title Pratidwandi keeping all these factors in mind. There's no connection story-wise to that film.

When do you start shooting in September? What are your thoughts on shooting during a pandemic?
We were ready to start a few months back but everything got stalled, like many other projects. Now in these unlock phases we are seeing that people are taking caution but braving the pandemic to work for survival. Filmmaking is both my profession and passion. So we decided to start in September as the artistes also told me that they have started working on other films now. Our team got the confidence to start. Cinema will live and people will return to halls to watch movies. International BO figures of Tenet have given hope to many theatres worldwide. In this case one can sarcastically say that the pandemic has become our Pratidwandi. We start shooting in the end week of September and probably will continue just before the Puja dates.
Proper precautions, guidelines will be followed obviously.

What are your thoughts on the first look?
The first look of Pratidwandi is a tribute to a classic shot from the Satyajit Ray film and our admiration and respect to the maestro and his Calcutta trilogy.
There is that interesting shot of the protagonist crossing the road... from a top angle... the pattern in the road is unique, like two arrows facing each other. I felt it depicted themes of conflict… my interpretation. So I revisited the classic shot and digitally sketched and redesigned it. Our film has many sequences in the streets, alleys and heart of Calcutta. Also, I try to design first looks with the main protagonist looking away or backwards to the camera,  so I tried to maintain that style as well.