A conversation with Bonny and Koushani
The duo talk about their film Tumi Ashbe Bole, the new things they learnt about each other and marriage plans!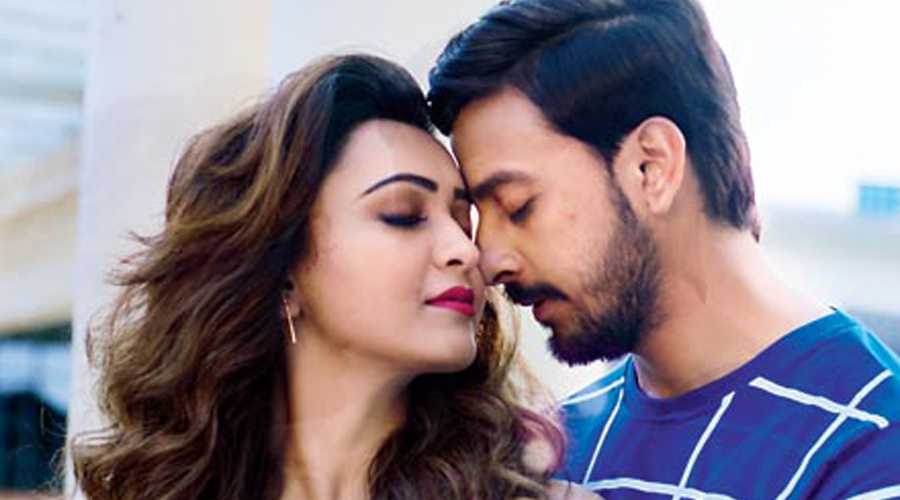 ---
---
We have been seeing a lot of marriages happening in the film industry. So, any marriage plans?!
Koushani: (Smiles) It is there. I feel we still need to grow as artistes. The pandemic created a year's gap which is not easy to make up. Marriage is there of course because I strongly believe in marriage. That should happen but not immediately….
Bonny: Two more years from now... not too far. We are almost there. Just walking towards it (laughs).
You both are working together for a few years now. How has the equation changed over the years?
Bonny: From the film Parbo Na Ami Chartey Tokey, our friendship grew. For the songs everyone felt our chemistry because that time we started liking each other. Now, I know when she will react and how. She also knows that. That thing happened after working with each other for so many years.
Koushani: Now we have a better perspective about the filming process too. Our timing improved. We don't need choreographers to guide us always. We do our own improvisation during romantic numbers. If there is any problem he can figure it out. But there's also a disadvantage... when we are angry at each other, it can't be shown on screen! It happened with us at times, we were not talking to each other but did a romantic scene on set!
What are the pros and cons of working together?
Koushani: Pros are I know this is my partner, I am comfortable with him in all angles of emotions. Everything is within my comfort zone. If I have any problem and can't say it to the director or producer, I make him the medium some times. There are negatives too... he is very welcoming to everyone. And if we fight, my assistants run away from me (laughs). Then we also have to do scenes with each other after fighting and that becomes a little difficult then.
Bonny: The biggest disadvantage is that since we have a personal chemistry, people try to use that in the movie also. We are not always comfortable doing an on-screen kiss if that is not required in the situation... but people think since we are a couple we can do it.
Koushani: If I do a liplock scene with Bonny as an actor, I become liable to do that with other actors too. If I am not doing it I shouldn't do it for anyone. That becomes a principle then.
With the OTT boom and focus on web shows, how do you feel Bengali mainstream films should reinvent itself in 2021?
Koushani: I think there's already a demand of new themes in the Bengali film industry, which started even before the pandemic. Everybody is looking for good content. If there is no good content, there's no point in being a part of that film. People are watching web shows because of the content. However, in our industry typecasting happens a lot. Once there is a focus on good, relevant and inventive content for mainstream films the audience will increase further.
Bonny: One should not get typecast. Some people feel actors like us only act in commercial films. That's not true. I think they need to give us opportunities to perform.
Koushani: We are a small family in this industry and we should all work together. OTT is good and creating opportunities for actors too but now it has become a disadvantage too as people are not willing to let go of the comfort of watching films on their phones!
Bonny: We both are binge-watchers. We watch everything and try to finish it as fast as possible. We can't watch with long gaps. At times we argue if one of us finishes watching anything ahead of the other (laughs). Directors are doing a lot of things for OTT, which they probably should try for hall releases.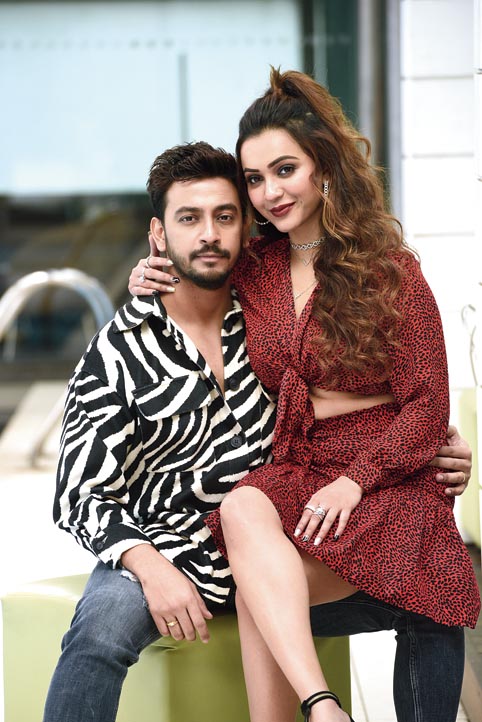 How have the last couple of months been for you?
Koushani: I am not a home person but it taught me to stay at home. I like going out with friends and shopping. Shopping is like breathing for me! And that oxygen was taken away from me!
Bonny: No it wasn't taken away. A lot of it happened online. During lockdown no matter who came home or not, a lot of delivery kept coming (laughs).
Koushani: But online shopping won't be able to satisfy my clothing requirement! Online used to just satisfy my home requirements. I used to buy kitchen equipment and home decor items. We used to watch films. I cooked everything possible. I made Bonny learn a few new things. He used to make only green tea earlier. God knows what is there to make in green tea! He could make only Maggi and green tea, a bit of pancake, not completely though....
Bonny: I can make pancakes. I have made it for you.
Bonny is disagreeing...
Koushani: No, but I am the teacher. How can he disagree?!
Bonny: I made it from home and brought it for you. I have photos. I have proof.
Bonny: Lockdown increased our patience level.
Koushani: Our saviour was Ludo. We used to play with friends online!
What did you learn about each other during this time?
Bonny: We learn something new about each other every day. I got to know about her cooking skills. I knew about it before but during lockdown she used to cook, take good care of the home.
Koushani: So, what Bonny has learnt about me is that I can handle both home and work. But I have learnt nothing new about him (smiles)! He is just the same.
Jokes apart, my perspective towards him changed during lockdown. During lockdown, we were alternatively staying with each other whenever it was possible. It made me realise that he is an integral part of my life and that he is quite an entertainer. He won't let me get bored. He can also be a good husband in future (smiles). He is not arrogant and doesn't show any disinterest in household work.
What's been a big change in your life during the lockdown and pandemic?
Bonny: I became fat. I was eating so much. At her house and at my house!
Koushani: I used to make something nice every day (smiles).
But honestly, our whole life changed. It was a global crisis. There were a lot of people we helped too. We did so because we wanted to. Every year my birthday celebrations happen for four-five days. But this year that was not possible. The only good thing was that I was able to reach out to some people in need on that day.
What is Bonny's favourite dish cooked by Koushani?
Bonny: Sesame Honey Chicken with fried rice and Creme Brulee. The topping of which I did. I burnt the sugar (laughs).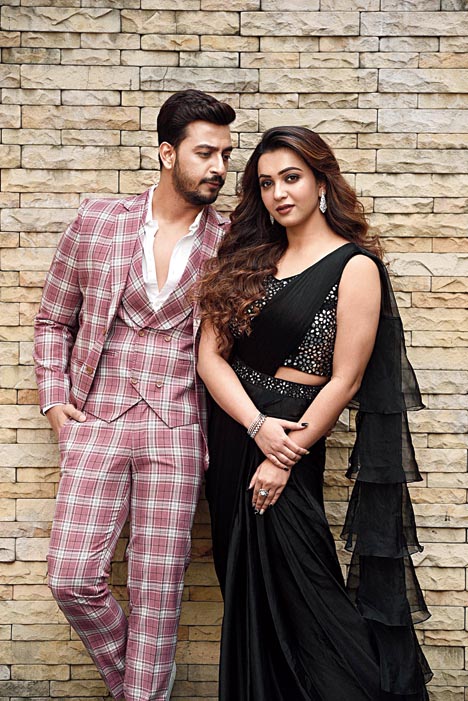 What significance does the phrase Tumi Ashbe Bole have in your lives?
Koushani: If this phrase was given to us five years ago it would have meant I was waiting for you. But that no longer makes sense. I am very happy with the person I am with.
Bonny: My desire for shopping increased. I used to never shop so much... I discovered that side after meeting you (laughs).
Tell us about your characters in the film Tumi Ashbe Bole?
Koushani: My character's name is Ankhi. She comes from a very big family. Her father is a reputed businessman and her choice is very sophisticated, belonging to such a family. Ankhi has a lot of attitude. She has 10 boys falling in love with her every day... and there is another character, Nondo. There is a twist to the name of his character which we can't reveal now. He is completely opposite to Ankhi. He doesn't look at girls at all. So the film goes on to show how it is possible for this girl to fall in love with this guy... and it is a complete family drama. It is not a film just about a hero and heroine's romance. It is also a story of two families.
Bonny: Nondo comes from Varanasi and knows nothing about urban sophistication. He has never seen city life. He has a very strange dressing sense. He tries to impress this girl. He makes everything funny for others with his taste but doesn't realise that. He falls in love with the girl when he comes to this college.
Koushani: My character is choosy in college about who she mixes with but at home it is not so. There's a beautiful blend of emotions. And when we fall in love for the first time and then try to convince our family which becomes a big challenge... this movie is about those challenges too.
Bonny: People nowadays like family drama and this movie has this flavour.
What attracted you to play these roles?
Bonny: I wanted to play this as the character is completely opposite to who I am and I think for Koushani, she liked it because she is always like: 'People need to look at me'(laughs)!
Koushani: Yes, it is true. Only that part of Ankhi matches with Koushani. When I walk people need to stop and stare (laughs). But other than that nothing else matches. I am an extrovert, down to earth and can make people comfortable in my company. I love my family more than everything else and that is also similar to my character.
Bonny: With Nondo nothing matches with me.
Koushani: Of course not! You look at every girl who passes by (laughs)!
Bonny: No I didn't mean that.
Koushani: So, obviously you are not like Nondo. His dressing sense probably was okay before but after I came into his life, I changed him and groomed him. Now also when Bonny purchases something and I am not around, he has to send me videos. I also do that. Now his choice has improved and everyone can see that!
What's the best part about the film?
Bonny: Us (laughs).
Koushani: I always say that.
Bonny: I said it on your behalf. I knew you would say that.
Koushani: It is a plus point of course and our jodi is named as #Boko by our fans. They really love us. This film as a whole is really good. It has a beautiful presentation which the audience will like.
Bonny: There are a lot of surprises which is why people should watch it.
Pictures: Rashbehari Das
Location courtesy: The Park
Styling: Sumit Sinha
Bonny is wearing H&M and Deepak and Madhu
Koushani is wearing Bharat Adiani and H&M
Jewellery: Divinus Creations
Make-up: Abhijit Paul
Hair stylist: Gini