A chat with Jonathan Butterell on Everybody's Talking About Jamie
'I hope that this young effeminate hero can speak to all of us', says the director on his stage-to-screen journey with the new film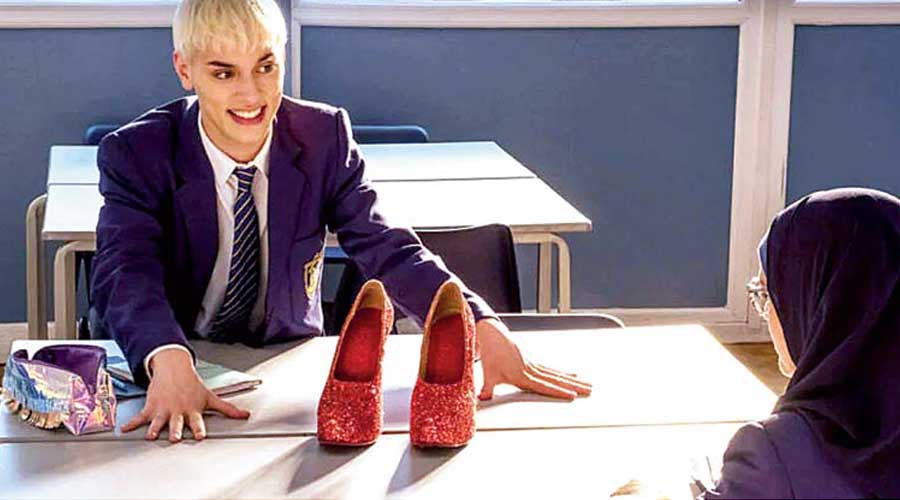 ---
Published 17.09.21, 05:03 AM
|
---
Everybody's Talking About Jamie, a highly successful stage production tracing a young queer man's unflinching fight against the world to make a career as a drag queen, has now been made into a film. Directed by Jonathan Butterell, who directed the stage musical and now makes his feature film debut, Everybody's Talking About Jamie is inspired by a real-life story and adapted from the BBC Three documentary Jamie: Drag Queen at 16.
Ahead of the film — which stars Max Harwood in the title role — premiering globally on Amazon Prime Video today, The Telegraph caught up with director Jonathan Butterell over a Zoom call to know more about this unconventional tale of courage.
What made you want to turn your stage production Everybody's Talking About Jamie into a film? As a medium, does cinema give you any kind of licence and liberty that the stage didn't?
The decision to make Everybody's Talking About Jamie into a film came very early on. We had only done 10 performances of the stage show in a theatre in Sheffield. People from Warp Films, which had made this film called Four Lions, came to see the show, and they rang me the next day to say, 'We would like to option this as a film,' which was an extraordinary thing for me. They have a base in Sheffield, where the film is shot. My hometown is Sheffield, so this community is my community. To have that phone call was exhilarating. We were joined by Regency Enterprises and Film4 (Productions) to make this film together.
I loved every minute of making this film. It's a very different experience from working in theatre. In theatre, the audience's imagination joins with the actors' imagination to create the world in a space together. In cinema, you as a film-maker, along with your actors, create the space for the audience. It allows so much scale... I love the vista that film can give you, the intimacy and the close-up that this medium affords. There is a depth of character and soul that you can get in this close-up. The landscape of a face that one can capture on cinema is exhilarating.
Also, since this is a musical, it allowed my imagination to run, just take flight and get into Jamie's (played by Max Harwood) head. The songs scored by Dan Gillespie and written by Tom MacRae fully allowed my imagination to pop... I loved every second of it.
What is it about this true story that resonated with you when you heard it so many years ago?
Courage! (Smiles) The courage of a young person unashamedly wanting to take his joy into the world. I was so moved by that courage and the love and support of his mom. She's someone who didn't understand his dream fully, but she just loved him unconditionally. And the love of his best friend (Pritti Pasha, played by Lauren Patel), who also didn't understand him fully but was open to knowing what he really wanted. Also to see a community make a shift and allow space to this young boy to realise his joy, which was to be in drag.
I believe all of us have some element of drag in us. Drag in this case means joy. It's innate in all of us. This is an emotion that's universal, though the story may seem so niche. It's about a gay kid from Sheffield who wants to be a drag queen. But beyond that, it's about all of us finding that joy, having the courage to express that joy and the community making a safe space for that to happen.
There is a line in the film, 'You don't need anyone's permission to be yourself.' Is that the abiding message of the film and do you think all of us, in some way or the other, have to toe the line in the world that we live in that often stops us from being ourselves?
It is definitely a balance, and the film talks about that balance. It can't all be me, me, me. We live in a community... we have to shift, we have to be ourselves fully, but also accept everybody else as themselves fully. In that, there is balance, there is sharing, there is giving, there is taking. And hopefully, not letting fear in to crush joy. I think that's the message. That we don't need permission to be ourselves, but that's who we are authentically... we can't be anything else. But sometimes, fear arrives and wants to push our joy aside. All I want to say is that allow your joy to take centrestage, and that the community should allow a safe space to making it happen.
What was the key to keep a film like this, which is a musical, entertaining and yet be strong in its messaging?
When Dan Gillespie, Tom MacRae and I created this, we never set out to send out a message. We set out to tell a simple, authentic, real story inspired by the courage of Jamie Campbell. In that courage is a message. But that wasn't our job. Our job was to tell an honest, straightforward story. I always believe that message comes from what the audience receives. They make the message whatever they want it to be. I didn't want to wave a flag or push in a message hard. This is peoples' lives... this is real peoples' lives and their joy. I wanted them to see themselves in this film, I didn't want to distance them from the message of the film.
'Inclusivity' is now the buzzword in cinema, especially in the West. What do you make of it and how will Everybody's Talking About Jamie make a strong case for inclusion?
Honestly, I don't really like using the word 'inclusive', especially in respect to this film.... I like to use the word 'reflective'. Cinema should reflect the world we live in... I don't really need to include anybody. We are there... that's how the world looks, it's made up of all kinds of people. That's what great storytelling, great art should be doing. The important thing is what stories are being told, what platform it's being told on and who is telling those stories. If we tell stories that don't reflect this world, then of course, it will be exclusive of some people. It's now time we tell stories that reflect all our experiences.
It's amazing that we get to tell this story — which is, in all honesty, a small story — on a platform like Amazon Prime Video that reaches out to 250 countries. To be honest, Jamie can't represent everybody, he can represent only one part of his LGBTQ community, but I hope that this young effeminate hero can speak to all of us.