A chat team 'Tribhanga'
Director Renuka Shahane and actors Tanvi Azmi and Mithila Palkar talk about their what-women-want Netflix film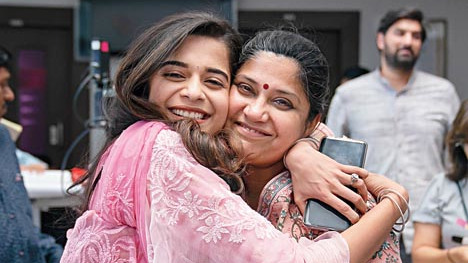 Mithila Palkar with Renuka Shahane.
Sourced by The Telegraph
---
Published 20.01.21, 01:34 AM
|
---
Actor Renuka Shahane directs Kajol, Tanvi Azmi and Mithila Palkar in Tribhanga, a story of intergenerational conflict and a look at what women really want. Over a Zoom call, we connected with Renuka, Tanvi and Mithila to know more about Tribhanga, now streaming on Netflix.
Renuka, what was the starting point of Tribhanga?
Renuka Shahane: Well, the starting point actually came about seven years ago. I came across a person who hated her mother. The core of my life is my mother. I can live without everyone else, but not my mother. So to meet someone who hated her mother was a shock. My brain started ticking... that if my relationship with my mother wasn't stable like it is, then how would I have reacted? How would I have been? Would I have been a rebel? That was the basic germ of Tribhanga.
I am also fascinated by Odissi dance... I just love it. So this whole construct of three women from three different generations who are joined together and are yet completely different from each other in terms of even looking at the same event from different perspectives was interesting. Women who lead unconventional lives are always judged negatively. Those were the kind of themes I wanted to explore.
Is it true that Tribhanga started off as a relatively modest Marathi production and then exploded into this big Netflix film?
Renuka: For me, it was a big film even when it was a Marathi production. What I was saying in the film was important, irrespective of its language. Having portions of Tribhanga in Marathi just makes it more authentic and true to my characters. The characters belong to the Marathi milieu and, of course, due to their eclectic lifestyles, they incorporate Hindi and English into their daily conversations. A trilingual film like this is interesting because there is not just a smattering of Marathi, there is a specific portion of this film which is completely in Marathi.
Tanvi and Mithila, women-led films are still very rare. Was that one of the main reasons that made you sign on?
Tanvi Azmi: I have known Renuka for a long time. I know that she's an extremely talented and aware person. I knew that whatever she wrote would be exemplary. Also, I felt that a story of intergenerational women needed to be told... we don't have many such stories. It's usually patriarchal, not matriarchal. I have been wanting to do this for the longest time. I love women... I love different aspects of women, I think they are just fantastic. So I felt it was important to tell the story of women who are living life on their own terms, and are not apologetic about it. They may have regrets, but they are not unapologetic about the lives that they lead because they are choosing to be unconventional, vis-a-vis the norms set by society. So for me, it was a no-brainer.
Mithila Palkar: I have known Renukadi for a long time now. It was when she was judging a theatre festival that I met her first. I am a fan of her writing in general, even the posts that she puts up on social media, because they are always very thoughtful and articulate. I was very excited that she wanted to narrate something and offer me a role that she envisioned me in. My role, Masha, is a role I would have never envisioned myself in. When I heard the story, it was a no-brainer to say 'yes'. It's a one-of-a-kind story... I don't think we have watched or read about matriarchal stories as much as we should have. I absolutely fell in love with the fact that all these women are vulnerable but extremely unapologetic.
How important is it for women to tell women stories?
Renuka: I think everyone telling women stories is very important. I don't make that distinction. But yes, less stories are told about women, which is very unfortunate. We are 50 per cent of the planet. Whether it's women, men or transgenders, everybody's stories should be told. We need more representation in cinema for all categories of people, not just women. In Tribhanga, I have told a women-centric story because my core is about women. From my gut, I gravitate towards telling stories about women because I feel I also understand them better (smiles).
Tanvi: Women are always more interesting!
Renuka: True! (Laughs) And also, we constantly see women being represented on screen only as foils to men. We don't talk about 60-year-old women, and even middle-aged women are presented one-dimensionally as only mothers. My film also has mothers, but they are far from conventional. I am fascinated by women in all their facets. But on screen and off it, we confine our women to certain specific roles only.  
Anything that you read or watched recently that had women at the front and centre that left an impact on you?
Renuka: One would be Ava Duvernay's When They See Us and the other is The Queen's Gambit, and they are both very powerful pieces of women in front of the camera as well as behind it that have stayed on with me.
Tanvi: I was blown away by The Queen's Gambit... it's about a woman in a man's world. It's amazing what a powerful woman can do. Women have a lot of power... they just need to tap into it. Even The Crown, if that counts. The queen has seen prime ministers come and go, but she's remained as rock solid as ever.
Mithila: I watched a lot of female-led content during the lockdown, all rather subconsciously. Shows like Fleabag, Killing Eve, The Morning Show.... Phoebe Waller-Bridge is phenomenal! Sex Education is a fantastic show which has been created by a female writer (Laurie Nunn).
Renuka, are you like any of the three women in Tribhanga?
Renuka: Honestly, I actually identify with Masha a lot. Whatever decisions I have made in life are very close to what Masha makes. But I would actually like to be like Nayan. I would be like, 'Maine shaadi kyun kar li? Maine bachhe kyun paida kar liye?' (Laughs) Anu (played by Kajol) is someone who I would like to be... someone who is uncensored and gives a damn about what other people think.
It must have been one fun set with so many women around!
Tanvi: The men, poor things, were relegated to second positions throughout (everyone laughs). We really didn't involve them in anything. We had such a blast on set. Renuka and my association is about 200 years old! (Laughs) So there was total comfort with her. I have worked with Kajol earlier, and there is a madness and a comfort that I enjoy with her. I would also like to say that Renuka and Kajol were a little out of control on set most of the time! (Everyone laughs)
Can you elaborate on that?
Tanvi: I would rather not!
Renuka: She can't because it's a family film (laughs).
Tanvi: I can't even tell you what they were talking. But as a result of that, there was a lot of great, good, mad energy on set. I haven't worked with Mithila earlier and even in this film, I was in a coma when she was around (laughs), but I feel that Kajol and I are pretty similar as actors. We tend to switch on and switch off, and we don't stay in a scene just because it's a heavy scene. We have the ability to make that shift. Renuka would have liked a little more seriousness on set, par hathyar daal diye inhonein (laughs).
Renuka: I would give a lot of credit to Mithila because she was the one who had to look the most sane. Tanvi was anyway in a coma when all the madness was happening on set. So Mithila had to get back into the character of Masha after all the madness. Kajol could stay in the madness of Anu, but Mithila was like, 'Oh no! Now I have to be stable and I have to be balanced'.