6 tennis documentaries to watch ahead of the French Open men's final today
John McEnroe and Bjorn Borg to Roger Federer and Andy Murray – these docu films take a close look at some tennis greats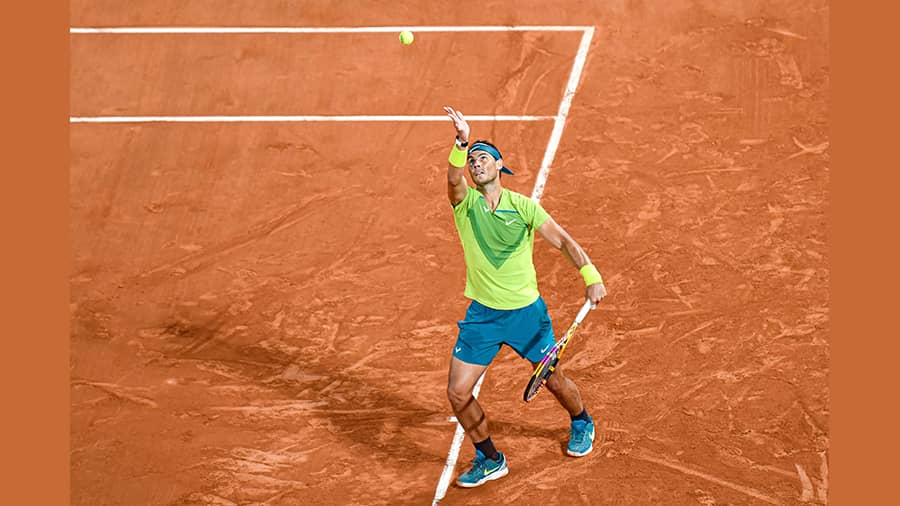 Rafael Nadal will play his 14th French Open final on June 6
Shutterstock
---
Calcutta
|
Published 05.06.22, 11:41 AM
|
---
The ongoing 126th edition of the French Open has already given us some sublime moments on the court. As tennis legend Rafael Nadal waits to make his 14th appearance at the men's final at Roland-Garros in Paris today, here are a few documentaries on tennis to help you gear up for the grand finale. 
Strokes of Genius
This 2018 documentary chronicles the tale of the 2008 Wimbledon final between Roger Federer and Rafael Nadal, widely regarded as one of the greatest matches of all time. This epic encounter that lasted nearly five hours encapsulates the long-standing rivalry between two of the greatest tennis players of our time. The film combines archival footage to chronicle the stories of both players from their formative years through their rise to become two of the finest players of the game. 
Watch on: Apple TV. 
Untold: Breaking Point
This 2021 documentary sheds light on the pressure of professional tennis and its toll on rising tennis stars who are expected to win at all costs. Directed by Chapman and Maclain Way, Breaking Point is part of the Untold series by Netflix, which examines Mardy Fish's rise as America's next big hope in tennis. It takes a deep look at him at his peak and during his fall when he was consumed by a severe anxiety disorder, compounded by a serious heart condition. This documentary exposes the practice of pushing young tennis players beyond their limits in the name of building mental toughness and how it can have an adverse effect on their mental health. 
Watch on: Netflix. 
Love Means Zero 
The 2017 documentary by Jason Kohn is a depiction of renowned tennis coach Nick Bollettieri. Among the champions he has coached during his illustrious career are Andre Agassi, Monica Seles, Jim Courier, Venus and Serena Williams, Boris Becker, and Mary Pierce. The documentary tracks the early life of Kohn, the son of Italian immigrants who made it in his own controversial way. This film deconstructs the lawlessness that surrounded tennis in the previous century while preserving the true passion of the sport.
Watch on: Sky.
John McEnroe: In the realm of perfection 
This 2018 documentary, directed by Julien Faraut, takes you on an immersive journey through the life of tennis legend John McEnroe at the peak of his career as a world champion, documenting his quest for perfection, frustrations, and the most difficult loss of his career at the 1984 French Open. It documents McEnroe's status as the most tempestuous of sportsmen through archival footage and recent interviews with him and his opponents. In a philosophical attempt to uncover his inspiration, this documentary investigates the wrath and passion of the world's most flamboyant tennis player.
Watch on: Watch Today.
McEnroe/Borg: Fire and Ice 
Tennis superstars John McEnroe and Bjorn Borg had a heated on-court rivalry during their peak years in the 1970s and 1980s, as Aaron Cohen's 2011 documentary shows. The HBO film examines the tumultuous relationship between the American McEnroe and the unyielding Swede Borg, with an emphasis on their historic five-set 1980 Wimbledon final, which featured a dramatic 34-point tiebreaker in the fourth set. In recent interviews, the two guys are shown reminiscing, and there is clearly a bond of friendship, if not love, between them.
Watch on: YouTube.
Andy Murray: Resurfacing 
Olivia Cappuccini's 2019 documentary follows British tennis star Andy Murray's injury struggle from 2017 to 2019. From the operating rooms to the intimate corners of his house, the tennis star is revealed at his most vulnerable. By formulating his own economical, workmanlike style of tennis, Murray willed his way past his more-talented opponents to the top. The documentary focuses on his workmanlike approach to rehab and finds inspiration in the athlete's decline.  
Watch on: Amazon Prime Video.