5 fierce mothers like Shefali Shah's Shamshu in Darlings who will do anything for their kids
Here's what the moms in Mai, Aarya, Masaba Masaba, Good Luck Jerry and Secret Superstar have in common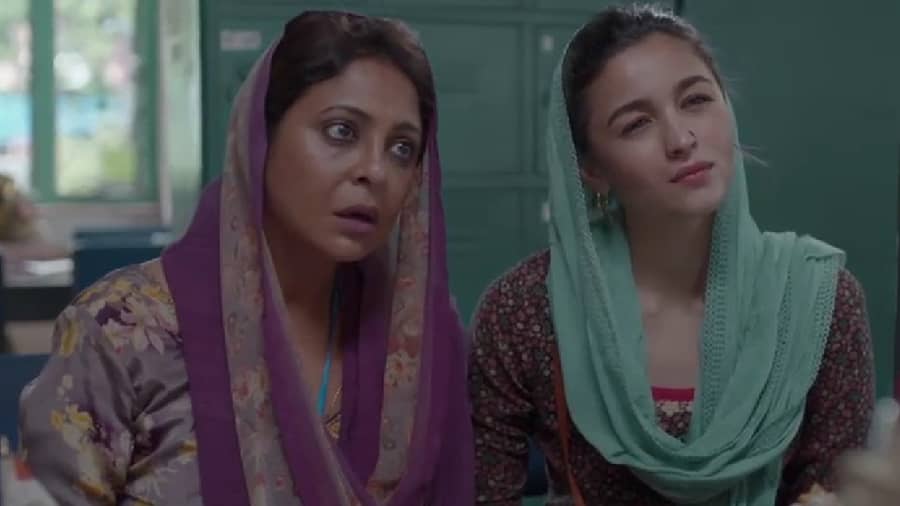 Shefali Shah and Alia Bhatt as mother-daughter duo Shamshunissa and Badrunissa in Darlings.
@aliaabhatt/Instagram
---
Calcutta
|
Published 16.08.22, 03:05 PM
|
---
An enduring image of the most-talked about film in recent times is of a mother and daughter sipping tea with a quizzical look in their eyes. Shefali Shah's Shamshu and Alia Bhatt's Badru are up to something in Netflix's dark comedy film Darlings. A strong single mother, Shamshu keeps offering support to her daughter Badru, who's trapped in a violent marriage, and is even ready to kill the abusive son-in-law. 
Shamshu, however, is not alone in the list of screen mothers who will go to any extent to protect their children or get them justice. Here are five other fiery moms we saw on the screen in recent times. 
Sheel Chaudhary in Mai 
In the 2022 Netflix thriller series Mai, Sheel Chaudhary (Sakshi Tanwar) is a mother with vengeance on her mind after she discovers that her daughter, Supriya (Wamiqa Gabbi), who she saw dying in an accident, was actually murdered. 
Sheel, who works as a nurse in an old age nursing home, has always encouraged Supriya, who is mute but can hear, to aspire to become a doctor.  This story is about how a mother struggles with overwhelming grief and loss while quietly turning her rage into a weapon against her daughter's killers. Sheel embarks on a manhunt to track down the criminals, and her steely resolve and grit says she would stop at nothing to get justice for her child. 
Aarya Sareen in Aarya
The role of Aarya Sareen — a mother of three kids caught in a drug racket following the death of her husband — in the 2020 Disney+Hotstar web series directed by Ram Madhvani marked Sushmita Sen's dazzling return to the screen after a long lull. 
Aarya, a glamorous woman who lives with her family in an upscale neighbourhood in Rajasthan, is no stranger to danger, having been brought up in a family that trades in opium and is neck-deep in illegal activities. In Season 1, she tries to shield her family from the world of crime but when her husband Tej Sareen (Chandrachur Singh) gets pulled into it and is bumped off after a drug deal goes wrong, Aarya swings into action to keep her children out of harm's way. 
Sushmita's Aarya morphs from a sophisticated, soft-spoken woman to a fierce single parent who learns to keep her emotions in check and use her cunning to stay one step ahead of her enemies. The second season, which came out in 2021, further explores Aarya's struggles to protect her traumatised children when she is forced to return to India. Despite the odds being stacked against her, this mother always finds a way to pull the rug out of her opponent's feet for the sake of her children. 
Neena Gupta in Masaba Masaba
The biographical drama around the life of fashion designer Masaba Gupta gives us an insight into her worried mother who's also a feisty actress. The two seasons of the Netflix series, directed by Sonam Nair, trace the ups and downs in the relationship of this mother-daughter duo, which is so relatable. 
We see how Neena Gupta, who has raised Masaba by herself as an unwed mother, has her daughter's back, no matter what. While she is supportive of Masaba when the time calls for it, there's also the mother in her who's critical of her daughter's choices (around her sex life mostly). 
They get into small fights and stop talking but they also can't ignore each other for long and will reunite with a bear hug. The driven and passionate Neena sets a great example for Masaba every step of the way and establishes that it is fine for women to prioritise their careers over men. 
Sharbati in Good Luck Jerry 
Being a mother is often a delicate act of finding the right balance between criticism and support and that is what Mita Vashisht shows us as Sharbati in Good Luck Jerry. In the black comedy crime film directed by Siddharth Sengupta, Sharbati takes on the role of a single mother to her two young daughters after the death of her husband. She sells momos for a living and is critical of her elder daughter Jerry (played by Janhvi Kapoor), unhappy with her for working in a massage parlour. But when Jerry finds herself in the deep end, having ended up as a drug mule with a local mafia gang, Sharbati sticks her neck out for her daughter. 
She pretends to have a medical emergency to prevent the cops from checking their vehicle that is loaded with drugs and joins her daughters in beating up one of the gangsters who tries to assault Jerry. Overall, Sharbati is the kind of mother we can count on in times of trouble.  
Najma in Secret Superstar 
The 2017 feel-good film Secret Superstar featuring Aamir Khan gave us a mother who, despite a lot of difficulties, secretly helps her daughter nurture her ambition of becoming a singer. 
Stuck in an abusive marriage, Najma (played by Meher Vij) stops her violent husband from getting in the way of her daughter Insia's (Zaira Wasim) dreams. She sells her jewellery to buy a laptop for Insia, which helps her shoot to fame. And after much domestic abuse and indignity, Najma divorces her husband to allow her children and herself a life free of violence, and to let Insia have her moment under the sun. When called on stage to receive an award for her singing, Insia hails her mother as the 'Secret Superstar' for standing by her through thick and thin.