5 detective-sidekick pairs who are cracking crimes and keeping us hooked to the Bengali screen
Eken Babu, Sonada, Shabor, Mitin Mashi and Gora are solving mysteries but with the help of their able assistants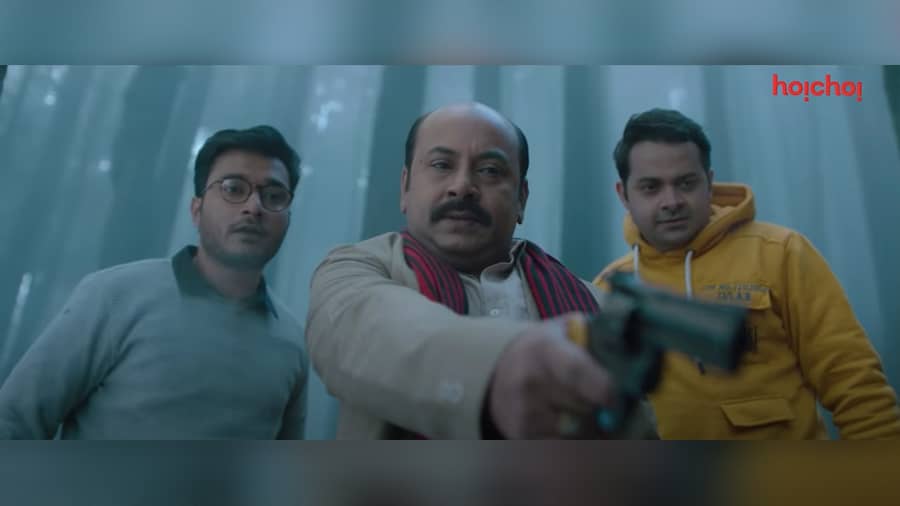 A still from 'The Eken' (2022) starring Anirban Chakrabarti, Somak Ghosh and Suhotra Mukhopadhyay
The Eken Trailer@Hoichoi/Youtube
---
Calcutta
|
Published 03.08.22, 04:47 PM
|
---
A supportive friend, a trusted aide, most often the narrator and sometimes a lot more than that. That is what Topshe, Santu and Ajit are to Feluda, Kakababu and Byomkesh Bakshi. It is difficult to imagine our beloved detectives going on an adventure and cracking a case without their sidekicks by their side.
While Feluda-Topshe, Kakababu-Santu and Byomkesh-Ajit are legendary, here are some other sleuth-sidekick pairs who have kicked up a storm on the Bengali screen in recent times.
Bapi-Pramatha and Eken Babu
A comparatively new presence in the detective circuit, Eken Babu (played by Anirban Chakraborty) hides a sharp mind behind his child-like demeanour. The Hoichoi web series Eken Babu, based on the detective story written by Sujan Dasgupta, is a fun watch not just because of Eken Babu's personality but also because of his aides, Bapi (Suhotra Mukhopadhyay) and Pramatha (Somak Sen), who always have his back.
Watch it on: Hoichoi Abir-Jhinuk and Sonada
Subarna Sen, popularly known as Sonada, is a professor of history at Oxford University and a crime solver by passion. Sonada (played by Abir Chatterjee) finds his allies in his nephew Abir (Arjun Charkabarty) and Abir's friend Jhinuk (Ishaa Saha). The Sonada-Abir-Jhinuk combo debuted on the big screen in 2018 with Guptodhoner Sandhane, directed by Dhrubo Banerjee, and was lapped up by the audience. Their next outing, Durgeshgorer Guptodhon, was a box-office success too. What works for this trio? Sonada's good looks combined with his keen eye that misses nothing, and the bitter-sweet vibe between Abir and Jhinuk. And while Abir is a die-hard foodie and wears his heart on his sleeves, Jhinuk is composed and gutsy and is often the first one to crack a clue.
Watch the films on: Hoichoi Nandalal Roy and Shabor
Author Shirshendu Mukhopadhyay created Shabor Dasgupta, a police officer with exemplary deduction skills. Adapted by Arindam Sil for the Shabor films on the big screen, we had Saswata Chatterjee as Shabor and Subhrajeet Dutta as his assistant, Nandalal Roy, hunting for missing links to solve many a puzzle. Nandalal is a perfect foil to Shabor, often cracking us up with his misplaced words. However, Nandalal tries his best to follow in his mentor's footsteps and keep up with him. Their most recent adventure on screen was Tirandaj Shobor. Tupur and Mitin Mashi
Created by novelist Suchitra Bhattacharya, Mitin Mashi and Tupur are the only girl team on this list. Growing up watching her crime-solver aunt Pragyaparamita Mukhopadhyay aka Mitin, it was perhaps natural for Tupur aka Oindrila to develop a nose for mysteries. In the 2019 film Mitin Mashi, directed by Arindam Sil, Koel Mallick's Mitin found a perfect helper in her niece Tupur, played by Riya Banik. And we are waiting for Mitin to get on the trail of some new cases, with Tupur by her side.
Watch it on: Hoichoi Sarathi-Ananya Sen and Gora aka Gourab Sen
Meet Gora, who looks nothing like your conventional private detective. He's a bit of a maverick and his untidy, curly mop of hair lends an edgy touch to his unpredictable personality. Gora's aide is Sarathi (Suhotra Mukhopadhyay). From driving Gora around to putting up with his out-of-tune singing, understanding his silences to helping him solve a crime, Sarathi does everything for this forgetful sleuth. The web series also has Ishaa Saha as Ananya, who soon becomes quite a bit of an assistant to Gora from being a 'case' herself. And there's ample hint that the awesome trio will solve more crimes in the future.
Watch it on: Hoichoi