5 classic Hollywood film noir films to binge-watch in the Durga Puja week
Ace directors like Billy Wilder, Orson Welles and Nicholas Ray have directed these timeless thrillers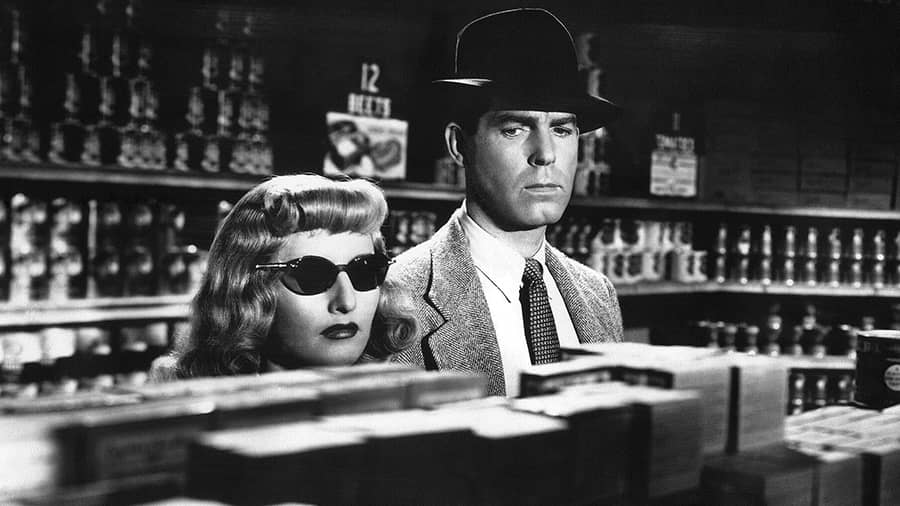 A still from Double Indemnity (1944).
Twitter
---
Calcutta
|
Published 29.09.22, 03:14 PM
|
---
Originally referred to the cynical American thrillers made between World War II and the 1950s, 'film noir' is a genre mostly known for light and shadow, twisted plots, dangerous women and characters from the metropolitan underbelly. This style of filmmaking later crossed the waters to Britain and then spread to all over the world.
We pick five Hollywood film noirs that have had a huge influence on the genre and continue to inspire new generations of filmmakers to come up with new challenges. This timeless classic by Billy Wilder was part of a cycle of 1944 films that defined the emerging genre. Wilder co-wrote the screenplay with Raymond Chandler based on James M. Cain's serialised novel of the same name. With its rough language, femme fatale and strong sexual undertones, Double Indemnity has become perhaps the quintessential film noir of all time. 
Fred MacMurray plays Walter Neff, an insurance salesman who gets seduced by Barbara Stanwyck's Phyllis Dietrichson to kill her husband to get the sum for his accidental life insurance. Prompted by the dead man's daughter, Lola (played by Jean Heather), insurance investigator Barton Keyes (played by Edward G. Robinson) looks into the case and gradually begins to uncover the sinister truth. Adapted from Raymond Chandler's novel of the same name, The Big Sleep uses noir's well-established visual and thematic backdrop. Director Howard Hawks gives Humphrey Bogart and Lauren Bacall, a couple in real life, a chance to indulge in whip-crack foreplay chats throughout the film. The movie is one of the inspirations for the Coen Brothers' 1998 classic crime-comedy The Big Lebowski. 
Bogart's Philip Marlowe, a private eye in Los Angeles, is hired by a wealthy family to deal with blackmailer Arthur Geiger. As Marlow investigates the case and Arthur turns out to be dead, the sleuth becomes the prime suspect. He is eventually helped by the family's elder daughter Vivian Sternwood Rutledge (played by Lauren Bacall) in finding the real culprit. Nicholas Ray's 1950 film starring Humphrey Bogart and Gloria Grahame is considered among the darkest films ever made. Set in Hollywood, the screenplay was written by Andrew P. Solt from Edmund H. North's adaptation of Dorothy B. Hughes's novel of the same name.
Bogart stars as Dix Steele, an embittered and washed-up screenwriter with a fiery temper. After an acquaintance of his is found dead, he comes under suspicion. His neighbour, Laurel (played by Gloria Grahame), gives him an alibi and later the pair begin to fall in love. However, Laurel soon begins to wonder about Dix's potential involvement in the murder. In a Lonely Place is hypnotic and terrifying as it explores how a person's mental state can be categorically broken down. Based on the 1952 crime novel Kiss Me, Deadly by Mickey Spillane, the film belongs to the Cold War era and blends elements of sci-fi and nihilism to create a genre-defining work. It has inspired countless films including Quentin Tarantino's Pulp Fiction.
Ralph Meeker plays Mike Hammer, a hardened private eye who becomes embroiled in a complex mystery after picking up a hitchhiker (played by Cloris Leachman) wearing nothing but a trench coat in the middle of the night. They are stopped further down the road by others who knock down Hammer and kill the hitchhiker. Despite police warning that he shouldn't investigate the case, Hammer and his girlfriend sniff around and get ensnared in a dark plot. Orson Welles's Touch of Evil is considered by many film historians as among the final films of the film noir genre in Hollywood. Based on Whit Masterson's novel Badge of Evil, the film boasts of a complex narrative, rich cast and an ominous atmosphere.  
When a car bomb explodes on the Mexican side of the US-Mexico border, Mexican police official Miguel Vergus (played by Charlton Heston) begins his investigation with US police captain hank Quinlan (played by Orson Welles). But when Vergus begins to suspect Quinlan and his cronies of foul play, he and his new bride (played by Janet Leigh) begin to face all sorts of problems created by the US police officer.