10 films which nail the pregnancy-meets-horror trope
Pregnancy fits the bill to tell a horror story and amplifies distress and fear to manifold levels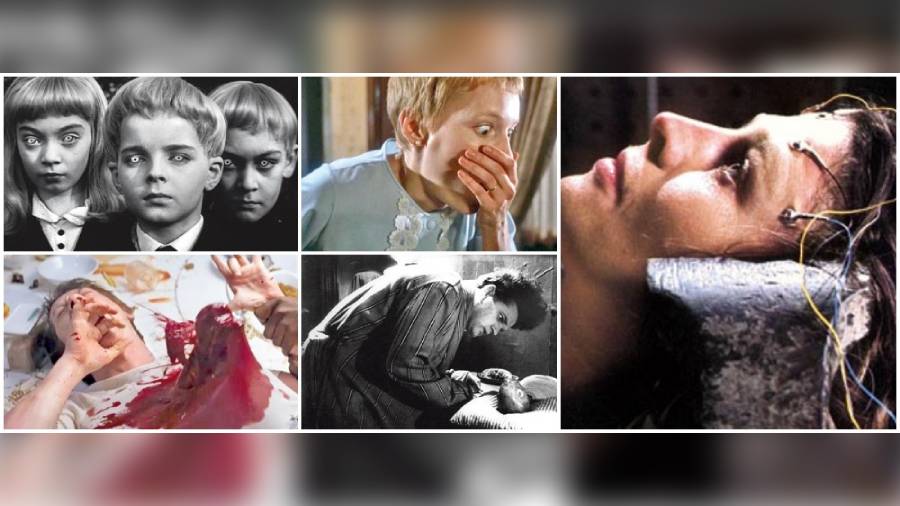 ---
Published 14.12.21, 06:24 AM
|
---
Chhorii, now playing on Amazon Prime Video, tells the tale of eight-month pregnant Sakshi (Nushratt Bharuccha) trying to save her unborn child from the perils of patriarchy and supernatural forces. This premise — of pregnant women braving otherworldly odds, is not new to the horror movie universe. Pregnancy is as sacred as it is stressful, in both anxiety and anticipation. Naturally, it fits the bill to tell a horror story and amplifies distress and fear to manifold levels. Here are 10 horror films that had women's bodies, and the process of giving life, at the centre of action.
Village of the Damned (1960)
Wolf Rilla's Village of the Damned takes place in Midwich, California, where a strange force, called a 'Blackout', leaves the residents asleep for several hours. Later it is revealed that several women have become pregnant since then. The children that are born out of these pregnancies are strangely alike in exhibiting supernatural powers. Chilling in its matter-of-fact bluntness without providing answers, Village of the Damned is the mother of all 'pregnancy-horror'.
Rosemary's Baby (1968)
Watching Rosemary's Baby after the #MeToo discourse makes this adaptation from Ira Levin's book all the more real. The last instalment in the 'apartment trilogy', Roman Polanski's film revolves around pregnant Ruth Gordon (an unforgettable Mia Farrow) who spends a considerable amount of time being gaslighted by the men around, especially her husband Guy (John Cassavetes) who pretends to not believe a word his wife says about the mysteries that surround their Manhattan apartment. When Ruth finally sees her baby, no one can forget the look on her face... It is the devil incarnate.
Demon Seed (1977)
Now this is one film that took the growing rate of digitalisation seriously way ahead of its time. In Donald Cammell's Demon Seed, Julie Christie plays Susan, wife to Alex (Fritz Weaver) who becomes captive to her husband's creation — an artificially intelligent computer called Proteus. It plans to impregnate Susan in order to continue its legacy in human-hybrid version.
Eraserhead (1977)
In David Lynch's surrealist body horror Eraserhead, pregnancy becomes a real existential dread for both Henry (Jack Nance) and his girlfriend Mary (Charlotte Stewart). There is no pregnancy mentioned in the first place, but when the baby does arrive — a deformed being covered in bandages — it evokes a mystifying sense of parenthood that is steeped in disgust. Although pregnancy does not have a major role here, Eraserhead takes an urgent look at the anxieties surrounding it.
Alien (1979)
This is no pregnancy horror, but this list is incomplete without Ridley Scott's Alien, which is memorable for that chest-burster scene where John Hurt's Kane writhes in pain until the small alien brutally emerges out... killing him. What is baffling is how incredibly sound it is made to appear on screen... reportedly none of the other cast members, including Sigourney Weaver and Veronica Cartwright (who passed out after the scene) had a clue it would be so brutal and bloody. The Brood (1979)
The Brood was born out of director David Cronenberg's  difficult divorce. Manifestations of mental trauma arrive early in this film when Nola Carveth (Samantha Egger) receives psychotherapy in a mysterious institute. Nola's anxiety and anger tranforms into a womb on the side of her stomach, which makes her mother to "unformed" creatures. Unlike most Cronenberg features, the body horror and the creatures notwithstanding, what makes The Brood stand out is the way it gives women autonomous generative control, free from the man's association.
The Fly (1986)
Another David Cronenberg creation, The Fly has some of the most genuinely terrifying moments captured on screen. One such sequence is the delivery scene embedded in a dream sequence, where Veronica (Geena Davis) screams in terror as she sees her baby for the first time in the doctor's hands (played by Cronenberg himself). It's a huge maggot, twisting and turning in its skin. Even though it is a dream, Veronica knows she is still pregnant in reality.
Inside (2007)
Director-actors Alexandre Bustillo and Julien Maury contributed to the New French Extremity cinema wave with this gruesome and suspenseful tale of a pregnant woman (Alysson Paradis) who survives a car accident that eventually kills her husband and awaits her delivery the next day. But that night, an intruder knocks at her door and hell breaks loose. Functioning as a home invasion movie, Inside takes harrowing turns to deliver a solid case for the horror genre. If there's one film you wouldn't want to experience again, it's this.
Hungry Hearts (2014)
The paranoia of becoming a parent fills the screen in hypnotic ways in Hungry Hearts, directed by Saverio Costanzo. Adam Driver and Alba Rohrwacher are unforgettable as Jude and Mina, a couple confronting their pregnancy in different ways. Disguised as a horror film, Hungry Hearts tugs at a generation lost in its own creation of the modern world... disintegrating in its ability to distinguish between love and obsession.
Children of Men (2006)
Although not a horror film in the true sense, Alfonso Cuaron's sci-fi dystopia hinges on the pregnant woman Kee (Clare Hope-Ashitey) as literally the only source for the survival of humanity. Set in a future where global infertility is the biggest threat to mankind, Cuaron places the pregnant woman as the only hope in a world hinging at collapse. Visually stunning — distinguished by Cuaron's signature long takes — Children of Men is unlike any other film you will experience.