AIIMS doctor gets show cause notices for raising PPE concerns
Medical institute calls allegations baseless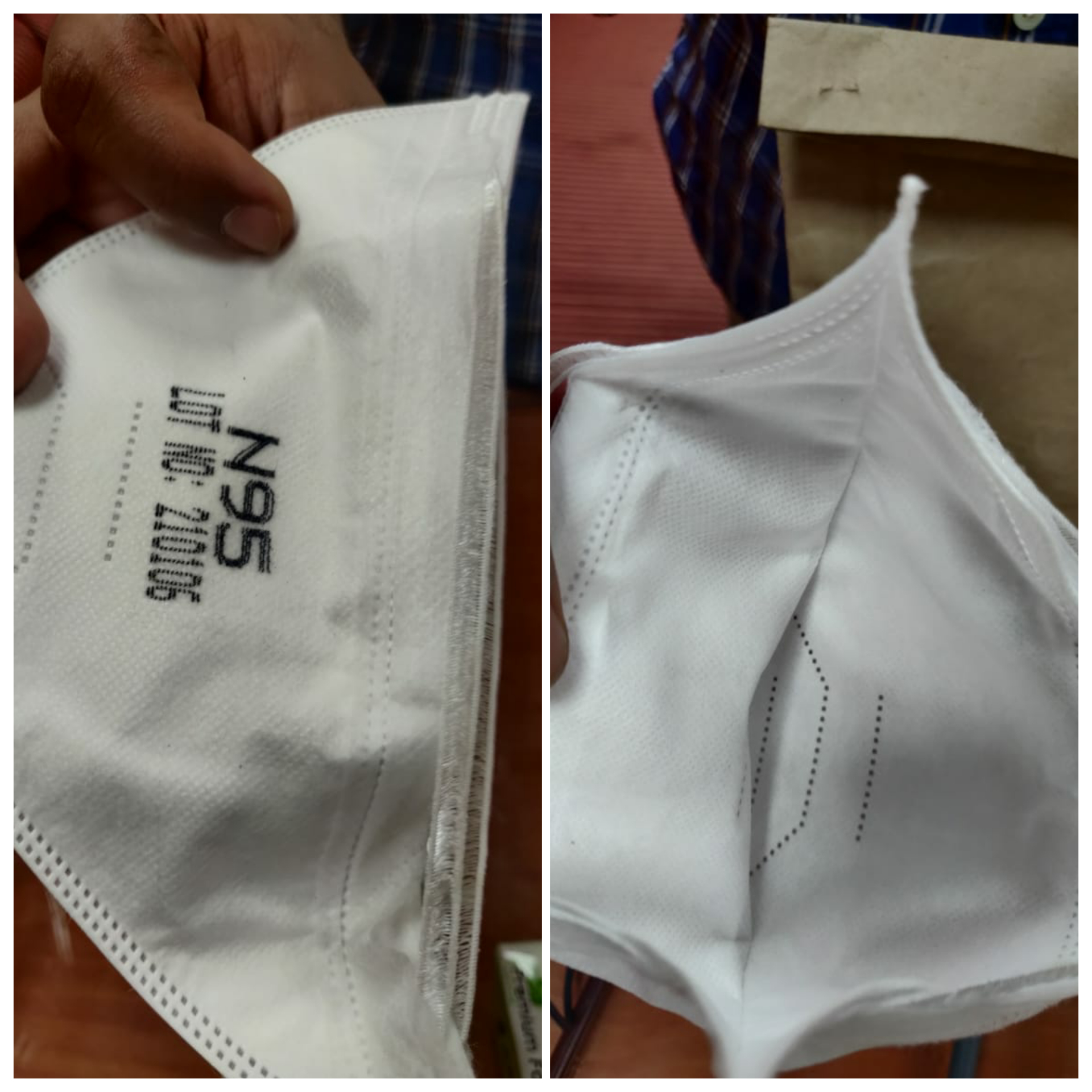 An image of the N95 masks used by doctors.
Photos shared by AIIMS doctors
---
New Delhi
|
Published 02.06.20, 09:11 AM
|
---
 A 33-year-old resident doctor at the All India Institute of Medical Sciences (AIIMS) was served show cause notices after he exposed the substandard protective gears given to healthcare workers at the hospital.
The notice sent to senior resident Srinivas Rajkumar T. refers to a tweet he posted on May 25, where he claimed that statistics related to N95 masks issued by the health ministry and the Indian Council of Medical Research (ICMR) were "a lie".
The #N95 stats claimed by @MoHFW_INDIA and @ICMRDELHI is a lie.

There are major quality and standardisation issue with India made #N95 .

If you are a journo looking for leads or know one DM me or RT this.

Pic: Original @3M N95 - Gold Standard. pic.twitter.com/q9e7bNxWoo

— Srinivas M.D(AIIMS) 📢 (@srinivasaiims) May 25, 2020
Srinivas is a doctor at the department of psychiatry as well as the general secretary of the AIIMS Resident Doctors' Association (RDA). His story reveals a long thread of attempts made to silence healthcare workers.
In the notice, the AIIMS registrar mentions that the doctor's claims were not supported by any evidence. "By virtue of holding these important positions, his words have the ability to influence the public and healthcare workers around the country," the notice said.
The institution also took note that he chose to "voice his claim on a public platform and sought media visibility to malign institutions." Srinivas has been expelled from the RDA for voicing his concerns.
Not the first voice being suppressed 
Srinivas isn't the first doctor whose voice is being muzzled by institutions and ruling dispensations. In contrast to taali-thali and diya moments, healthcare workers have faced serious consequences whenever they have spoken out.
"We've been writing letters to the administration for months on different issues. We complained about sanitation issues, hostels, PPEs, masks. When a healthcare worker died here, we wrote demanding the hostel superintendent's resignation," said Srinivas.
Compared to other hospitals, the country's premier medical institution is one of the worst affected hospitals in the capital. Multiple reports suggest a surge in the number of cases within the AIIMS staff with more than 200 healthcare workers infected with coronavirus since February.
Doctors have listed different reasons for the spread of infection, including substandard protective gear. AIIMS administration has, however, denied the allegations.
AIIMS doctors said that there is an increase in infections in non-Covid areas and one of the reasons is the "arbitrary demarcation" of zones within the hospital.
"See, doctors don't work in isolation. If you give a PPE to a doctor but the next person doesn't have any or the same protection, they (those with PPEs) are under the same risk. Infection control is a collaborative effort done by a lot of people," said Srinivas.
Infection at AIIMS
RDA president Adarsh Pratap Singh told The Telegraph that AIIMS has provided optimal and good quality PPEs in most of the places, especially in Covid-dedicated areas. However, he admitted that infection is spreading in AIIMS.
"Cases are increasing definitely and transmission is also happening. Even non-Covid patients are turning out to be infected," said Singh. "It is because healthcare workers are not provided with PPE and N-95 in all the areas (hospital sections). But, in the dedicated Covid-areas, we have excellent PPEs and N-95 masks."
RDA raises various issues
For the past few months, the AIIMS RDA has been raising one issue after the other, usually against the administration's response during the pandemic. In March itself, the RDA had expressed concern over inadequate PPEs in the hospital and demanded masks and sanitisers in hostels.
After the death of a mess worker in a doctors' canteen due to Covid-19, the RDA blamed the administration for ignoring its demands and refused to take precautionary measures. On May 22, it sought the resignation of the hostel superintendent who "tried to present the death as a probable cardiac event."
On April 6, the doctors' association wrote to Prime Minister Narendra Modi after frontline workers were warned from posting criticism on social media – on issues related to PPEs, masks, testing equipment and quarantine facilities.
"The officials should view these inputs constructively. Instead of appreciating their efforts towards the welfare of their peers and patients, they have received a harsh backlash," the letter said.
The doctors' association had also protested against the hospital administration's plan to deduct one day's salary from staff to donate to PM CARES, demanding that it should be voluntary.
Further, it wasn't just the AIIMS administration, which refuted claims made by Srinivas. Photos of the N-95 masks from AIIMS (also in possession of The Telegraph Online) were shared by a News18 journalist on Twitter with a quote attributed to doctors claiming that masks and PPEs didn't even meet health ministry standards.
Claim: 50 healthcare staff at AIIMS tested Covid+ve as masks/PPEs don't meet standard

Reality- INCORRECT! Masks&PPEs meet @MohFW_India standards;Evaluated & certifications verified by AIIMS committee: 95%+ve cases did not have any evidence of transmission from patient care. pic.twitter.com/ZLU8TPtpDZ

— PIB Fact Check (@PIBFactCheck) May 30, 2020
The post was "fact checked" by the Press Information Bureau (PIB) and was labelled fake. Calling the post baseless, PIB said that the masks and PPEs met the ministry standards and were evaluated by the AIIMS committee. Srinivas was also quoted in the report filed by the same journalist.
"The N-95 we received was merely labelled N-95 but were not actually N-95 masks," said Srinivas.
Another doctor who chose to remain anonymous said the masks with N-95 labels are made of the same material but don't completely seal the space between the face and the mask, increasing the risk of infection through aerosols.
"It is an improvement over surgical masks but they can't be used in Covid-areas," the doctor said. He added that there could be several other reasons, including disregard for social distancing measures, handling of daily items and even spitting, for the spread of the virus.
Substandard masks
The N-95, according to the health ministry guidelines, provides requisite air seal to the wearer and is designed to achieve a very close facial fit.
"Such masks should have high fluid resistance, good breathability (preferably with an expiratory valve), clearly identifiable internal and external faces, duckbill/cup-shaped structured design that does not collapse against the mouth," the ministry observed.
Both PIB and the AIIMS administration claimed contact-tracing didn't find infections in the staff who tested positive from patient care and instead blamed the staff, which came from containment zones.
"It is because AIIMS did not practice strict quarantine of healthcare workers either. The number of quarantine stay facilities provided was very minimal. They [administration] say that there is no official quarantine period or protocol of two weeks quarantine," Srinivas said.
RDA president Singh also admitted that many workers come from containment areas and should be provided accommodation in other areas.
In a meeting on May 26 with the AIIMS director, faculty members and other RDA representatives, Srinivas said he was threatened with an FIR against him.
Singh, however, said that allegations of threats to Srinivas from the administration for raising issues were false. He didn't comment on the notice served to the resident doctor.
"Despite several appeals, sufficient changes were not made. Instead, the pursuit of resident welfare was met with threats of FIR and attempts to jeopardize the career of RDA executives by the administration," said Srinivas.
Srinivas, who came from Kanyakumari to Delhi six years ago to work at AIIMS, feels the administration is looking for grounds to terminate him. He was posted on the AIIMS Jhajjar campus and is supposed to start his Covid-duty this month.
"I've never felt such hostility, but I stand by my statement," he said.