Whatsup
DANCE JAM: Dance Bridges Festival hosted their first Dance Improvisation Jam to engage with artistes across art forms, genres, styles, levels of experience and backgrounds. The two-hour event, which took place in The Doodle Room near Hazra on December 16, saw dance artistes of different backgrounds improvise and dance to music. Percussionist Devarshi Kar and visual artist Abhishek Banerjee added to the performance with live music and art. "It was a very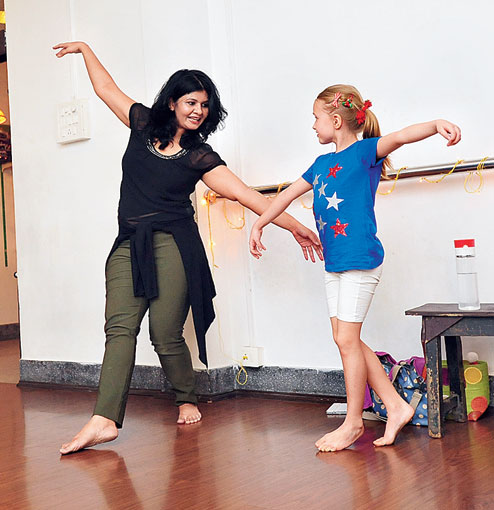 ---
Published 26.12.17, 12:00 AM
|
---
DANCE JAM: Dance Bridges Festival hosted their first Dance Improvisation Jam to engage with artistes across art forms, genres, styles, levels of experience and backgrounds. The two-hour event, which took place in The Doodle Room near Hazra on December 16, saw dance artistes of different backgrounds improvise and dance to music. Percussionist Devarshi Kar and visual artist Abhishek Banerjee added to the performance with live music and art. "It was a very intimate and special experience. It has spurred a burst of new artistic ideas. We are looking forward to hosting similar events in the future," said Vanessa Maria Mirza, director, Dance Bridges Festival.
Picture: Arnab Mondal
On your own: Millennium Youth, the youth wing of Millennium Mams', held the first edition of Millennium Youth Conclave with a talk on 'The Spirit of Enterprise' at Daga Nikunj, Ballygunge, on December 22. The panel included Wow! Momo co-founder Sagar Daryani and Release My Ad founder Sharad Lunia (picture right) who spoke about their personal struggles and growth and also interacted with the audience. "It was a unique platform for the youth members that enabled them to gain knowledge and draw inspiration from the entrepreneurs and get hands-on information," said Bishnu Dhanuka,
founder and director, Millennium Mams'.
Pictures: Arnab Mondal
Karaoke zone: Bollywood playback singer Abhijeet Bhattacharya inaugurated the karaoke lounge at Chapter 2, the retro-themed multi-cuisine restaurant in Mani Square, on December 11. "We've brought high-tech equipment from Korea for the karaoke," said Shiladitya Chaudhury of Chapter 2. Post-launch, Abhijeet sang a few of his hits like Main koi aisa geet gaoon and Baadshah o baadshah. "I think it's one of the best things to have happened to this city this year. It'll be a big hit with the large pool of talented singers in the city. Plus, the bathroom singers can come over and sing!" said Abhijeet.
Text: Ravjit Singh
Pictures: Mayukh Sengupta