What's under that hijab? Modesty? Defiance? Ambition?
Manasi Shah reports on an art project whose aim is to darn a broken understanding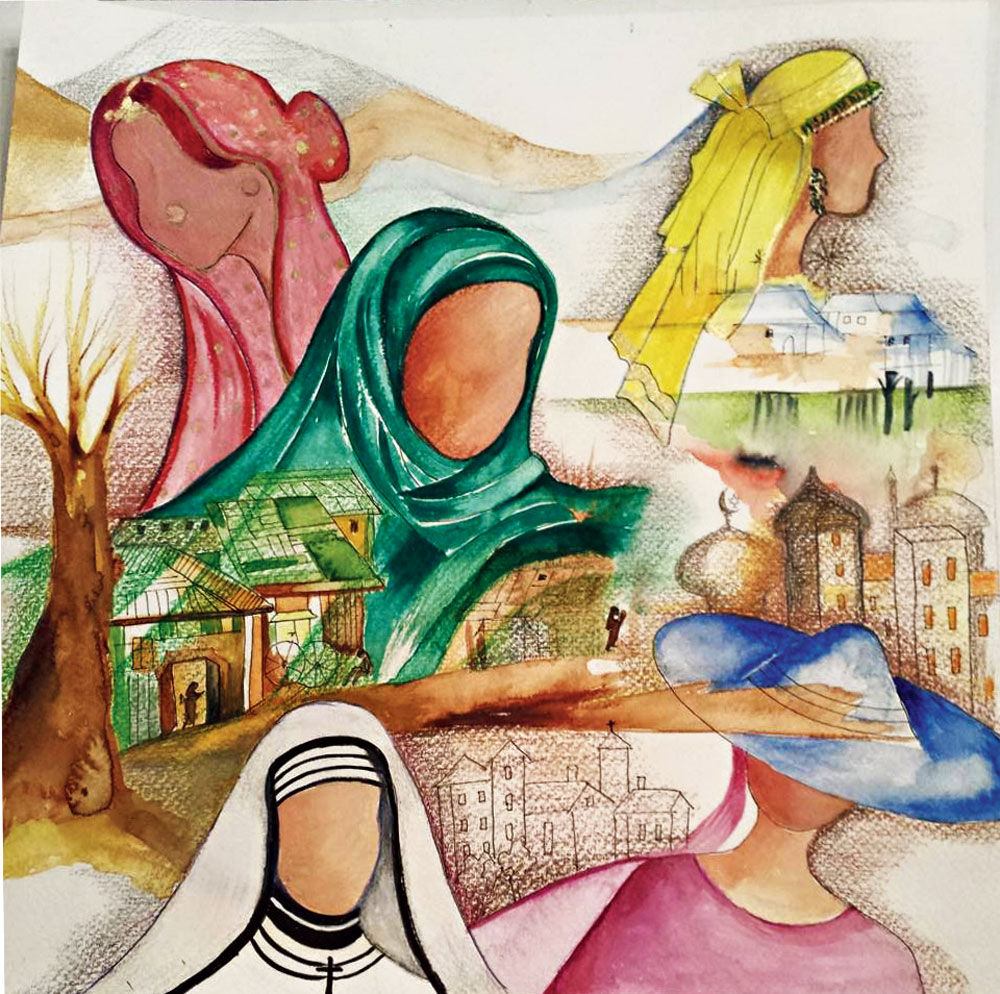 Visual interpretations of the hijab by people across the world
Source: Under The Hijab project
---
Published 19.01.19, 08:59 PM
|
---
Educator Deepak Ramola was on a 90-day tour of Europe in 2016. He was documenting what he calls the "life lessons" of refugees. "That was the height of the refugee crisis in Syria. A lot of people were migrating to Europe," Ramola recalls, as he speaks to The Telegraph over phone from Dehradun.
In Germany, Ramola met a 20-year-old Syrian refugee, Sarah, who told him that her life's lesson was "don't hate what's strange". "Sarah had been called a terrorist in Hamburg; she had been wearing a hijab," says 27-year-old Ramola.
Moved by her story and plenty of follow-up reading on how perceptions about race and religion can be, and are, manipulated, Ramola landed in India with an idea. He wanted to change popular perceptions about women wearing hijabs. And that was how the Under The Hijab project came to be.
Ramola uploaded on Facebook a painting of a faceless woman wearing a hijab with colourful flowers printed on it. He captioned it #UnderTheHijab and tagged two of his friends and aspiring artists, Poornima Sukumar and Sadhna Prasad.
The challenge for Sukumar and Prasad was this: they had to paint/sketch/illustrate a faceless hijab. Next they had to complete the caption: "#UnderTheHijab is...." And once done, they had to tag two new artists.
Ramola says he chose art as the medium because he feels it is an impactful tool and it can convey some of the harshest realities in the most non-combative manner. Sukumar adds, "For a long time, art was about self-expression and self-exploration. Now, it is becoming a strong medium of raising awareness and discussing issues. It makes me feel responsible."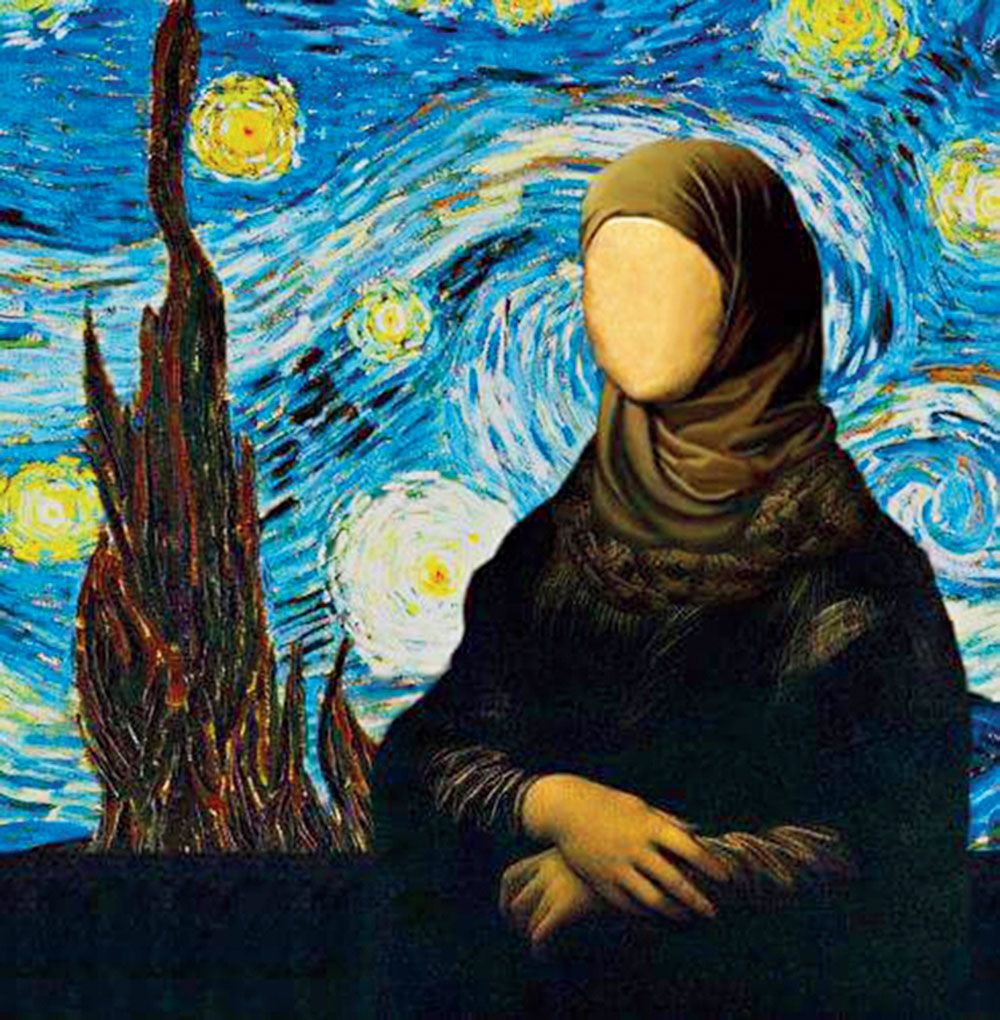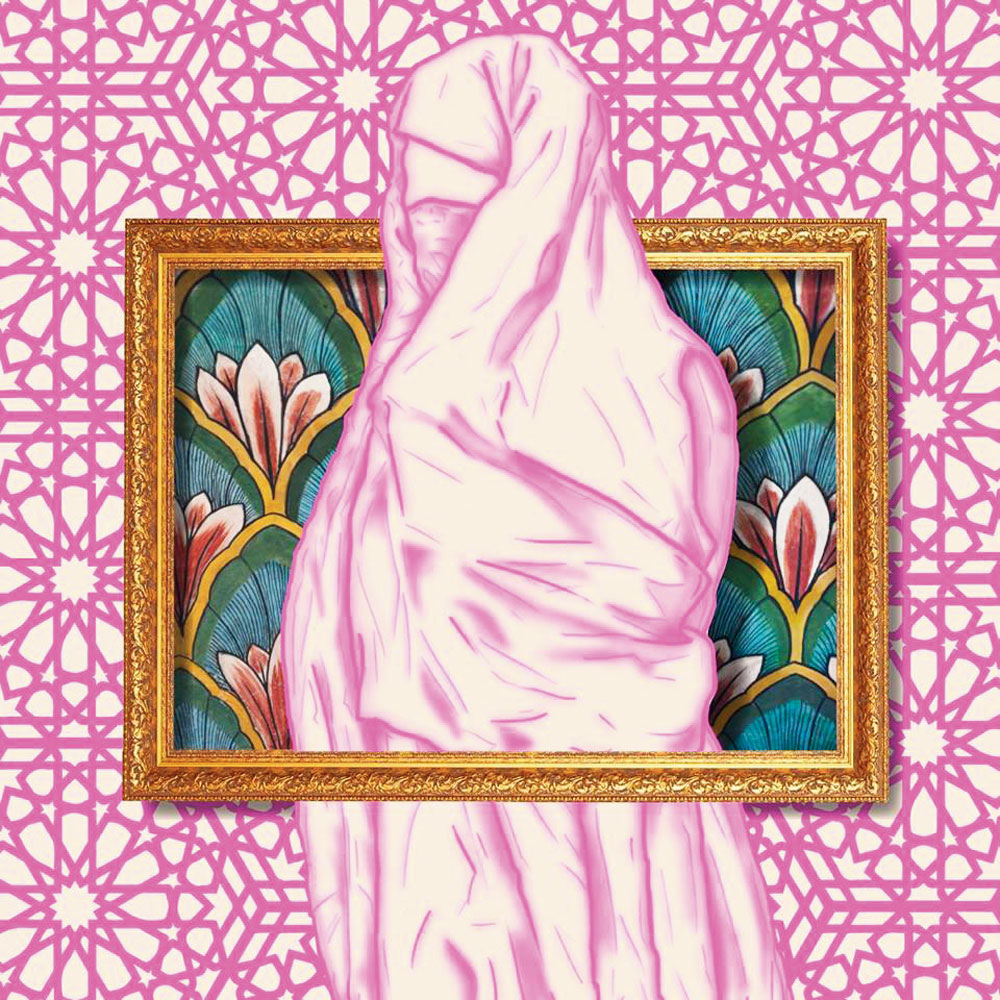 Sukumar painted a faceless woman wearing a cream hijab and flowers covering parts of her face. She captioned it thus — #UnderTheHijab is Endurance.
The contributions streamed in. A painting by one Chithkala Ramesh shows a carefree hijab-wearing woman on a swing. Advithi Emmi's creation represents a woman wearing a multi-coloured headscarf, the drawing has been done on a postcard and scribbled next to it are the following words — "I was that person who had some kind of a preconceived notion, but when I got a chance to live with them I felt very normal. They are just like any of us... (sic)." The stamps on the postcard represent the Carnatic singer M.S. Subbulakshmi.
Sandhyashri Venugopal has sent a painting of two women in hijabs, one is shown climbing a mountain and the other is floating in a pond amidst flowers. Laila Vaziralli has painted an entire galaxy wrapped in a hijab, and Aakansha Kedia's protagonist is clutching at a skateboard. Gunjan Chowdhary's contribution is startling — it depicts a silhouette of a woman with her head covered, her face is an illuminated door and framing it is the full figure of a miniature woman, her wild hair falling over shoulders, her pose, celebratory and defiant. Mohna Singh's creation shows the face of Donald Trump superimposed on a hijab-wearing woman. It has The White House scribbled in the background, a pink sun over her head and a sprinkling of leaves. It reads: "Total and complete shutdown of Muslims entering the United States." The litany of catchwords as captions ranges from "playful" to "modesty" to "ambitions". Look at the artwork, read the captions — together and apart — and you have your narrative.
One thing common to all entries is that the women in hijab are faceless. Says Ramola, "She could be an Arab or a Kashmiri. I did not want the imagination to be limited by geography and ethnicity."
Though the project technically closed a year ago, artworks keep finding their way into Ramola's inbox every now and then. A painting, a sketch or just a mail asking if one can still send in something. An overwhelmed Ramola plans to start a second edition soon.
He says, "I discovered that many people who suffer from Islamophobia had never really interacted with a Muslim. Another important learning was that art can help break stereotypes, create awareness, build bridges. Most importantly, the whole campaign re-enforced the life-lesson of young Sarah: 'Don't hate what's strange'."