Kanhaiya in his labyrinth
That breach Kanhaiya Kumar has achieved in Begusarai; he has blazed through the chakravyuha that he had come to tear asunder and arrived at its core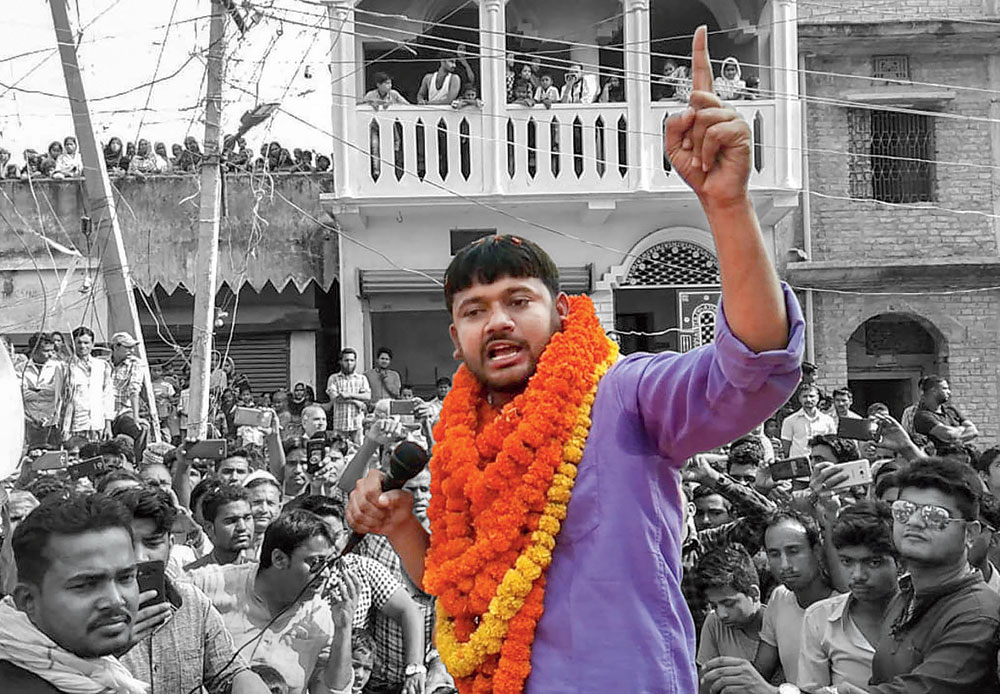 ---
---
Kanhaiya Kumar may have just played out not Kanhaiya but another much fabled character from the Mahabharat in Begusarai: Abhimanyu.
That lad of Arjun and Subhadra, sister to Kanhaiya, was feted from his term in the womb to become destiny's child. He would live it out in his teens, or so the lore goes, and live it out in a way that he would scorch his name on time as metaphor for gall and gallantry.
Abhimanyu it was who dared the worthy Kaurava veterans and their impregnable chakravyuha. Abhimanyu it was who breached it and took the most formidable of his foes, pitamah Bhishma and guru Drona included, by shock and awe.
That breach Kanhaiya Kumar has achieved in Begusarai; he has blazed through the chakravyuha that he had come to tear asunder and arrived at its core. There remains, of course, the critical issue of return from where he finds himself at the end of all the battling.
The chakravyuha of today's battlefields — for certain the chakravyuha of Begusarai — is this: hard, calcified social fortifications of political allegiance, fortifications so strong that they afford assumptions of safety to those on the ramparts, fortifications that have "impregnable" emblazoned across their walls.
Forget names and individuals for a moment, let's just consider the entrenched camps.
The Bharatiya Janata Party (BJP) camp. Appointed local Legionnaire: Giriraj Singh, newly, and reluctantly, imported from Nawada. His army: The entire ranks of the upper castes led by Begusarai's preponderant Bhumihars. Add to their huge and influential numbers, the rainbow coalition of the non-Yadav backward castes, those that are known figuratively in Bihar as the pachhpaniyas (the 55ers) or the paanch-phoranas (or allspice) — Kurmis, Dhanuks, Tantis, Nonias, Kamtis, Telis, Dhunias and a myriad others. The Paswans, the many thousands of Paswans. Over and above all of them, the resounding might of the one and only Narendra Modi.
The Rashtriya Janata Dal (RJD) camp. Appointed local Legionnaire: Tanweer Hassan, the educated loser of 2014, a loser by as narrow a Lok Sabha margin as 50,000 votes. His army: The entire ranks of Muslims, who are many in Begusarai. The entire ranks of the RJD's loyal Yadavs, who too are not insignificant of numbers. The ranks of Koeris. The Nishads. A fair chunk of the non-Paswan Dalits. This camp is no pushover, it is capable of overcoming the 50,000 deficit of 2014.
Enter Camp Three. Enter Kanhaiya Kumar, Begusarai ka Beta.What shall we call this camp? The Communist Party of India (CPI) camp? Well, yes. Well, no. Kanhaiya Kumar is CPI nominee from Begusarai, but he is far more than just the CPI nominee. Kanhaiya Kumar is a reputation a party nomenclature cannot contain. Kanhaiya is Kanhaiya. What he says is not what the CPI tells him to say, what he says is known as Paighaam-e-Kanhaiya, Kanhaiya's Message. The slogan that rings for him through the campaign is not the CPI slogan. That slogan is from a popular folk song, and most unlike a CPI slogan. It goes: Haathi, Ghora, Paalki, Jai Kanhaiya Lal Ki!
Kanhaiya is not the CPI candidate in Begusarai; the CPI is Kanhaiya's party in Begusarai. The ventricles of the Kanhaiya campaign lie in Bihat, his native village on the south-western edge of the vast constituency, the CPI office in Begusarai puts the stamp on what may require the party stamp. And probably rightly so.
The CPI used to be a Begusarai party. It used to be THE Begusarai party. But that was an age ago. That was nearly as long ago as the Soviet Union. The Leningrad of Bihar outlasted the original by about half a decade. But once it collapsed in the mid-1990s, it did not merely collapse, it collapsed and shrivelled beyond recognition. It was ousted from the Lok Sabha, it gradually lost all space in the Assembly. It became a spectre that haunted itself.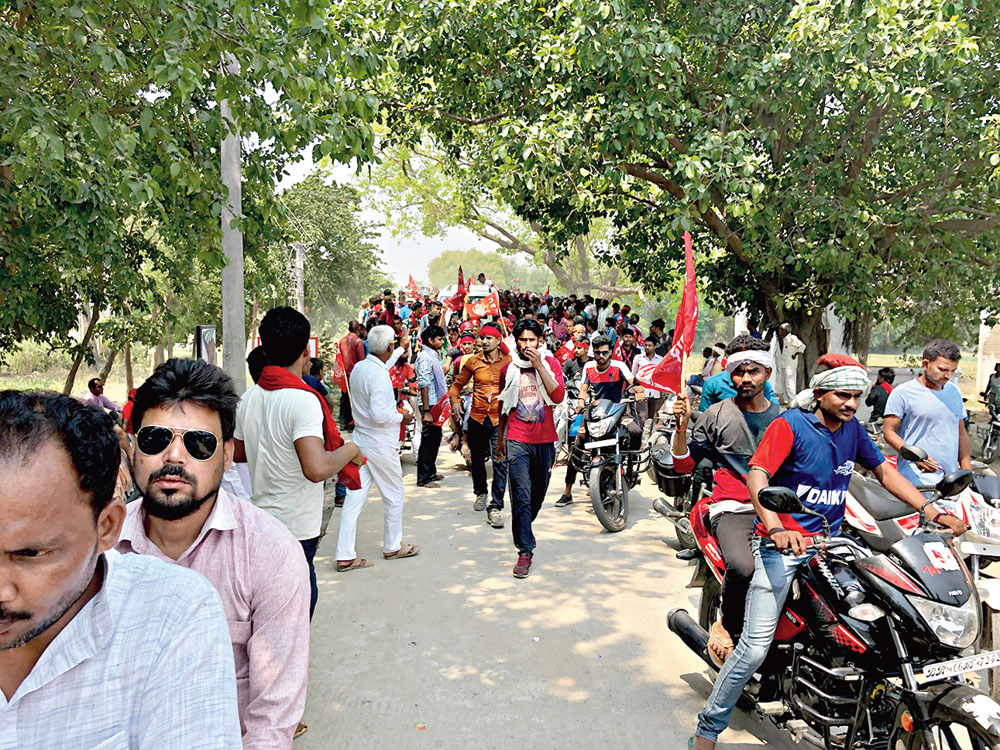 Then Kanhaiya arrived and stoked life into the ghost. And made a marquee of the CPI once again. It became a camp, Camp Three. Appointed local Legionnaire: Kanhaiya Kumar. His army: Well, a hundred thousand cadre votes in a constituency nearly two million strong. Humph. Nothing. Extras. The vote that forfeits deposits. But well. Look again. This is not the CPI camp. This is the Kanhaiya camp. The camp of the Commissar of Dissent. Count now. And keep counting. Kanhaiya goes everywhere. Kanhaiya picks up a count wherever he goes.
The one thing he told me in the raucous mill of his roadshow in Bachhwara one blistered afternoon and which rings on, is: "Main sameekaran ki rajneeti nahin kar raha hoon." I had asked him if he would succeed in breaking the sameekaran, or the caste-arithmetic, of Begusarai. In effect, I had asked him if he would be able to break the Begusarai chakravyuha. He had said, in effect, that that chakravyuha did not bother him. He sounded certain he was going to breach it. He sounded, in fact, as if he did not see, or recognise, the chakravyuha he necessarily had to demolish.
That chakravyuha, those calcified caste and creed forts, are a reality, a Bihari reality, of course, but a reality far beyond the frontiers of Bihar. Votebanks exist; votebanks flourish. Identity politics exists; identity politics flourishes. If that weren't the case, Narendra Modi would be knitting cardigans.
Kanhaiya always knew he was short of yarn in Begusarai, he needed to pull it off everywhere he could reach in order to sew it up for himself. He had a party long run aground. He knew he had to fire it to a storm. He knew he had to take that storm to every port. His opponents — Camp One and Camp Two — well know what visited them and what they had to withstand. When all is done and dusted on May 23, they'll see the breaches Kanhaiya scored.
Irrespective of what happens on Verdict Day, there are two things that cannot be taken away from Kanhaiya Kumar's Begusarai effort. One, and probably singular: he made the Begusarai campaign the most watched campaign. In Bihar. In India. Around the world. At a given time, Kanhaiya battling for Begusarai was the story in 170 countries. And why? Because here was one diminutive fellow, literally from nowhere, or from JNU, taking the fight to Mr 56 Inches. A fellow widely vilified for being anti-national, a fellow persecuted and jailed on trumped up allegations, a fellow tossed on his ears as inimical to the nation and who the hell is he, he cannot even speak a straight sentence of English and he claims a doctorate from JNU? Well, Kanhaiya is someone, and you better take note, like it or not. He brought to Begusarai a caste of campaigners the boondock has never known. From Jignesh Mevani, the Dalit Congress MLA from Gujarat, to Shehla Rashid, the new political challenger from Kashmir. Betwixt: Yogendra Yadav, Shabana Azmi, Swara Bhaskar, Prakash Raj, Javed Akhtar — different political hues, one hangout in Begusarai: Kanhaiya's.
Two, and probably more significant: he dared the Begusarai chakravyuha. He said no to sameekaran, the touchstone of electoral politics in Bihar. He said yes to attempting everybody, every caste, every class, every religion, every political pursuit. Yes, there is a chakravyuha, yes, there are calcified fortresses of entrenched camps. But no, let me not say I see them as calcified, let me not see a chakravyuha. As one independent warrior for Kanhaiya in Begusarai put it to me, rather idealistically and rosy-eyed: "This election has the potential to bury the politics of Hindu-Muslim division and caste division on all sides. Increasingly, this kind of politics has come to be the core stalemate of Indian politics. One perpetuates the other. Mandal and Kamandal are not only two sides of the same coin, they perpetuate each other. The shared hatred towards Kanhaiya of the BJP and the RJD is nothing but a reflection of their shared political inheritance and pursuit."
Polling Day in Begusarai — April 29 — may not have been far different from the dawn on the day Abhimanyu resolved to take on the daunting adversaries in Kurukshetra and break the Kaurava chakravyuha. It is past doubt now he made the breach. It is past doubt he made several breaches. Among the Muslims. Among the Bhumihars. Among the Paswans. Among the panch-phoranas, the Kurmis and the Koeris. Among the women, most of all. Begusarai ka Beta travelled on poll day. But did he travel far or deep enough? Would his inroads add up?
Kanhaiya, like Abhimanyu, has broken through the chakravyuha and bravely waded in. That's the story so far. May 23 awaits.