t2 picks a bouquet of reads for you to brush up on world football before the big event
Soccer reads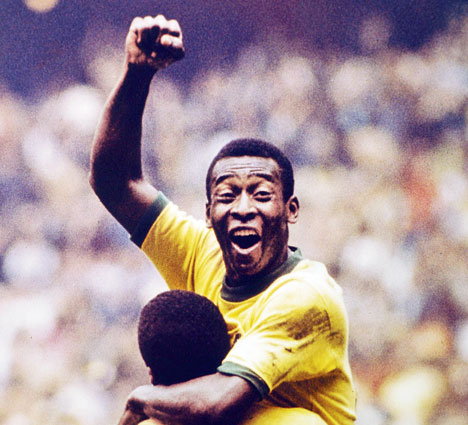 ---
---
New releases
Copa90: Our World Cup — A Fans' Guide to 2018
Penguin Books
Rs 499
The title's got nothing to do with the 1990 edition, in case you're wondering. Copa90 is a UK-based football media company, best known for its eponymous YouTube channel, which has over 1.6 million subscribers. The book is a visual delight, thanks to the stunning portraits of football legends, full-page photographs of players, and images from Russia and World Cups past — like this one of Pele and Jairzinho from Mexico 1970 (picture right). But it's not just a feast for the eyes. Each team featuring in Russia has its greatest footballing moment, legend, rising star and basic numbers listed. Plus, you'll find fun pages on kits, best and worst individual performances, controversies, underdogs and social media. And the price makes this book an absolute steal.
The Football Fanatic's Essential Guide: 2018 World Cup Special
Novy Kapadia
Hachette India
Rs 250
You can't have a major football tournament and not find Novy Kapadia involved somehow. The veteran journalist and commentator is back with a handy guide to the history of the World Cup, where he takes you through the 20 editions from 1930 to 2014 one by one. Each capsule lists the teams that qualified, discusses the key matches and noteworthy facts, highlights the best players, and packs in some stats and trivia as well. In fact, if you're a trivia nut, you'll love the 'Across the World Cups' section and the 100-question quiz towards the end. There's also a spotlight on Russia 2018 and tables for you to record the scores.
Sample trivia: The only World Cup without at least one hat-trick was... Germany 2006.
The Story of the World Cup: The Essential Companion to Russia 2018
Brian Glanville
Faber & Faber
Rs 799
Brian Glanville needs no introduction if you've read your share of football pieces. Like Novy Kapadia's book (See The Football Fanatic's Essential Guide), this compendium covers the history of the World Cup in chronological order, and through it Glanville shows why he's one of the most respected football writers around, with language that drips deliciously off the page. Sample these lines on Zinedine Zidane's infamous headbutt in the 2006 final: 'On his return to Paris, Zidane was eulogised, all sins forgiven, by a now lame-duck French president, Jacques Chirac. The duck quacked, Zizou bent his head towards him, and for one hallucinatory moment it seemed as if Chirac might suffer the fate of Materazzi. But the moment passed.' The collection of 28 monochrome photographs capturing classic moments in the tournament's history is a treasure in itself.
The Mammoth Book of the World Cup: The Definitive Guide 1930-2018
Nick Holt
Robinson
Rs 799
If a comprehensive reference-ish book is more your style, then Nick Holt is unlikely to disappoint you with this one. Known particularly for his football and quiz books, Holt here traces the history of not just the tournament but of the sport itself — at least in the last hundred-odd years. So along with the World Cup stories, facts and figures, you also have fillers about fouls and cards, football at the Olympic Games, the introduction and use of substitutions, and movies based around the World Cup. This 800-plus-pager is peppered with tidbits like World Cup classics, shocks, heroes and 'Heaven Elevens', which are all-time best squads for the major teams and a few mixed ones like Rest of the World. An index of some sort would've made it easier to locate these add-ons in this hulk of a tome.
Picks from 2017
Quiet Genius: Bob Paisley, British Football's Greatest Manager
Ian Herbert
Bloomsbury Sport
Rs 499
The greatest manager ever in British football? Perhaps a matter of debate. Bob Paisley did, however, lead Liverpool to three European Cup triumphs, a feat matched only by Carlo Ancelotti and Zinedine Zidane. He also won the league six times in the nine seasons that he managed the club. Ian Herbert traces Paisley's life from his working-class origins to his playing career in the first few pages, and then the gradual transition to Liverpool boss. How he took over from the legendary Bill Shankly and took the club to unprecedented heights is worth a read.
Barefoot to Boots: The Many Lives of Indian Football
Novy Kapadia
Penguin Books
Rs 399
It's no surprise that a history of the game in India comes from that man again, Novy Kapadia. What's interesting is his approach: by separately taking each major region and then delving into the origins and subsequent progress, he manages to bring to the fore places like Hyderabad and Delhi, which aren't usually associated with football. He also talks about the major tournaments of the past that have lost their sheen — almost depressing if you're a fan of Indian football. The 'Hall of Fame' section presents snapshots of a few of our iconic players and managers, past and present.
Fever Pitch
Nick Hornby
Penguin Books
Rs 450
A seminal work in the field of sports literature, Fever Pitch is about Nick Hornby's obsession with Arsenal FC from 1968 to 1992 (the year this book was published), and the life that ran parallel to — often intertwined with — said obsession. It's a must-read for every Arsenal fan; that said, you don't have to be a Gunner to appreciate it. Perhaps the best pitch for Fever Pitch is at the end of the introduction: 'While the details here are unique to me, I hope that they will strike a chord with anyone who has ever found themselves drifting off, in the middle of a working day or a film or a conversation, towards a left-foot volley into a top right-hand corner ten or fifteen or twenty-five years ago.'
Striker, Stopper
Moti Nandi
Hachette India
Rs 250
Translated from the Bengali originals by Arunava Sinha, the two novellas in this doublet tell the stories of 17-year-old striker Prasoon Bhattacharya and veteran defender Kamal Guha, in that order. On the one hand are Prasoon's trials and tribulations as he pursues his dreams of playing for a major club, and on the other there's Kamal hoping to go out on a high note. The stories are set in the Calcutta of the 1970s but remain an all-time favourite and completely relevant in 2018, partly because the fundamental elements of sport are timeless, and also on account of the resistance to change in the Maidan's football clubs.
Which book on football would you add to this list? Tell t2@abp.in