Walk out in style with shoes made from recycled PET bottles
Take the right step in with environment-friendly footwears from the house of Neeman's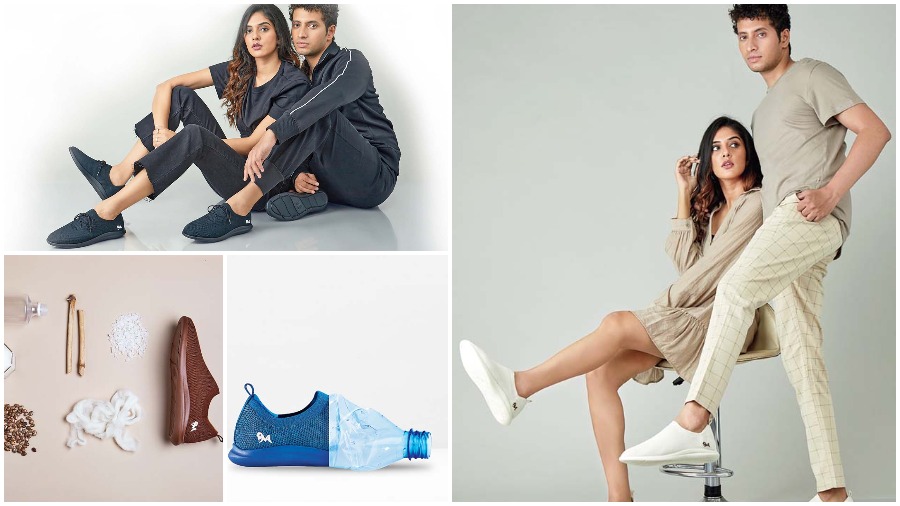 Sourced by the correspondent
---
Published 03.09.21, 12:10 AM
---
Cool and smart, the eco-friendly way. Footwear label Neeman's ticks all the boxes. They have recently come up with ReLive Knits, 'India's first sneaker made with 100 per cent recycled PET bottles'. t2 chatted with Taran Chhabra, the CEO and co-founder of Neeman's, for more details.
Shoes made with 100 per cent recycled PET bottles sound amazing. How did the idea strike you?
Sustainability and innovation are two of the founding principles of Neeman's. Our goal has always been to create the most comfortable shoes by using renewable and natural resources. The idea came to us when we observed a constant increase in plastic waste, particularly bottles in oceans and landfills that have been a massive pollutant for many years. In India alone, over 7-10 million tonnes of plastic waste gets generated.
So, in an effort to do our bit towards the planet, we came up with our new collection, the ReLive Knits, a significant step towards the circular economy by creating a fabric out of toxic material. The ReLive Knits uses eight PET bottles per pair, and so far we have recycled over 1 million plastic bottles and aim to recycle much more and reduce the amount of plastic waste thrown out.
Tell us more about the ReLive Knits collection. What more does it comprise?
The ReLive Knits collection is a conscious-driven innovation at its best. Besides being a unique shoe made with 100 per cent recycled PET bottles, this footwear is also crafted using bamboo insoles, castor bean oil, natural and recycled rubber. The ReLive Knits fit into the anywhere-anytime fashion realm as it effortlessly transitions from AM to PM and boardroom to bar.
How old is Neeman's? What does it mean?
Neeman's entered the business in 2017 with the launch of India's first shoes made with merino wool. They made a noticeable impression as they designed footwear using an unexplored yarn that is splendidly suited to the Indian subcontinent because of its unique temperature regulating property, sustainability and incredible comfort that made it apt for all-day wear. Neeman's is derived by lovingly merging the names of my parents — mother 'Neelam' and father 'Manjeet'.
What was your vision behind setting up such a niche brand?
The brand was born when I could not find shoes that checked off the two main boxes of being comfortable and stylish. It was always one or the other. Not being able to find this combination, I decided to resolve the problem by creating shoes that would be both. But I didn't want them to be any shoe that would unfavourably impact the environment. Hence, I decided to construct foot gear that is comfortable, stylish and sustainable. Thus started the journey of Neeman's, shoes that will make you feel good, look good and also do good for your planet.
What kind of response has the collections seen?
It delights me to say that all of Neeman's collections have received favourable responses. Our recent launch, ReLive Knits sneakers, have garnered positive feedback as people have appreciated the fact that we have dealt with the issue of plastic waste and created a planet-friendly pair by recycling bottles found near oceans and landfills. Neeman's merino wool joggers have always been our bestsellers. Even the Cotton Classic Sneakers and slippers are popular amongst customers. This feedback indicates that the Indian market is taking the required steps towards sustainable and comfortable footwear. 
What is your customer profile?
Neeman's has disrupted the Indian footwear market. We have seen a growth in our consumer base since the Covid-19 cases have subsided in the country. This shows that the market is steadily gaining momentum. Broadly our customers consist of mid-age men residing in the metro cities. They belong to Sec A and are between 28 and 40 years and have a mid-high income level. This consumer group also prefers to travel light with fewer shoes that can be worn both with and without socks. The pandemic has sparked a value-based awakening amongst consumers. They are becoming conscious of what they are buying and are thus looking for comfortable and sustainable options. So in the coming times, we do expect more consumers to gravitate towards Neeman's.
We have seen a steady rise in love for sneakers over the years. Besides comfort, what else do you attribute the demand to?
Although we at Neeman's take pride in being the most comfortable shoes, the other brilliant feature of our product is the uncommon fabric — it's either and natural or renewable. Our merino wool sneakers have temperature regulation properties that make it all-season wear. The material is also sweat absorbent and odour resistant. As for the resilience of these shoes, they are incredibly durable, strong, lightweight and flexible. To add to this, Neeman's sneakers do make a style statement with an elegant design.
Is sneaker more of a lifestyle now, representing your state of mind?
Yes definitely, I think today a sneaker is a blend of functionality, comfort and style. People like to have their shoes do the talking and represent or showcase their lifestyle. 
What is your personal sneaker collection like?
Well, before starting Neeman's, I owned over 200 pairs of shoes. Going back to the original struggle of buying and stacking so many different types of shoes... now I can't seem to wear anything else. No guesses on which brand has replaced all my collection.
What do Neeman's want to explore in the future?
Neeman's journey has only just begun, and we want to keep launching newer products in different sustainable fabrics. We would love our shoes to reach as many feet as possible and for that, opening gates to the international market would be great. Though, as of now, we don't have any concrete plans. With innovation and sustainability as the core of our brand, we want to keep disrupting the footwear market by making better footwear for you and the planet.
Taran Chhabra, CEO and co-founder of Neeman's The brand was born when I could not find shoes that checked off the two main boxes of being comfortable and stylish. It was always one or the other. Not being able to find this combination, I decided to resolve the problem by creating shoes that would be both. But I didn't want them to be any shoe that would unfavourably impact the environment. Hence, I decided to construct foot gear that is comfortable, stylish and sustainable. Thus started the journey of Neeman's, shoes that will make you feel good, look good and also do good for your planet