Roja Paromita Dey on her wedding jewellery looks
The model-turned-designer takes a look back at her D-Day with The Telegraph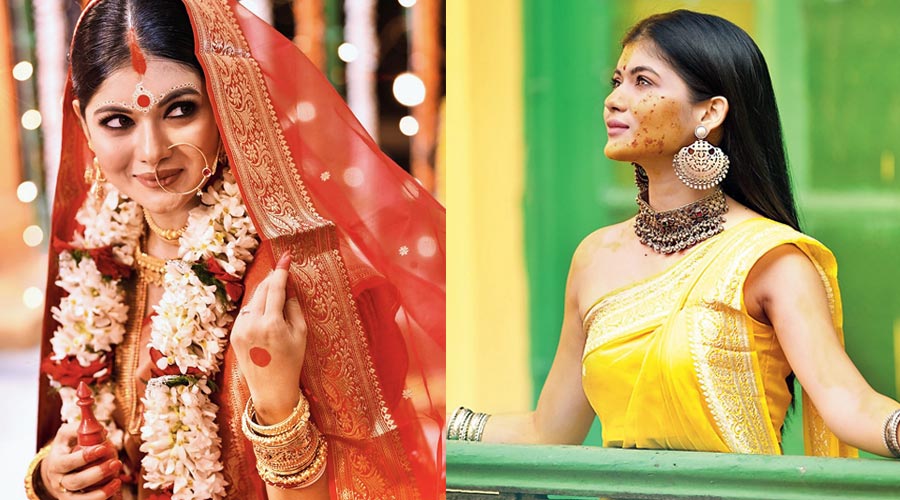 Sourced by the correspondent
---
Published 28.08.21, 03:02 AM
|
---
Flip through Roja Paromita Dey's wedding album and the attention to detail will wow you. From the radiant gaaye holud look to the lovely bridal resplendence in a quintessential red Benarasi, Roja makes a lovely bride, her minimal aesthetics giving it a signature touch. She looks back with The Telegraph at her D-Day.
You planned your entire wedding meticulously. How much emphasis was there on jewellery?
Not too many people know this but I am kind of like that pishima from Goynar Baksho when it comes to jewellery. I had all my jewellery made long before I had any plans of getting married, plus I inherited a few exquisite pieces from ma, jethima, mashi, dida. (Laughs) Yes, I am very lucky that way. So before the wedding I didn't waste any effort or money on jewellery and rather designed my look in line with what I already had.
Take us through your wedding looks…
I am a sucker for saris so I chose to wear one for all the occasions except for a crazy cocktail party a day before the wedding where I wore a stunning yellow lehnga ma made. I wore a heavy choker, bangles and kept my hair open in soft curls that night.
For my ashirbad I wore my favourite sari, a magenta-red dual-toned Venkatagiri with silver zari work. I paired it with a set from Amrapali jewels that Indraneel (husband) had gifted me on my birthday, and opted for light, fresh make-up, a tight gel bun with a bright orange gajra.
For gaaye holud, I wore a marigold yellow georgette Benarasi which was very light and breezy… hence paired it with chunky heavy silver jewellery. I honestly didn't have any time that morning so decided to go with a very basic make-up and straight, open hair. It just seemed like a well-planned look but I swear it was a last-minute patchwork.
For the wedding I wanted to wear the most regal red Benarasi, and after searching heaven and earth I found the one for me. It's red, in pure silk, with all-over zari work… the kind of sari you pass down the generations. And all my jewellery is very shabeki. Dark kohl eyes, nude lips, large tip with chandan, heavy maangtika with a large nath completed my timeless Bangali bou look.
What are your most prized possessions from your wedding casket?
My most prized possession would be a pair of choor (wide bangles) that belonged to my mother-in-law. She left us when I was in college but I have fond memories of her. Those bangles are a symbol of her love and blessings and I will cherish them forever.
Were there any heirloom pieces you didn't want to miss out on wearing?
Heirloom pieces! (Laughs) Like I said I am the youngest in my family who married the eldest and only son in the Roy family, so Indraneel's dida's necklace, my mashi's kankan, jethima's ananta bala, ma's golap bala… I wore it all. Only one of the rarest of rare neckpieces that belonged to my thakuma is still in ma's kitty, and she wore that for my wedding. I have my eyes on them too! (Wink wink). The readers must be thinking I sound more like Manimalika from Monihara than buri pishima, right?!
What is your top tip for brides looking to plan their looks the way you did, especially jewellery?
Your wedding is a very special day but it can get overwhelming. You might have a thousand different ideas but please don't try to do it all at a time. Your look should reflect who you are, your personality is what adds the uniqueness. And for jewellery, be it silver, gold, diamond or flowers, remember what is most important is the woman who is wearing it, so wear it with your best smile.