Kama Ayurveda's Vivek Sahni gets candid about its beauty products
The brand strives to fuse tradition with modern science in their endeavour to create effective skin-and-hair products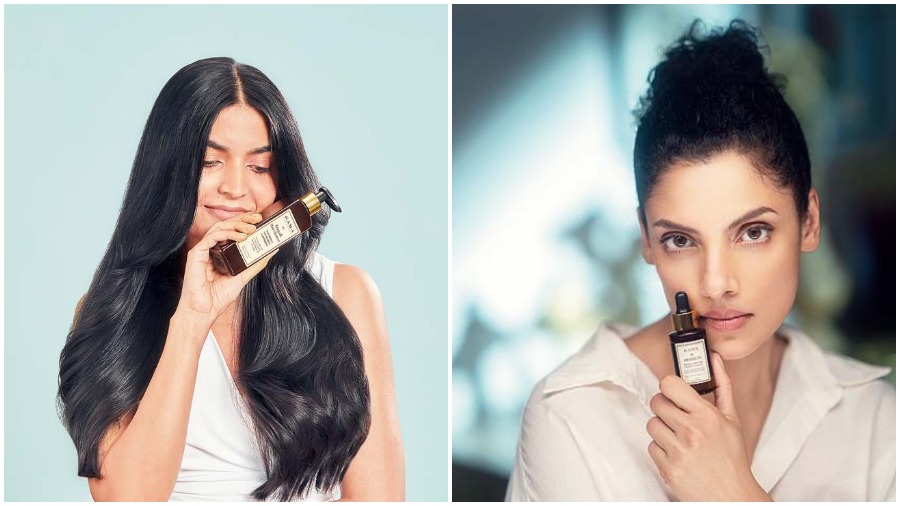 (L-R) The Bringadi Hair Cleanser uses Bhringraj that is commonly known as False Daisy and is referred to as Kesharaja 'King of Hair' in Ayurveda, naturally rich in magnesium to repair damaged and brittle hair and it also reduces hairfall; The Amarrupa Wrinkle Repair & Firming Face Oil is an Ayurveda-based formulation that contains anti-ageing Vayasthapana herbs to maintain youthful skin
---
Published 08.02.22, 02:46 AM
|
---
With the desire to make authentic Ayurveda-based formulae meet modern-day demands of skincare and beauty, Vivek Sahni, CEO, Kama Ayurveda, co-founded the company with just nine products in 2002. Since then, their retail presence spans 49 standalone stores, 60 shop-in-shops, a robust website and retailing across other e-commerce platforms too. The story of Kama Ayurveda, thus, is that of a home-grown brand that borrows from our traditional Ayurveda and builds on it with modern, scientific innovation. Therefore, when their Kumkumadi range of products became famous, they instantly innovated to make that formula friendly for all skin types with products such as Bi-phase Essence as a spritz and the Kumkumadi cleansing oil — and this is just one example. Here's the story of Kama Ayurveda in Sahni's words:
What was the idea behind the conception of Kama Ayurveda and how has that evolved with passing times?
While researching traditional Indian beauty, my co-founders and I were inspired by the history, purity, and efficiency of the science of Ayurveda. This inspired us to reimagine this ancient science of Ayurveda for beauty, and for the modern consumer.
Initially, our focus was to create authentic Ayurvedic beauty products for skin, hair and body, and over time, we've backed the claims and call-outs of our products with clinical trials. Our formulations are true to the classical Ayurvedic texts and processes.
Made with unadulterated natural ingredients, our time-tested, balanced Ayurvedic solutions are tailored to modern-day skin and hair concerns. We believe in the philosophy of slow beauty and our balanced solutions are a testament to delivering long-term visible results. Kama is desire, Ayurveda is science and we bring them together.
Kama is known for its Ayurvedic products but items such as the Bi-phase Essence and more also combine impressive scientific formulae with Ayurveda. Tell us about the brand's R&D and the formulation of such progressive products.
At Kama Ayurveda, our R&D team works with classical Ayurvedic formulations and looks to develop these for the modern-day consumer. We assess the gaps in the marketplace and brainstorm on solutions that are innovative, authentic and in line with our philosophy to provide efficacious and time-tested beauty solutions.
For us, customer feedback is pivotal and is imperative to our R&D process. While developing new products and formulations, we often go back to our customers and understand their needs.
For instance, when we were developing our Kumkumadi Bi-phase Brightening Essence, we wanted to formulate an Ayurveda-based product with the goodness of our iconic Kumkumadi oil in a spray formula. It is ideal for customers who find face oils too heavy, and are looking for a lighter formula with similar benefits. Bi-phase essentially means two different compositions, in this case, water and oil that come together in a power-packed formula. Our Kumkumadi oil is clinically proven to brighten skin and reduce signs of ageing. Think of all that goodness, in one spritz!
While interest in the beauty and wellness industries have been buoyed by the pandemic, there is also a lot of awareness about unrealistic beauty standards. How do you, as a brand, navigate those waters?
People have been conditioned to keep up with unrealistic standards of beauty set by society. At Kama Ayurveda, we're all about being comfortable and confident in your own skin, regardless of age or gender. This translates into our product line-up, the concerns they cater to, and the way they are communicated. Ageing is natural, Ayurveda makes it graceful! How does Kama ensure the authentication of the Ayurveda formulae it uses?
The brand works alongside very old classical Ayurvedic pharmacies to ensure the authentication of the products. Once the formula is perfected, we ensure our supply chain and production processes are in sync with the ancient text. For instance, the Kumkumadi Tailam at Kama Ayurveda is decocted as per the classical text of Ashtanga Hridayam at 100°C for 72 hours to maximise efficacy. What makes Kama Ayurveda's Kumkumadi Tailam truly unique is the quality of the rare, unadulterated saffron that is ethically sourced from Kashmir.
Another example of authenticity in a formulation is our award-winning Bringadi Intensive Hair Treatment Oil that is clinically proven to tackle hair concerns such as hair loss, dandruff, and premature graying. The making of Bringadi uses traditional Ayurvedic techniques of herb oil extraction where the herbs are plucked in the season of their perfect maturity, washed, sanitised and put through a process of pounding and brewing to create a potent paste, which is then used to create the oil.
Tell us a little about Kama's business model and how its growth has been since its conception?
The brand's journey started in 2002 with just nine products. Our breakthrough was in 2005 when we bagged orders from five-star luxury properties to supply in-room amenities. The brand has grown and has garnered immense consumer interest. We opened our first standalone store in 2012 in Khan Market, New Delhi and since then, have grown exponentially. Currently, our retail presence spans across 49 standalone stores and 60 shop-in-shops. Along the way, we also strengthened our e-commerce presence through our own website in 2014 (www.kamaayurveda.com) and via partner websites such as Amazon, Nykaa, Myntra, etc.
We've grown in every sense — we have expanded our product lines across skin, hair and body, and our retail presence as well, with the brand witnessing a 50 per cent YoY growth till 2019.
Amidst all the beauty and wellness brands that we have in the Indian market today, what, according to you, sets Kama apart?
Ayurveda is the world's oldest system of medicine for physical, spiritual and psychological well-being. Maintaining this very balance, Kama Ayurveda creates authentic Ayurvedic beauty products for the skin, hair and body. What further sets Kama Ayurveda apart is the brand's attributes of being "kind, authentic, time-tested and effective", which form the core of all our products. This is part of our commitment to the harmony of mind, body and spirit. The efficacy and quality of these formulas has helped us become a benchmark in this industry.
Pictures: Courtesy of Kama Ayurveda
The matte liquid lipsticks by Faces Canada is what you might just be looking for Raise your hand if you are in love with the matte lipstick, especially in pandemic times. A no-smudge lipstick is after all a must when you have a mask on. The excessive dryness and cracks on the lips are however, a pain. Addressing the issue, FACES CANADA, brand with a Canadian heritage of 40 years, has introduced 'Comfy Matte Liquid Lipstick' — a brand new range that promises to last 10 hours without drying up your puckers. Cruelty-free, alcohol- free and paraben-free, this new range of liquid matte lipsticks has the goodness of almond oil, leaving your lips supple, soft and non-sticky.
Priced at Rs 399, the range is ideal Valentine's Day gift for your bae and is available at most cosmetic stores. You could also place an order online, at Faces Canada, Nykaa, Purplle.
Pramita Ghosh