Sheikh's sphere
A migrant labourer is not always someone driven away by hunger. Here is one who floats on the wings of wanderlust and thrives on the experience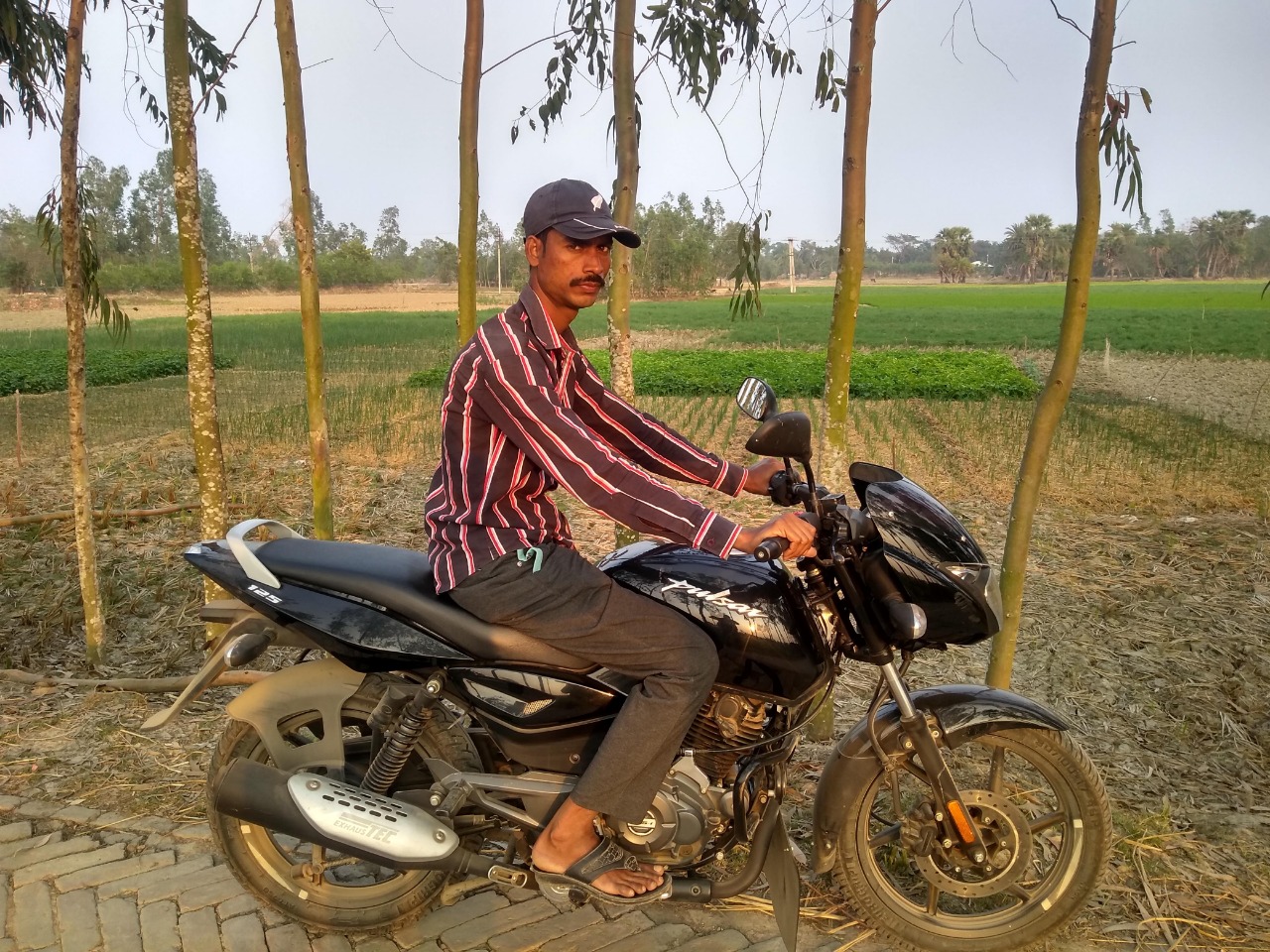 ---
---
I, too, like all migrants, am a fantasist. I build imaginary countries and try to impose them on the ones that exist.
— From Shame by Salman Rushdie
Sheikh Alauddin — Ala to friends and family — is an itinerant migrant. He started fantasising about distant lands when he was barely a teenager. Today, he is in his mid-thirties and even as this piece goes to print, he is stuck in his fifth adoptive land — a village near Vadakara in northern Kerala.
Stranded and out of work for the past two months following the Covid-19 outbreak, Alauddin has been surviving on dry rations provided by his employer. Along with thousands of migrant labourers from West Bengal, he is waiting for the promised Shramik Special train that is supposed to ferry him home.
In early May, a train-full of labourers left for Howrah from Kozhikode, but Alauddin remains lost on when his return will be possible. He says over phone from Vadakara, "Some policemen and government officials met us and took down our names. They urged us not to rush to the railway station until we are notified."
Alauddin lives in a rented apartment with three others from southern Bengal. All of them work as electricians for an event management company. He has no grouse; instead, he says, "Kerala has handled the mahamari well. I have nothing much to worry about, except that my wife is not keeping well."
Alauddin's wife, Maqsuda, and their two daughters live in a joint family of nine in the Sunderbans. When he was leaving for Kerala in mid-February, she had urged him to defer his journey as the pandemic had already hit the southern state. But unable to resist his yen for journeying and the lure of lucre in his promised land, he hadn't listened.
I first met Alauddin, a lean, sprightly man with sparkling eyes, two years ago in K-plot, 130 kilometres south of Calcutta. It was towards the end of his avatar as a labour contractor in Howrah. He had quit his job and just arrived home. He was warm and friendly.
Alauddin's father, Kashem Sheikh, had survived the ravages of the Bengal famine that consumed an estimated 35 million lives. That afternoon, the 94-year-old had reminisced about the day he had arrived in the Sunderbans marshes. "We had to negotiate wild beasts and snakes but we were happy that after years of serfdom we were at last landowners," he had said sitting in the courtyard of his home overlooking acres of paddy. He was surrounded by sons, grandsons, their wives and children. Maqsuda prodded him to recount his encounter with a Royal Bengal Tiger. "I fought a tiger but it took all my strength," said Kashem, lifting his vest to show me deep wounds on his shoulder.
Alauddin is the youngest of Kashem Sheikh's five sons, born of a second marriage. He alone has inherited his father's wanderlust. Ala says, "I learnt to a row a boat when I was 10. With friends and elders, I would go hunting for crabs and shrimps in the rivers and creeks. Sometimes we rowed to new islands in the big river." But what intrigued him more was the world beyond the sea and forest. He fantasised about life in the big city.
It was "mastermoshai" Sailen Sarkar, a chronicler of the Sunderbans, who first took Alauddin to Calcutta when he was in Class VI. Those days, Sarkar worked as a schoolteacher in Sodepur, a suburb of Calcutta, and was involved in setting up junior football teams that participated in tournaments across Bengal. Says Sarkar, "I visited K-plot to scout for footballers for a school tournament and that is where I spotted Alauddin."
As things turned out, nothing came of Alauddin's football talent and he dropped out of school too. Instead, he joined a carpentry workshop as an apprentice. "I learnt how to polish furniture," he says. Within a year, the teenager became an expert. But unhappy with the wages, he quit and joined another workshop in Behala in south Calcutta.
All was going well and smoothly, and then during a visit home for Id in 2005, Alauddin's world turned on its head. He met Maqsuda.
She was visiting from Maipith, an island notorious for political violence. Alauddin fell in love and decided he wanted to marry her. But his family objected. Reason: Maqsuda's family is into politics. Her family was not impressed with Alauddin's credentials either. Recalls Sarkar, "One fine morning, Alauddin arrived at my Sodepur home with a request. I had to meet the families and make them agree to the marriage." Sarkar rushed to the islands but made no headway.
In the summer of 2006 Alauddin eloped with Maqsuda. They got married in Diamond Harbour and mastermoshai was one of the witnesses. The newly-wedded couple stayed in Behala for a while — until Alauddin got himself a new job with a carpenter in Gurgaon. A few months later, he got a big break in housekeeping with a multi-specialty hospital in Gurgaon. Maqsuda worked as a domestic help in a large housing estate there. "Both of us worked hard and earned quite a lot," says Alauddin. When the couple went home for Id in 2009, both sets of parents forgot old grouses and embraced the couple into the family fold. A year later, Maqsuda returned home to have their first child, a daughter whom they named Afreen.
The years that followed went by at a frenetic pace. Alauddin was reassigned to the hospital pantry and, thereafter, quickly rose through the ranks to become a deputy supervisor. He was the go-to person for "madam", the woman who ran the hospital.
But he was growing weary of urban life. He says, "I hated the tower blocks. I missed the boro gaang (big river), the boats and greenery of the village." The worst part of the new job was that there were hardly any weekly offs or annual leave. And then, his father took a fall and the authorities refused to grant him leave when he wanted to visit home. It was the last straw; Alauddin quit his job.
He returned home and settled down to a pastoral life for the next five years. In this avatar he was a paddy farmer. Occasionally he explored the islands in a country boat with his best friend, Kartick Bera, a motor van operator. "Once we, along with mastermoshai, rowed deep south and discovered two new islands in the bay. Mastermoshai named them Maqsudar char and Mou char after our wives." These names were eventually uploaded on Google map by a teacher from the island.
In 2009, all hell broke loose when Cyclone Aila struck Bengal. Most of the homes in K-plot were washed away and the land lay barren. The people lived on government ration for months. "The spectre of a famine loomed large," says Alauddin. "Poor governance made things worse and we had to rebuild everything from scratch," he adds. He even led an agitation against the government for compensation and aid to resume agricultural activities.
Two years later, the islanders voted en masse against the ruling Left Front government in the Assembly elections. The Trinamul's win resulted in dramatic changes in the island. Roads were paved and all homes were connected to the electric grid. Maqsuda joined a self-help group of women to supplement the family earnings. What could not be set right was the fact that their savings had severely depleted after Aila. Once again, Alauddin started looking for greener pastures. He managed a labour contractor's job in a housing estate in Howrah.
In January this year, when I got in touch with him, Alauddin was in Vadakara. When I expressed surprise, he said, "Dada, you have forgotten I can pick up any skill in a month or so. If all goes well, I will learn to be a sound engineer in a year and two. I will find a job in Dubai." He described to me the beauty of Kerala, his affinity for the sea and the generosity of his employer. A few weeks later, when he returned home, he invited me to his newly-built house.
When I visited K-plot in February, Alauddin was waiting with his latest acquisition, a motorbike. Maqsuda greeted me with a wide smile. I was treated to a lavish lunch of fish and chicken. I saw a few Barbie dolls lying around and the grown-ups seemed to have smartphones.
In the evening, when I met other migrant labourers at the marketplace, I realised Alauddin was considered some sort of a hero. All of them agreed that Kerala is the best place for a migrant labourer. Sankar Sahu, 46, a textile worker spoke about his experience of working in Gujarat, Maharashtra and Tamil Nadu. He said, "Employers down south are more humane."
The following morning when I reached the ferry ghat for the boat, I warned Alauddin about the pandemic brewing in Kerala. He said, "Dada, the wedding season is about to begin. It's time to make some big money." He was not scared at all of the impending outbreak; he was determined to fly to his newest fantasy land, 2,500 kilometres away from home.