Piece by piece
A woman whose hobby is peace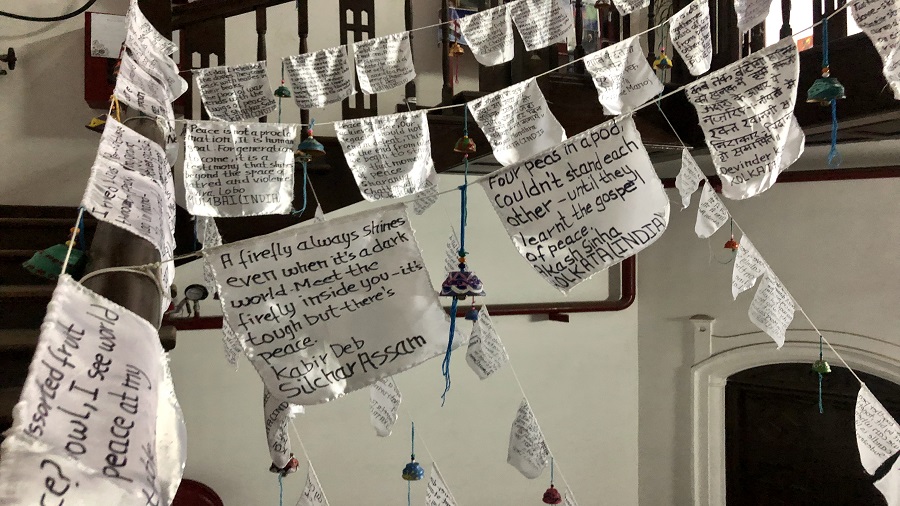 ---
---
A visit to Nathu La in Sikkim three years ago did it. Poet-artist Sufia Khatoon says she was captivated by the prayer flags she saw there. "Prayer flags are meant to protect a people, spread the message of peace," she tells The Telegraph. When she returned home to Calcutta, she put up a post on social media inviting poems about peace.
That was the time when cow lynchings and hyper-nationalism were starting to jangle all over India. The peace entries poured in — a Dustin Pickering from Texas, Vineetha Mekkoth from Goa, Wani Nazir from Srinagar, John Smallshaw from London, R. Jayachandran from Thiruvananthapuram.
"Blood seeped into parched earth like it rained. Decades later, flowers still bloom — stained," wrote Jhilmil Breckenridge from Lancashire, in the UK, which reminds one that the Nathu La of Sufia's peace flags had witnessed a major military skirmish between India and China in 1967; many soldiers had died on either side. Gerry L. Leonardo's poetry offering read, "My father came home without legs. Said he gave them to another country so they could honour peace." Yet another poem reads, "Peace is the silvery moonbeam/In dark nights/The star spangled flag/Of the skies." Leonardo is from Colorado, US.
Back in the city. Sufia missed the peace she had experienced in the mountains. In her mind, peace had come to be associated with the prayer flags, aflutter with goodwill they whispered to the skies and the breeze. And that is how when she organised the exhibition, Soul of Peace: Rooh-E-Sukun at Alliance Française du Bengale not very long ago, the peace poetry flag installation became the centrepiece.
The installation is made up of 200 white flags scribbled over with poems. "White flags have been used time and again in war and conflicts to connote a peaceful passage, a halting of certain war-like situations. I wanted to use these to achieve a good pause and initiate friendly conversations," she adds.
There are two large scrolls filled with poems in eight languages apart from English. There are Urdu poems too. Says Sufia, "Urdu was considered the language of poetry, but now people associate it with terrorism. That needs to change."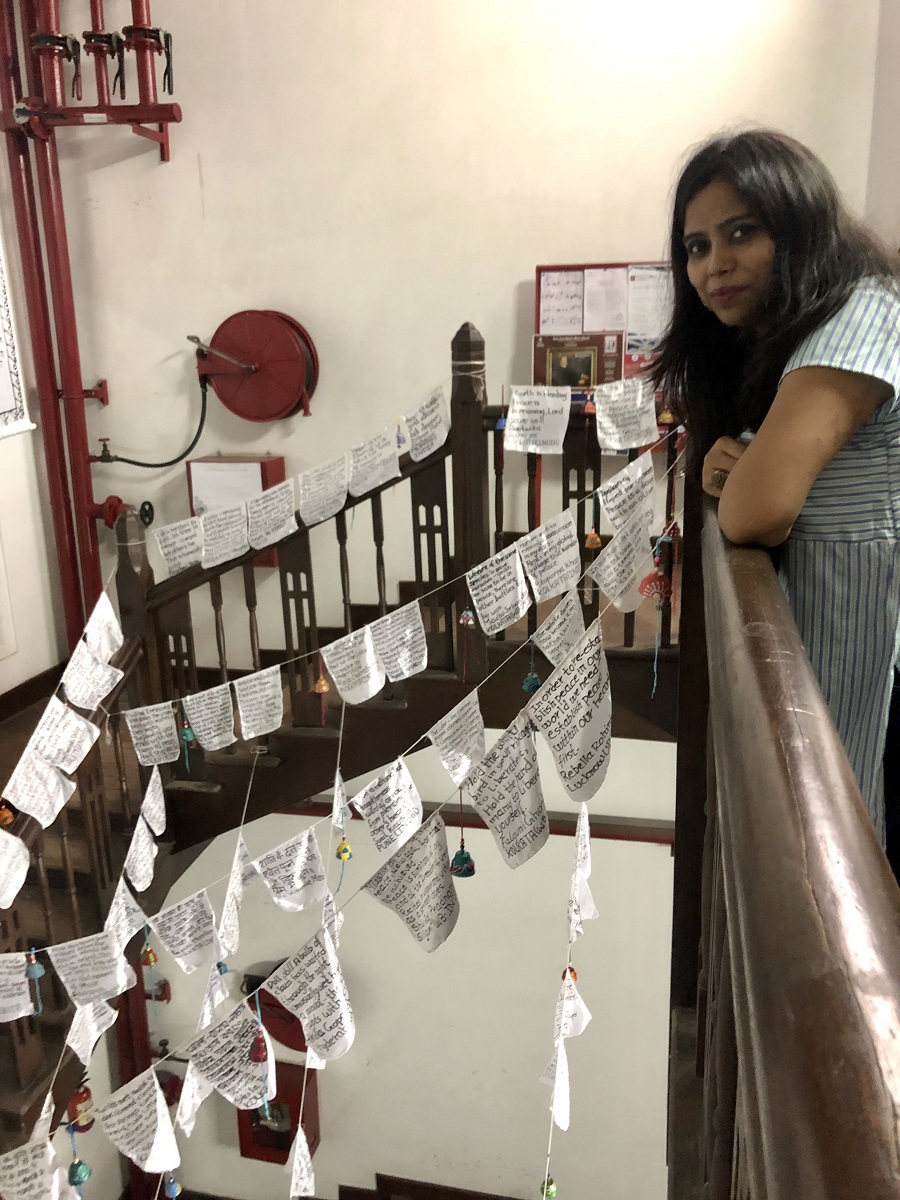 There is other artwork by her inspired by the mandala — a geometric configuration of symbols found across faiths, oftentimes meant to be an image precis of the universe. Tranquil blues dominate the canvases themed "Aman Aur Sukoon". Apart from those, there are paintings with the word peace in different languages — English, Hindi, Bengali, Urdu, Kannada, Hungarian, Malayalam, Japanese, Russian. "I wanted to vocalise the journey of balancing peace through art and poetry during these dark times," says Sufia.
She continues, "We are living in times when we are constantly being bombarded with negative news and information. It becomes very chaotic to handle. I wanted to create something positive for myself and everyone around me. Dua mein bohot takat hoti hai... Prayers are very powerful."
This is not Sufia's first installation. In 2017, she had poems themed on women's empowerment scribbled on kites and tied around her terrace. She says, "I have always loved the terrace. Even as a child, when I watched the kites from there circling in the blue sky, I knew that is where I wanted my poetry headed."
For now, Sufia plans to keep adding more poem-flags to her peace installation, and have it travel to colleges, streets, schools.
She continues, "If one looks back in time and history, whenever there is a war or any kind of disruption of peace, books and works of art are targeted. But poets die, poems don't. Their messages don't."