Glimpse into a modern farm life through the eyes of a 24-year-old 'farmer'
'Don't get me wrong, I party a lot, but at heart I am a farm girl'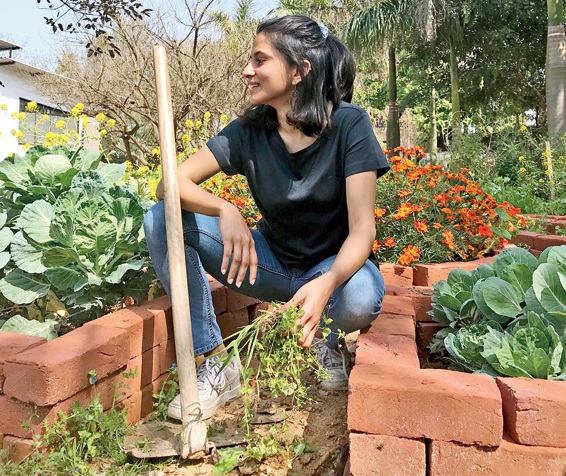 ---
---
From a two-floor house to a 4,000sq ft home and a property spread over three acres, in Chandigarh. That's where
24-year-old Anya Gupta has grown up and lives with her mother Anuja Lath and sister Ada Lath Gupta. "A lot of my peak years when people learn how to party, I was on a farm taking pictures of snakes and birds I had never seen before. Don't get me wrong, I party a lot, but at heart I am a farm girl," she tells us when we catch up with her over phone. They grow their own vegetables and fruits combining traditional and modern farming methods. "I prefer my slow life," she says. And a 45-minute chat later, we so wanted to teleport.

Such a cool life, Anya! Tell us about it…
I am basically born and brought up in Chandigarh. About 13 years back, my dad bought a piece of land on the outskirts of the city. Initially we had no plans to move in here. My dad was very fond of growing vegetables and that's why he bought this piece of land. It is pretty close to the city and as a family, we would make weekend trips here. Slowly we started adding trees, made a pond and over time we started enjoying this place so much that when it would be time for us to leave and go back to the city, we didn't want to. My parents decided to shift 10 years back. Most people thought 'tum log toh bilkul pagal ho gaye ho!' My parents were way ahead of their times.
Both my parents have a bachelors degree in fine arts. It's actually the passing of my dad which is central to this drastic shift in my life. I used to be an avid fast-fashion shopper. I took a break from social media and restructured the kind of content I wanted to create. I realised I was not being my dad's girl. I consciously took the decision to dive into what they call sustainability now. It's a buzzword now, but I figured, I have been living this life for quite some time, I think it is very unfortunate that the word 'sustainable' is now followed by fashion. It hardly makes up a big component of your life. One of the most important things is what are you eating. One of the things I count as true sustainability is becoming self-sufficient in terms of food.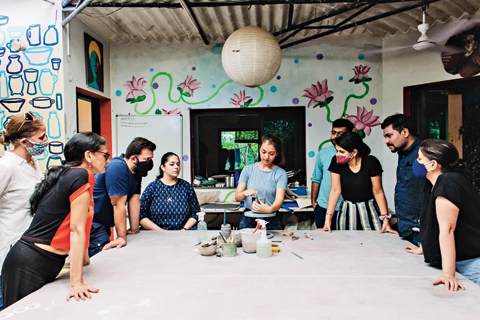 Give us a glimpse of Aura Life...
We run a small pottery studio (Aura Pottery), which gives us as a team a lot of appreciation for the handmade and all things earthy. We have a couple of programmes like weekend workshops which happen every Saturday for the local community and pottery classes where those living in and around Chandigarh can also join in. The most interesting thing is the long-stay pottery retreat where visitors from all across the globe have visited us and stayed with us for a minimum of two weeks. They pluck their fruits and veggies, eat organic, enjoy the wildlife over here.
The Airbnb is for people nearby like Delhi or Himachal Pradesh who can come for a weekend getaway. We raise our own chickens. So, you can pick your own eggs in the morning or eat home-made bread or drink fresh kombucha which we brew.
We have started opening up the place to the public ever since the lockdown eased. More and more people are getting inclined to this way of life. We give them a structured one-hour tour of all that we are doing. My aim is to build local community.

What has this farm life done to your thought process? How do you see life?
I have immense belief in living in harmony with nature. It is basic appreciation of giving back more than you take. A part of the house uses solar energy; we don't have to depend on anybody for water because we have our own bore well. I feel if I was stranded somewhere, I can grow something from scratch or light a fire. Everything in the house, including the lights, beds, bathtub and sinks have been made at home.
Did you learn farming basics on your own?
Most of it was inspired from my dad. I was always inclined to a life like this, but it was only after my dad passed away that I picked up one of his pending projects which is AuraOKG, a patch of land we call the Organic Kitchen Garden. He was just about to start his initiative of supplying weekly organic veggies to the families in Chandigarh; just two days before the kick-start, he passed away. The fact that in the past couple of months we have mostly consumed vegetables and fruits that are native, seasonal and grown in our kitchen garden and have not taken up any fuel in being transported from one place to another, I feel I may have contributed quite a bit to reduce my carbon footprint.
What's a typical day in your life like?
I am an early riser and wake up around 6.30am. This morning I woke up and there were seven parrots on my window. My dogs accompany me everywhere. Anytime you cut or harvest anything from a plant, it disturbs it a little bit. So, the morning time is the best time to do it. I go deliver it in the kitchen so that food can be taken care of. I love plucking veggies because it is the very physical touch of having sown something yourself and finally see it come to life... a joy in its own. We have 30 different types of fruit trees. In terms of vegetables, we now have corn, chillies, pumpkin, mint, oregano, basil, karela, bhindi, baigan. I share a symbiotic relation with my maali bhaiyyas. We have a staff of about five-six for the farm. They are my community, my extended family.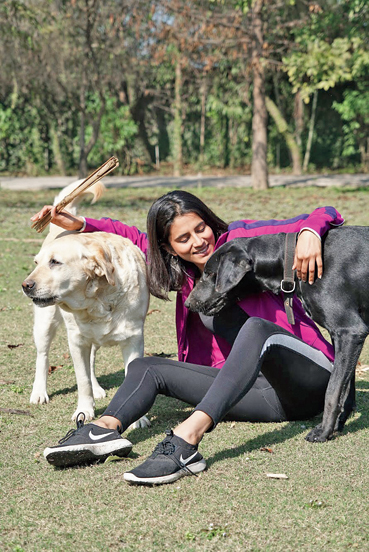 We run a digital marketing agency which my parents started and this year we shifted the office inside Aura. So, now, we as a family don't need to step out at all.
Whatever I wear is hemp based or organic cotton, in tune with nature. When I am done with the piece, I can use as compost.
My day pretty much varies. I use my personal content on Instagram to talk about my life and the other is Aura Life, which encompasses Open Days, Airbnb and workshops and events I want to organise or just brand building. These days I am a little busy with a thrift shop I am starting. As a family of three women, we have collected so many clothes over the years.
We are trying to encourage second-hand shopping of pre-loved items. Whatever funds we raise, I would like to be able to plant trees. I am also trying to harvest corns and make home-made popcorn. A Sunday farmer's market is also on my mind where I want people to come and pluck their own vegetables.

What are your other passions?
I absolutely love spending time with my dogs and have been playing the piano since I was five. I make sure I document as much of my life as I can so that I have something to leave behind and for memories.