Sunidhi Chauhan on her musical journey
In a freewheeling conversation with The Telegraph the versatile singer talks about her favourite album and how 'she becomes the song'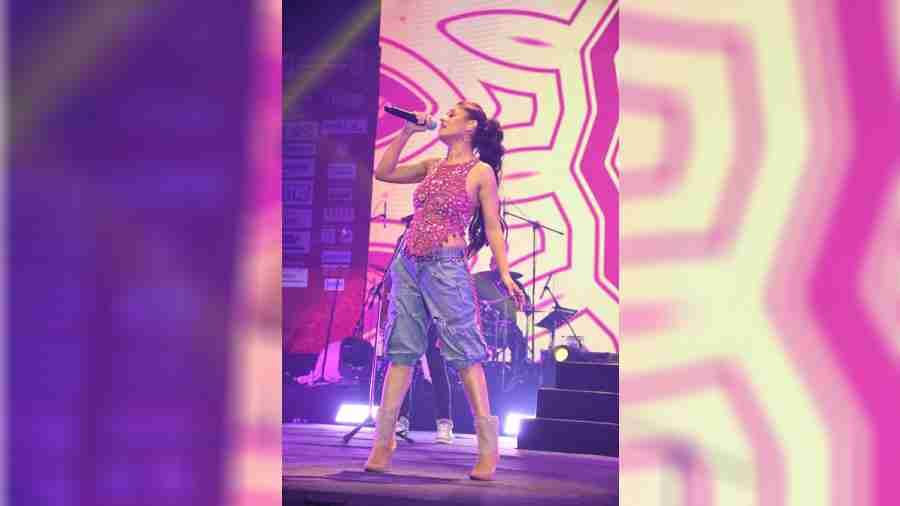 ---
Published 10.02.23, 02:51 PM
|
---
To get up on stage and sound better than studio recordings is something extremely precious that artistes spend their lives trying to achieve, but for the uber versatile Sunidhi Chauhan, it looked like an effortless diurnal drill which she took to the stage at the Netaji Indoor Stadium, on February 5. The Udi, Sheila ki jawani, Beedi jalaile hitmaker having one of the most versatile and rich voices in the industry, has received numerous awards and has sold out packed arenas for around two decades. A name synonymous with dance-floor classics, Sunidhi's discography has traversed through genres with a voice that nestles perfectly into the soundscape of every album that she has been a part of.
 Sunidhi Live in Concert, organised by Forum for Durgostsab, in association with t2, at the Netaji Indoor Stadium, was an experience that will be cherished by people across age groups. A packed arena grooved, screamed, sang and cried with every number that Sunidhi delivered. Starting the set with deliciously designed Kamli, Sunidhi moved on to her other hits, including Ainvayi ainvayi and Desi girl. During the latter, all the women stood up dancing and whistling with her, in a beautiful exchange from the stage to the crowd. Immediately shifting from the mood, she delivered a soothing rendition of Bhaage re mann, which made the stadium sway with flashlights on. She also paid a moving tribute to KK, who passed away in Calcutta last year, talking about her love for him, and singing few of his songs, including O meri jaan and Pal with superlative command. In a freewheeling conversation with TT before the concert, Sunidhi talked about her journey, favourite album and how 'she becomes the song'.
How's the journey been from Shastra to where you are now? What's been that element that has kept you going?
My roots. I will never forget where I come from — what made me the artiste that I am today. It is still fresh in my memory, the first time I sang on stage. That's what I keep in mind when I go out to perform. It's not really just the job, but it's a beautiful feeling to say that I do what I love. That is the thing which has always pushed me.
Sunidhi Chauhan has always been synonymous with the greatest of Bolly party hits. What do you think has to click when it comes to the voice behind viral hits that makes the room come alive?
There's no other way for me to sing, but from my heart. I feel what I sing, I internalise it and I become the song. That is probably the reason people connect with me and what I sing. The passion, the heart involved makes the song come alive. Having that in me has helped me deliver that way.
What's been your favourite film album to work on?
These days albums do have a number of artistes coming together and working. But if I had to single out one film OST that I loved working on, it would be Chameli. It's probably the last album where I sang all the songs. It's so vivid and fresh in my memory because I think it brought out all my colours You have been a genre-fluid artiste. What's been that one genre that you wish to work on in the near future?
I have worked in almost all genres that I had in my mind. But there are certainly multiple genres that I haven't tapped into yet. I have an immense fascination for ghazals and it is something that is in the pipeline. I have been lucky to experiment with multiple genres and I will always keep my mind open to exploring every genre I come across.
Who's been your favourite music director to work with and why?
I don't think it would be fair to name a single person that way. If people consider me to be a versatile singer, I think it's because of my music directors who have brought that out, by working with me. That gave me myriad spaces to experiment and showcase my talents. Working with friends is always joyful and fun. For instance, working with Vishal-Shekhar and Vishal Bhardwajji always brings out the best in me and gives us the space to enjoy and work around that.
Who's been your greatest musical inspiration?
My inspiration has always been Lataji. She's the person I have always looked up to. That is where the seed was planted in me perhaps.
Any special connection you share with Calcutta? Perhaps a place, the fanfare or the food?
I really cannot spell out the connection that way. There's something about Calcutta that makes me feel very connected. And that's the reason I keep coming back. There is a sense of deep musicality in the city, in the way the audience receives me, perceives my songs, the way they feel and enjoy the spectrum that I offer. I really don't want to talk about the food, because I'm currently off everything. It would break my heart to talk about Calcutta's food right now because I cannot have anything (laughs).