Raja Kumari oozes sass and class on her new release — Made In India
I just felt this song was a way to celebrate the modern Indian woman… all her facets… and kind of create a vision for the future, says the musician about Alisha Chinai's classic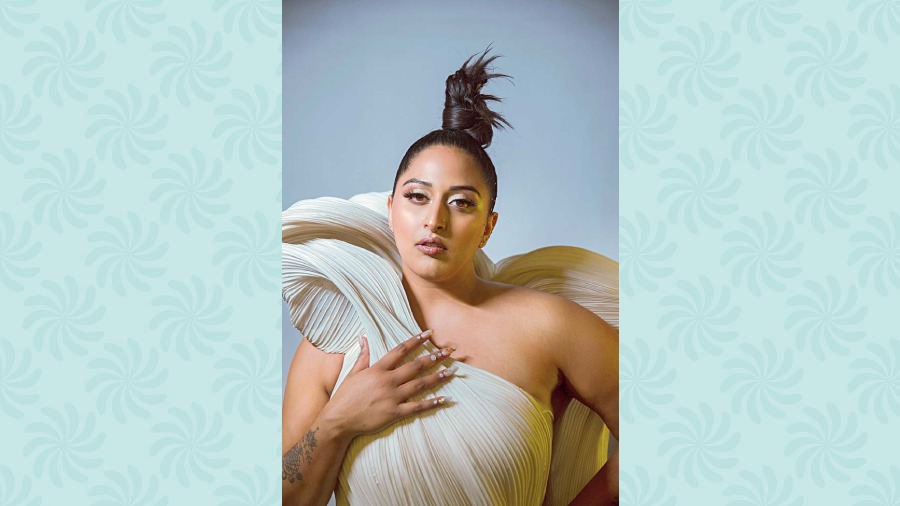 I just say how it is. That's me, I am running my game, I am running my life and my music is an expression of who I am. I hope people lean into the lyricism of the EP as there is a lot that I am going to say, now that I have full control — Raja Kumari
---
Published 19.05.22, 03:10 AM
|
---
Raja Kumari has been reaching one milestone after another. Born Svetha Yallapragada Rao, the rapper was raised in the US and has made her way to the big club where her voice is heard — and loudly — in a "male dominated" industry. The 36-year old dropped a banger called Made In India on May 6 which celebrates her culture and the original song by Alisha Chinai. That's not all — the music video features Madhuri Dixit. Made In India is the first song from her recent EP, Head B***h, which she claims will take fans in a new direction. The EP comprises five songs — Manifest, Made In India, On, HBIC and The Don; it also features KR$NA and Shah Rule. Here's a chat with the powerhouse artiste.
How does the song Made In India reflect your personality?
I feel this is an anthem; there has been so much movement in the diaspora. I wanted a song that was for everyone and that's what the lyrics reflect: "No matter where I'm from, they don't know I am made in India." And we can all accept that part… that our culture is what makes us. I am excited about this record because I was able to accomplish what I had set out to do. Recreating a classic and then bringing the iconic Madhuri Dixit on board… I hope it is a cultural moment. 
How was it working with Madhuri, who you've called the 'Queen of Expressions'?
Amazing… straight out of a dream. It's the first time I was the director of the video with Kirti Narain, who's a young, 25-year old photographer. It was really fun; we brought in a fresh view. It was crazy because we were sitting at the table and we were like: "There's Madhuri… the lights turn on and she looks over her shoulder and winks." To see those frames was crazy and I was writing the scenes involving Madhuri. We were thinking of mudras and other things. We were almost winging it at the end and having fun. Being up there with Madhuri was indeed a fun experience. What made you choose the Alisha Chinai song?
As a woman artiste, especially in Indian music, you really need to pay homage to where you come from. I just felt this song was a way to celebrate the modern Indian woman… all her facets… and kind of create a vision for the future. When I was thinking about doing this project I thought about how the song had an impact on everyone… it wasn't Bollywood. I am not Bollywood and I wanted to stay in that same zone and I remember having this memory of growing up in America and we only get one 10am morning show on Saturday — Namaste America — and they would play scenes from upcoming Bollywood films, so I would see Madhuri, and then they had news and music videos. I clearly recall watching this music video and growing up in America; there were no Indian pop stars. So to see Alisha (Chinai) as an Indian pop star, I saw myself in a place like that. I didn't even realise until I watched the video again for my song that I love the aesthetics; even my videos have that "queen thing". 
Was it a challenge to create a new version of such an iconic song while maintaining the essence?
As a songwriter I am always challenging myself and I haven't actually done a cover or a sample. And this record is what's technically called an interpolation (refers to using a melody, or portions of a melody, from a previously recorded song but rerecording the melody instead of sampling it). So the challenge was to maintain the most memorable parts of the song, which was the melody, tag line and chorus but also reinvent it… what it stands for. It can be an anthem from wherever you're from. 'Dekhna tu mera yeh chehra,' I am an Indian. But I also have my own way in the song where there is rapping in the second verse and we recreated the whole production. I wanted to pay homage but I did not want to redo the song.
Do you think you have put yourself out there with the EP?
I think I have been quite transparent with whatever I am going through, what I am listening to, who I am inspired by, the way men are holding me back... I am always talking my s**t. At times people just say it and it's not impactful but in music, I think people truly understand it. My last body of work was in 2018; in 2019 I left Sony and I found mass appeal with a body of work I was about to release in 2020. But then the pandemic and a series of events led to the fact that my music never came out. This project came with such veracity because it deserved to be heard. These are the most aggressive records from my catalogue. And I felt like HBIC (a female leader or authority figure) in a field of male ego… where people were not unapologetic about their power… I just say how it is. That's me, I am running my game, I am running my life and my music is an expression of who I am. I hope people lean into the lyricism of the EP as there is a lot that I am going to say, now that I have full control. You said this EP is your rebirth and that you're leading your fans in a new direction….
I think the album, The Bridge, which will come later… in a year... is a lot more melodic. I really went back to the roots. During the pandemic we had to really take it all the way down to being organic. And I think what came out of that time period is where we're going and these records are starting to take us in that direction.
Are we speaking to a new Raja Kumari?
There will always be this part of me. I'll always have this character, I'll always be there. But there is a lot of healing that's going on and I want to talk about new topics and go in a new direction. This year, you will definitely see a new direction. 
From 'feeling so invisible' to being a 'queen', the change must have been overwhelming….
It's just that I have been saying it over and over again and finally people are listening (laughs). Like I have been telling people, 'This is how it goes!' and no one would listen to me and I would just be upset. Now they're like, 'Listen to her, she knows what she's saying.' (Laughs.) That's the change. It feels great to finally not have to mansplain everything. I have to talk to their egos to let the music through and now my entire creative team has women and my administrative team is all-male, so figure it out (laughs).
MTV Hustle season two is taking in entries. Are you excited for the new season?
I feel like I have to get all my news from you (laughs). Hustle is very close to me. We opened to the nation this whole possibility and now look at King (Rocco). He has released the first part of some Anthology film. I just feel the platform has so much potential and I hope to see the second season return to screen.