Inglorious Uncertainty
What may the departure of Virat Kohli from captaincy mean for Indian cricket? The Telegraph reports on the rumble inside India's most loved sport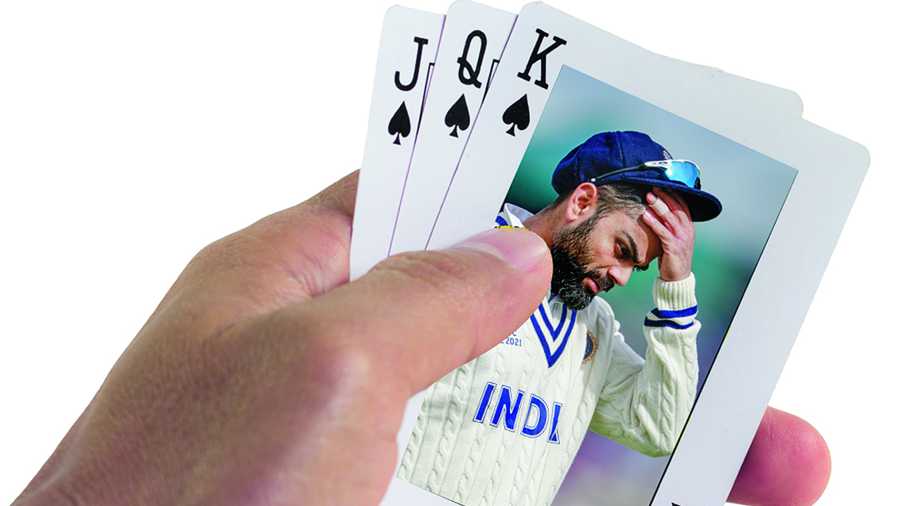 Virat Kohli
Picture; PTI; Imaging: Manoj Roy
---
Published 23.01.22, 12:15 AM
|
---
Almost in the blink of an eye, the run order of Indian cricket's lead cast has been rewritten. Ravi Shastri is gone as coach, and Virat Kohli has gone from unchallenged skipper across all formats to just being a middle-order batsman. The new order is yet to assume firm contours. This is a critical hour in the life and times of arguably the best team in the world, an hour of ferment; nobody can tell if it will yield wine or vinegar.
Kohli marked out a distinctly triumphal era as captain. He was brash, he was combative, he was so in your face you may often have been tempted to dislike him, or just turn away. What remains true about Kohli is that you still can't ignore him or wish him gone. India's most successful Test skipper ever has walked away from the throne against the run of play, but it is unlikely he will stop to grab notice anytime soon.
Kohli's explosive energy, his fierce desire to excel, his palpable sense of self-belief and destiny aren't going anywhere.
Kohli's final series as captain ended in defeat, but those who know him will tell you that with the captaincy gone, the man will most likely reveal other plans — to recover his claim to batting emperorship. He has totalled a paltry 819 in 19 Tests since January 2020; Kohli knows those numbers need to quickly change.
The first clue that something was amiss became evident on the eve of the team's departure for South Africa when Kohli contradicted, without naming names, BCCI president Sourav Ganguly's statement that he had been counselled against ceding the reins of T20 captaincy. It at once became clear that the BCCI mandarins weren't on the same page as Captain Kohli. He found himself alone in the tussle, though it didn't show on the field. It could not have helped that Ravi Shastri was no longer head coach, because the Kohli-Shastri duo was known for its comfort levels.  Not that things had soured with the new head coach Rahul Dravid. Dravid has immense respect for Kohli and has praised his work ethic as "phenomenal" and lauded the "way he (Kohli) has trained and connected with the group" despite the noise around him. Dravid has arrived in the midst of a team undergoing swift and often uncertain changes. But he is not new to such conditions. As captain he went through a difficult phase in his career when the Ganguly-Greg Chappell feud was at its peak. Those who have seen him function as India A coach say his ability to come out of internal wranglings is enviable. "You never know, the team could achieve better success under Dravid. He brings to the table balance, security and communication skills which the players will benefit from," says former India opener and national selector Devang Gandhi who has seen Dravid closely during his India A stint.
"Look at how Dravid has formulated the supply chain at the National Cricket Academy. Dravid is a fighter and he will yield results in the long run. The loss in South Africa will be a bit of an eye opener," Gandhi feels, "Give Dravid some time."
As for Kohli, Kapil Dev put it down perfectly when he said the former skipper will have to shed his ego and play as a senior member of the team. Sunil Gavaskar and Sachin Tendulkar, besides Dev himself, had performed creditably even after giving up the top job.
Kohli instilled virtues in the team that won't evaporate with his departure as captain. No better example than the way the side bounced back from 36 all out in Australia last year under Ajinkya Rahane. Whoever takes charge, the shadow of Kohli will be omnipresent.
The BCCI obviously had a succession plan in place when they appointed Rohit Sharma vice-captain last month. Growing calls for Rishabh Pant to be pitchforked into the lead role, most pointedly by Gavaskar, are unlikely to find many takers among selectors. "Rahane would have been the ideal choice but unfortunately his form is an issue. Sharma will be a temporary solution since he is 34. So someone younger must be lingering in the minds of the selectors, K.L. Rahul or Pant. But right now we have to accept Sharma," says former chief selector M.S.K. Prasad, who has worked with Kohli since his ascendancy in 2015. "One good thing is we don't have many overseas tours this year. So whoever takes charge can get used to the role in home conditions," Prasad adds.
Sharma's record as white ball captain advocates his case. Five titles in the IPL bear witness to his abilities. As India captain, he has won eight of the 10 ODIs and 18 of 22 T20Is. Given that he may lead in all formats, the onus will be on the selectors to manage his workload. Rohit himself may need to work much harder on his fitness and consistency.
It was during the Vinod Rai-led Supreme Court-appointed Committee of Administrators' (CoA) 33-month reign at the BCCI, beginning early 2017, that Kohli assumed the status of a demi-god. With the Board tying his boot laces, he emerged as numero uno of Indian cricket.
The superstar culture was allowed to prosper and Anil Kumble forced to leave following a much-publicised fallout with Kohli. Historian Ramachandra Guha, one of the CoA members, had been widely critical of the committee's handling of the episode and mentioned it in his parting letter to Rai.
"If indeed the captain and the head coach were not getting along, why was not this attended to as soon as the Australia series was over in late March? Surely giving senior players the impression that they may have veto power over the coach is another example of superstar culture gone berserk?" wrote Guha.
Worse was to follow when Shastri was reinstated as head coach against the wishes of the CoA. Kohli wanted Shastri and the CoA complied.
But once an elected body took charge at the BCCI in October 2019 with Ganguly and Jay Shah at the helm, Kohli could feel the difference.
Besides several debatable selection issues, tales of dressing room unrest also started to trickle out. Things reached a head when two senior players complained to secretary Shah after Kohli questioned their intent at a news conference following the team's loss to New Zealand in the World Test Championship finals.
Citing workload management, Kohli decided to quit the T20I captaincy in September before the World Cup. His desire to retain the ODI mantle found no takers as the Board didn't find it prudent to have two white ball captains.
The post-Kohli rumblings won't cease anytime soon, but most reckon that the impact on team performance will be minimal. "There is just too much talent in this team to be influenced by a change of guard. Once Rohit returns, the balance will be restored," says M.S.K. Prasad.
In his parting note, Kohli gave himself the certificate that he had done the job with absolute honesty. But did the change in dressing room chemistry prompt him to believe that it was not possible to give his "120 per cent"? That will always remain a matter of speculation.