Termites & Proof
Meet a self-taught heritage enthusiast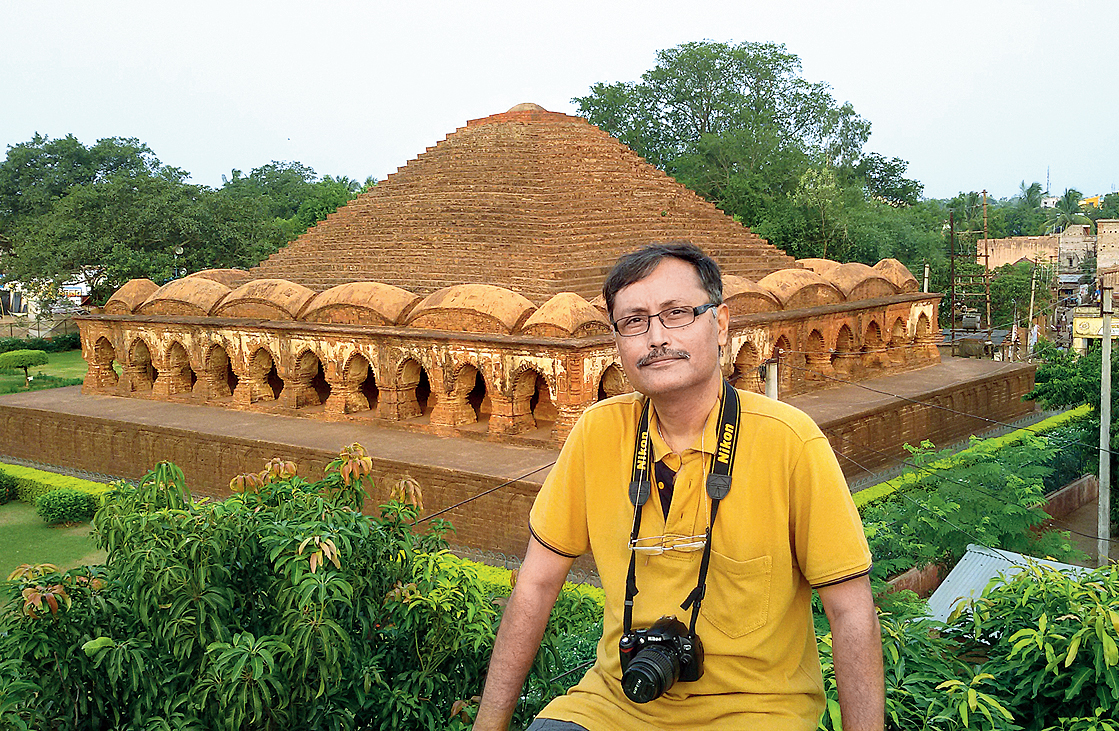 ---
---
His first attempt at heritage preservation was a disaster. An oil painting in the family had been ravaged by termites.
It was the 1960s, the hand-held pesticide spray gun was still a novelty. The teenaged Kamal Banerjee emptied its contents on to the painting to "restore" it; he destroyed it. Half a century later, Banerjee can only shake his head as he recalls what he did. The pesticide, however, failed to douse his passion for heritage.
Today, as a member of the Indian National Trust for Art and Cultural Heritage, or Intach, the 65-year-old accountant is always rushing to the rescue of some heritage structure or the other. His role in the restoration of the Joypur temples of Bengal's Bankura district was the fallout of a casual visit to the place.
"I was shocked to find that many of these beautiful 18th century terracotta structures had either turned into rubble or were in serious need of restoration," he says. They were a gold mine of heritage, as he learnt from the writings of researchers of rural Bengal such as David McCutchion, Tarapada Santra and Amiya Bandyopadhyay. Banerjee prepared a field report and shared it with Intach Calcutta chapter members; it was not long before help started to pour in.
As news spread, a city school, Lakshmipat Singhania Academy, sent its students to do a project. The project triggered more research. Banerjee lent support as a research guide and commentator. Locals too chipped in eventually. He says, "To me, the people's initiative is the most crucial thing."
It was sheer passion for heritage that had Banerjee land in Asansol, following the Dundee cake trail — a culinary import of the Raj days. And a few years later, the same passion landed him at Debagram in Nadia district, with fellow enthusiasts, where 5th and 6th century artefacts were discovered and then indiscriminately smuggled out. Banerjee floated an initiative to convince various agencies about the heritage importance of the site, which ultimately will culminate in a scientific excavation, followed up by preservation efforts.
Be it heritage or the environment, Banerjee is deeply invested in any kind of preservation. He recently identified a small group of people from Kharagpur who are working to clean the Kansabati river, which is littered with plastic and thermocol — partying gift of picnic groups. Not only did he sign up as a volunteer, he also suggested the group share the clean-up drive with IIT Kharagpur. The project now helps locals recycle waste and generate funds.
"Banerjee is a person who is not confined to talks and seminars," says Sanghamitra Basu, a former professor of architecture and regional planning department at IIT Kharagpur. "He also travels to interior pockets to promote the cause of heritage and preservation, and encourage people from diverse backgrounds and age groups."
And it is during the course of his travels that he got interested in the heritage properties owned by the Indian Railways in and around Asansol and Raniganj. It was he who connected the Asansol Heritage Society, an association of heritage activists, with the railways, precipitating an effort to save local heritage.
And to think, none of this would have happened had it not been for a brood of greedy termites and an oil painting!