Flavours of Bengal: Garad
TASTE AND CRAFT WE LOVE | The handwoven red-bordered white silk sari that is emblematic of the Bengali woman comes mostly from Murshidabad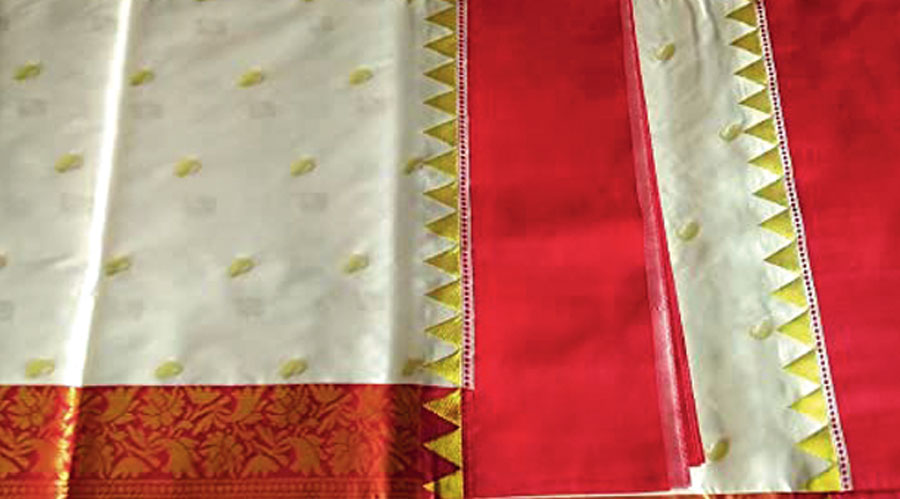 ---
Published 25.04.21, 12:37 AM
|
---
Garad, the handwoven red-bordered white silk sari that is emblematic of the Bengali woman, especially if she is doing puja, and korial, garad's close cousin, come mostly from Murshidabad.
They are made from tussar or mulberry silk, which is not dyed so that it retains its natural white/off white colour. White is associated with purity, and red is also an auspicious colour in Bengal, which makes garad or korial the appropriate sari for religious ceremonies, even weddings.
A korial banarasi is a coveted wedding sari. On occasions of worship, often the edges of the garad or korial sari are not stitched or a fall is not attached to it, so that the sari remains pure in its original form. Sindoor khela during Durga Puja is not the same without a garad. And now, a lot of Bollywood, too.
The Jiaganj-Azimganj area in Murshidabad is the centre of garad and korial sari weaving.
The garad sari can come with an intricately woven border and paisleys, butis or floral motifs in the body and larger motifs in the anchal, usually in red or maroon, though other colours are not unheard of.  Korial, too, has a white body and red border, but is more dramatic. It may or may not have patterns in the body and its border is a far richer red. It is called "khooni lal", blood red.
The number of korial weavers in Murshidabad is very few. Some of them weave a special border: it is equally red both on the outside and inside, "sadar" and "mafaswal", as the weavers say. They also complain that weaving a korial is too much work and too little pay. The sari, they say, may not survive.
Unless you buy them, and know the fake from the real. For example, what Aishwarya Rai Bachchan and Madhuri Dixit were wearing in Devdas, singing Dola re Dola, were just chiffon saris with red borders and shimmery sequins.