The 20-minute challenge
Start 2020 with a range of dishes that can be cooked in 20 minutes flat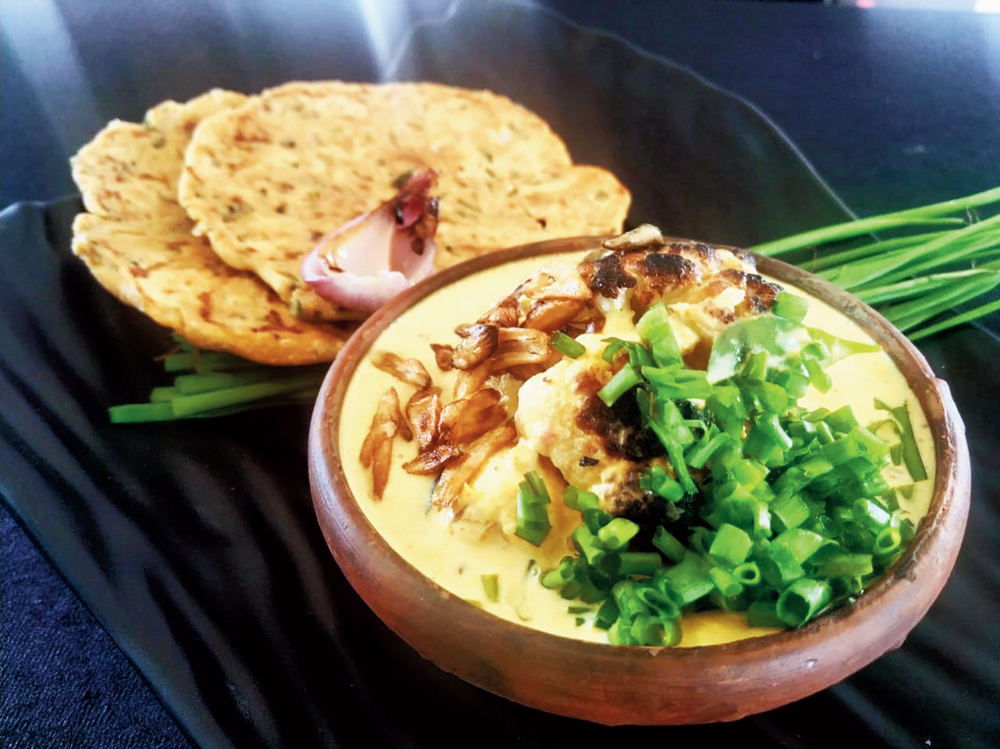 ---
---
Cauliflower and green onion moilee with koki bread
Serves: 2
Ingredients
Vegetable oil 1tbsp
Chopped green onion roots 2tbsp
Grated ginger ½tbsp
Curry leaves 1 sprig
Green chillies slit 2pcs
Turmeric 1/2tsp
Coconut milk canned or fresh 1 cup
Cauliflower florets 1.5 cup (medium size)
Medium sized tomatoes, diced 1 cup
Chopped spring onion leaves ½ cup
Garlic sliced ½tbsp
Lemon juice 1tbsp
Salt to taste
Method
Heat the oil in a sauce pan. Add the onions, curry leaves, chillies, ginger, garlic and a pinch of salt and cook on medium-low heat until the onions turn translucent. Add the turmeric and cauliflower and fry lightly. Add about 2 tbsp of the coconut milk with 1 cup of water. Cover and cook about 10-15 minutes until the cauliflower is tender. Add half of the remaining coconut milk, the lemon juice and tomatoes. Let the moilee come to a slow boil. Add the remaining coconut milk and the spring onion leaves and turn off the heat.
Koki Bread
Ingredients
Whole wheat flour 2 cups
Gram flour 2tbsp
Onion finely chopped 1/2 cup
Salt 1 tsp
Coriander powder 1tsp
Turmeric powder 1/4tsp
Fresh coriander finely chopped 2tbsp
Oil for frying 3tbsp
Chilli powder 1tsp
Cumin seeds 1tsp
Carom seeds 1/2tsp
Dry pomegranate seed powder 1tsp
Kasuri methi 1tbsp
Green chillies finely chopped 1tsp
Method
Mix all the ingredients in a bowl and make a crumbly mixture. Add little water and make a tight dough. Do not over knead this dough. Apply little oil in your palms and smear it over the dough. Divide the dough into six equal parts. Hand press them into small discs and lightly roll them flat. Apply oil to a medium heated griddle and slow cook them evenly on both sides.
Note: The light and sweet moilee curry, a coastal speciality served with spiced crispy Koki bread from Sindh makes a unique combination of tastes and flavours.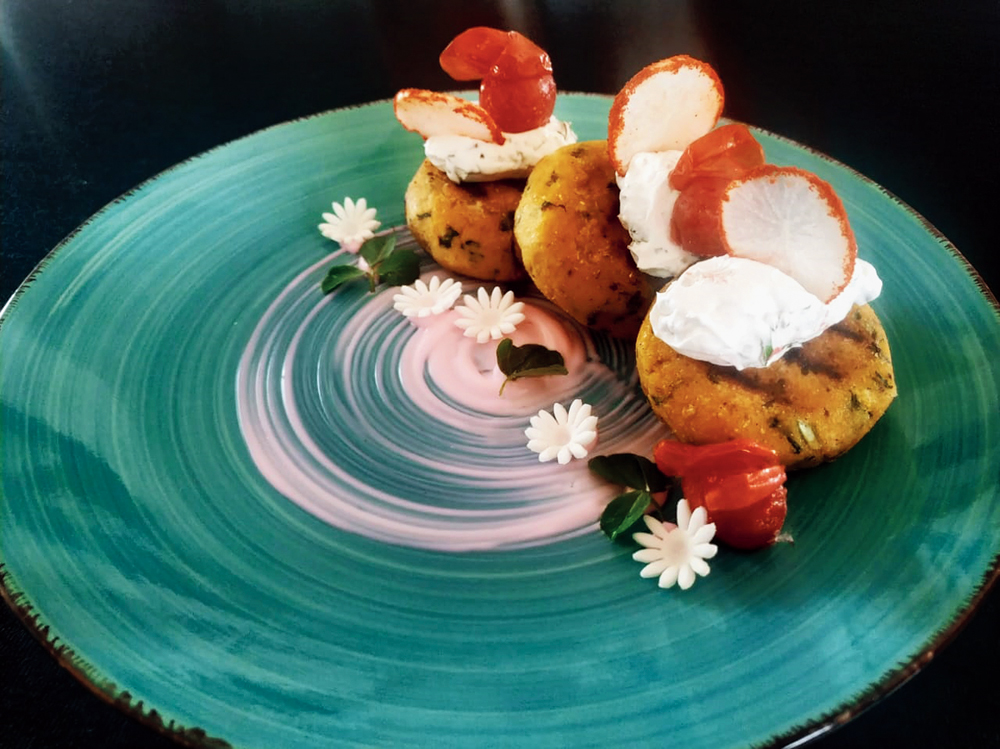 Winter radish and corn bruschetta with Ukranian sour cream
Ingredients
Corn meal (makai atta) 1½ cup
Grated winter raddish ½ cup
Caraway seeds (ajwain) ½tbsp
Salt to taste
Chopped coriander leaves 2tbsp
Chopped ginger ½tbsp
Ghee 5tbsp
Water 5tbsp
For sour cream
Double cream 1 cup
Lemon juice 1tbsp
Parsley ½tbsp
Method
Mix all the ingredients together except the ghee to a crumbly dough. Apply ghee on your palm and slowly shape the dough into 40g flat round patties. Keep a griddle on medium heat and dry bake the patties on them till cooked golden on both sides. On a base of ice take the full fat double cream and lemon juice in a bowl and whip it in medium speed. Slowly the sour cream will form a thick creamy froth. Fold in the chopped parsley. Serve the warm radish corn bruschetta topped with light foamy sour cream.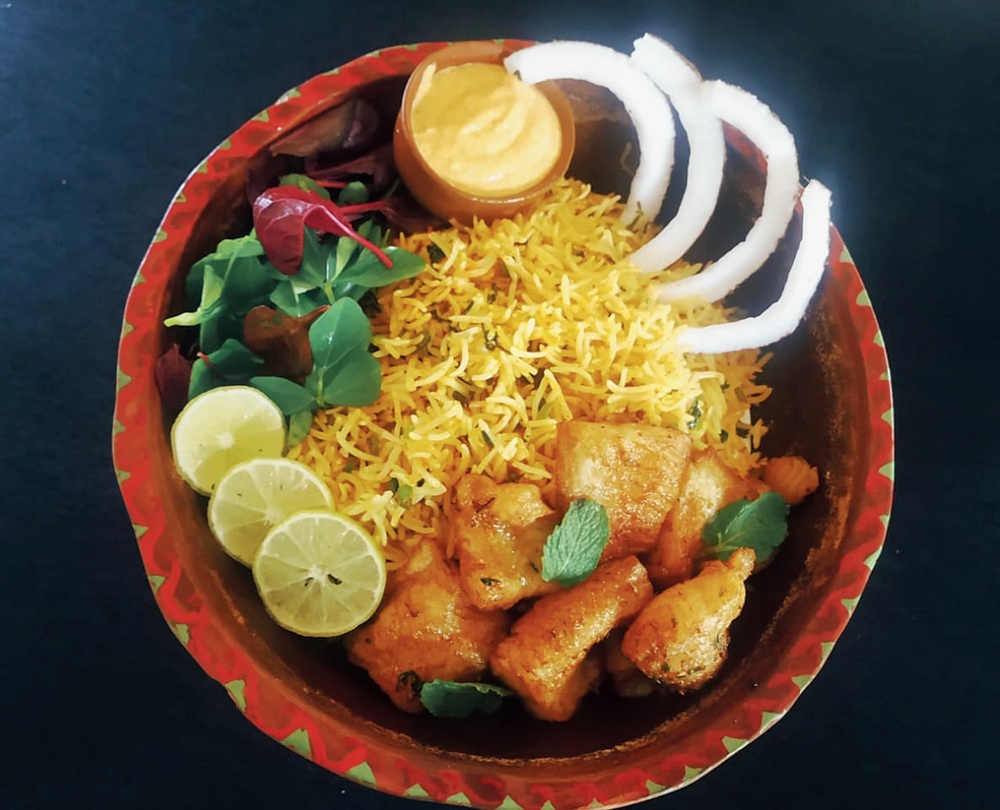 Chettinad meen biriyani with curry rassa
Ingredients
Basmati rice 21/2 cups
Boneless basa fish or bhekti fish cubes 200g
Lemon juice 2tbsp
Chilli powder 1tsp
Garam masala powder 1tsp
Turmeric powder 1tsp
Oil ½ cup
Mint leaves 3tbsp
Coriander leaves 5tbsp
Onion 1cup
Tomato ½ cup
Fennel powder ½tsp
Cumin powder ½tsp
Coriander powder ½tsp
Star anise powder a pinch
Ginger garlic paste 3tbsp
Ghee 4tbsp
Salt to taste
Yoghurt 3tbsp
Method
Rinse and soak the 2 cups of rice for 20 minutes. Marinate fish with lemon juice, chilli powder, little garam masala and turmeric powder.
Take pressure cooker, add 5 tbsp oil and heat. Shallow fry the fish and add in the same oil chopped mint and coriander leaves (rinsed) and onions. Add diced tomatoes and a teaspoon of chilli powder. Add half teaspoon coriander powder, half teaspoon fennel seeds powder, 1 teaspoon cumin powder and star anise powder. Saute well.
Add ½ teaspoon garam masala and a teaspoon of ginger garlic paste. Cook well till the raw flavours are gone.
In the same pressure cooker add rinsed rice with some ghee and mix well with the fish masala. Add water in 1:1 ratio with a teaspoon of curd and salt for taste. Now close the lid and cook.
After the first whistle, pressure cook for five minutes and turn down the gas. Wait till the pressure releases on its own. Add fresh coriander before serving.
For curry rassa
Ingredients
Roasted coconut dry/fresh ½ cup
Green chillies 2 pcs
Onion ½ cup
Tomato ¼ cup
Jeera 1tsp
Coriander 1tsp
Garlic 1tsp
Ginger 2tsp
Curry leaves 1tsp
Chilli powder 1tsp
Salt to taste
Oil 2tbsp
Coriander for garnish as needed
Water 2 cup
Method
First make fine paste of ingredients mentioned with 2 tablespoon water. Now heat oil and fry paste and stir continuously till it shows little foam on top. Now add water and salt and bring to boil. Serve in a bowl and garnish with coriander along with the biriyani.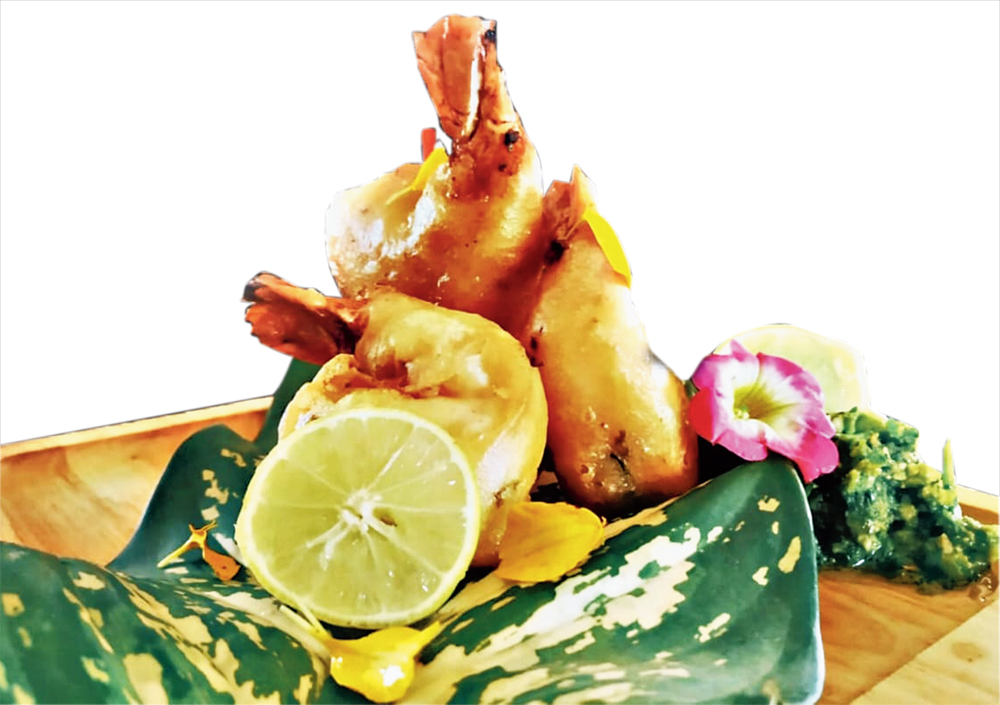 Imli mirchi jhinga bhajji with aam adrak chutni
Ingredients
Tiger prawns 6 pcs
Tamarind ½tpsp
Green chilli pickle 1tbsp
Ginger garlic paste 1tbsp
Fresh coriander leaves 1 cup
Salt 1tbsp
White pepper powder 1tbsp
Refined flour 3/4th cup
Rice flour 1/4th cup
Baking powder 1tsp
Egg 1
Oil 6 cups ( to deep fry)
Aam adrak ½ cup
Red chilli whole 2 pcs
Lemon juice 2 tbsp
Garlic 2 cloves
Method
Clean and devein the prawns, except the tail. Marinate the prawn with tamarind pulp, green chilli pickle, ginger garlic paste, chopped coriander leaves, salt, pepper and a spoon of oil. Let it sit for 15 minutes. Make a batter with refined flour, rice flour, baking powder, egg and salt. Ready oil for deep frying on a edium heat. Once the oil starts smoking dip the marinated prawns in the batter, keeping the tail out and fry them crisp till golden in colour.
For the chutney
In a mixer take the peeled and chopped aam adrak, red chilli whole, coriander leaves, 2 cloves of garlic, and make a coarse paste. Add lemon juice and salt to adjust seasoning.
Serve with hot prawn Jhinga Bhajji.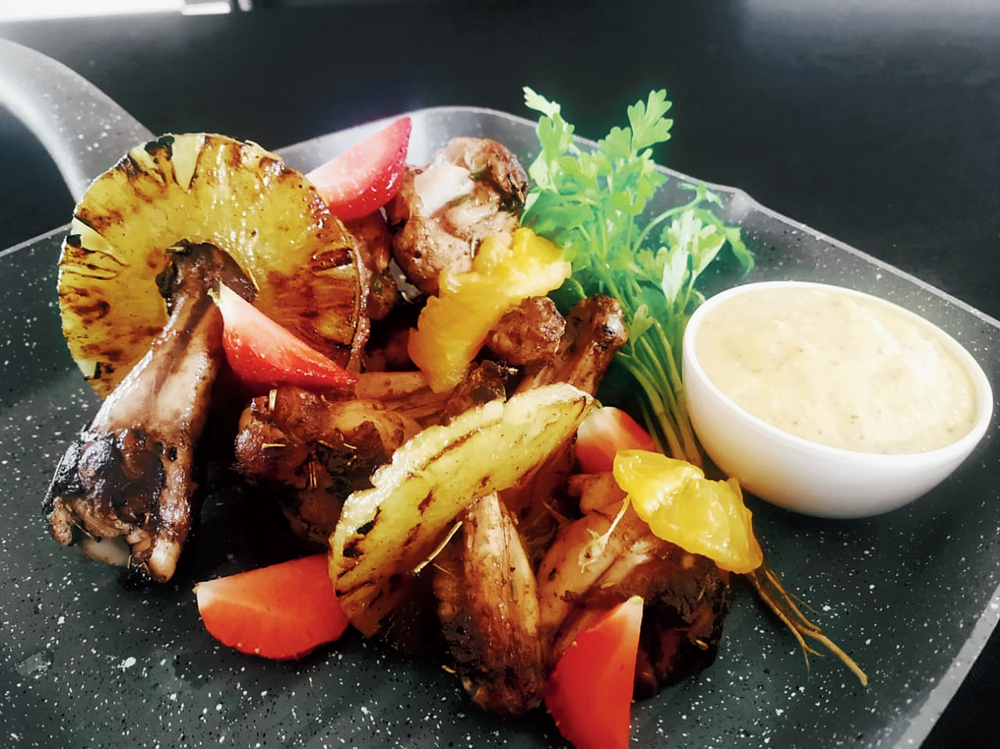 Malibu sling chicken wings with cucumber chilli mint leaves
Ingredients
Fresh cherry ½ cup
Gin 30 ml
Chicken wings 8 pcs
Pineapple juice 30ml
Fresh orange juice 30ml
Fresh thyme ½ tbsp
Olive oil 2tbsp
A pinch of mustard powder or paste
Salt to taste
Black pepper to taste
Vegetable mayonnaise ½ cup
Mint leaves 1tbsp
Cucumber ¼ cup
Roasted red chilli 1 pc
Method
Clean the chicken wings and keep aside. In a bowl take deseeded and chopped fresh cherries, gin, pineapple juice, orange juice, thyme, olive oil, mustard powder and seasoning. Marinate the chicken wings in this mix and refrigerate for about three hours. Take a griddle and heat it to medium temperature, slow cook the chicken wings till the skin is crisp and golden on both sides.
For Cucumber Chilli Dip
In a blender, fine blend mayonnaise, deseeded with skin cucumber, chopped mint leaves and roasted red dry chilli.
Adjust seasoning and serve with hot Malibu Sling Chicken Wings.
Moumita Bhaumik is chef of NIPS Hospitality Group